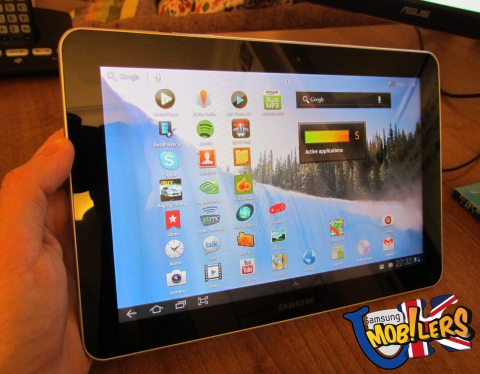 Being a Samsung Mobiler has brought another opportunity for me to get my hands on many Samsung devices such as the Galaxy S 2, Galaxy Pro, and Galaxy Tab 7.  Next on the list is the 1GHz dual-core Tegra 2 3G+WiFi Galaxy Tab 10.1 tablet – check out my thoughts below!
Specifications of reviewed unit:
(taken from samsung.com)
256.7 x 175.3 x 8.6mm (10.1 x 6.9 x 0.34in)
565g (1lb 3.9oz)
Pure White
10.1" widescreen, 1280×800 WXGA TFT LCD, 149 pixels per inch
1GB (RAM), 16GB (ROM/storage)
HSPA +21 850/900/1900/2100
EDGE/GPRS 850/900/1800/1900
WiFi 802.11 a/b/g/n with dual band support (2.4ghz or 5GHz)
Bluetooth 3.0
WiFi Direct
1GHz Dual Core Tegra 2 processor
7000mAh battery, rated up to 9hrs video, 72hrs music
Rear camera:  1280×720 HD video, 3MP auto focus photo with LED flash
Front camera:  640×480 VGA video, 2MP photo
Video playback:  up to 1080p 30fps with codecs:  WMV9, WMV7, WMV8, H.264, MPEG4, Xvid, DiVX, H.263, VP8
Audio playback:  MP3, AAC, AAC+, eAAC+, WMA, RA with stereo (2) speakers
What it looks like:
Here we have the front and the back: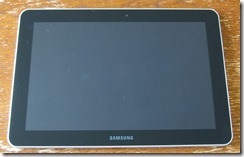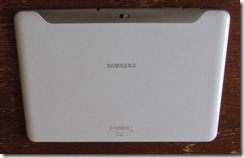 The top with power, volume rocker, ear phone jack, and simcard slot: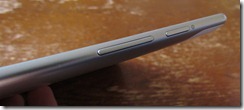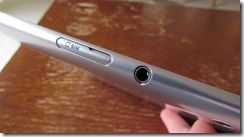 The bottom with the usb/charging port and mic:


And of course the sides, each with their own speaker: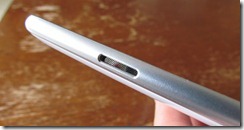 Specs compared to other tablets:
Here's an on-paper comparison to a few other tablets of similar size:
 
Samsung Tab 10.1
Apple iPad 2
Asus Transformer
Motorola Xoom
Processor
1GHz dual-core Tegra 2
1Ghz dual-core Apple A5
1GHz dual-core Tegra 2
1GHz dual-core Tegra 2
Height
256.7mm/10.1in
241.2mm/9.5in
271mm/10.7in
249.1mm/9.8in
Width
175.3mm/6.9in
185.7mm/7.31in
171mm/6.73in
167.8mm/6.6in
Depth
8.6mm/0.34in
8.8mm/0.34in
12.98mm/0.51in
12.9mm/0.51in
Weight (WiFi+3G)
565g / 1.25lbs
613g / 1.35lbs
N/A
730g / 1.61lbs
Weight (WiFi only)
unknown
601g / 1.33lbs
680g / 1.5lbs
708g / 1.56lbs
WiFi
a/b/g/n
a/b/g/n
b/g/n
a/b/g/n
Display
10.1" 1280×800 149ppi TFT
9.6" 1024×768 132ppi IPS
10.1" 1280×800 160ppi
10.1" 1280×800 150ppi
Memory
1GB
512MB
1GB
1GB
Camera
3.15MP rear,
2.0MP front
0.3MP front
5MP AF rear, 1.3MP front
5MP rear,
2MP front
As you can see, they're all pretty close in terms of specs.  The Tab weighs in the lightest and thinnest, the Transformer has the highest ppi, and the Xoom has the highest megapixel cameras. 
Included apps:
Along with the "standard Android" apps (such as gmail, gallery, google maps, navigation, etc) Samsung has included a few additional ones as well:
Web browsing:
Browsing the web is really great on this device – having a 1280×800 resolution screen, just like a laptop, really makes the browsing experience just as if you were using a computer.   For example, viewing Engadget, you don't need to horizontally scroll and you can view the page just like you would expect:

I've also not had any problems performing any tasks that I would normally do on a full PC – for example, within Dolphin browser on my Samsung Galaxy S 2, tagging doesn't work, however, no problems in the built in browser on the Tab:

Final thoughts:
All in all, the performance and experience is similar to other 10" dual core Android tablets in the market that I've tried (Transformer, Xoom, etc).  What mostly differentiates the Tab is that it is lighter and thinner than any of the other tablets I've used, it has a 3G option (which most don't have, yet), and that there are no other ports (such as USB or MicroSD). 
One thing to note is that a few people have mentioned having the "Newton's Rings" issue which is where you get what looks like an oil slick effect on your screen.  Mine actually developed this problem last week, and after I put it in the fridge for a bit, the problem is minimal now and it only happens if I press the screen a bit hard (there's a YouTube video about it here).  However, Samsung seems to be replacing those that have had this problem, so as long as you don't mind dealing with the issue if you happen to get it….
Do you have a Galaxy Tab 10.1 and want to share your comments?  Thinking about purchasing one and have any questions?  Let us know in the comments below!