Samsung Galaxy Tab Pre-review, Mob!lers Mission 4
Written By: James Rintamaki on November 1, 2010
2 Comments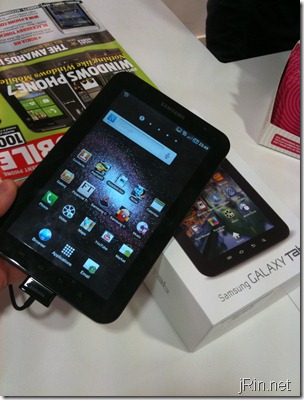 For Mission 4 as being a Samsung Mob!ler, our mission was to go to a local store (I finally found one at O2) and check out the Galaxy Tab and give our initial impressions (after which, we'll soon be given our own Galaxy Tab, so stay tuned here for a full review once it arrives!)
First Impression:
Let me start out by saying this was the first time I had actually seen it in person — well, actually the first time I've seen it outside of promotional pictures — so I did not really know what to expect (I hadn't yet watched any video reviews, comparison shots, etc).   When the O2 guy pulled it out of the box, it was a bit smaller and a bit thicker than I had expected;  after using an iPad a couple times, I was expecting something similar to it (yes, I did know it had a 7" screen vs.. the 9.7" of the iPad, but I couldn't really picture the difference until I saw it in person).
Here's an image to show the difference between the iPad and the Galaxy Tab: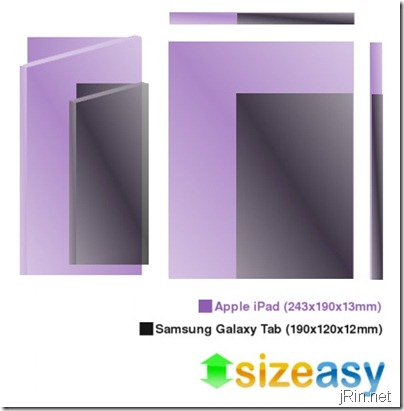 So as you can see, it's basically they're both about the same thickness, but the Tab is of course smaller width and height wise.  Though, that being said, after handling it for a few minutes and actually using it (playing games, browsing the internet, etc), my initial qualms about it's size went away.  It's not quite small enough to fit in your pocket, but it's not too big to actually be able to type on it landscape mode with your thumbs – it's a bit harder than a "normal phone" sized on screen keyboard, but it is doable. 
What's it like?
The more I used it, the more I realized it's like a big Galaxy S (just like the iPad vs.. iPhone debate).  They (will soon) have the same version of Android (v 2.2 / Froyo) and TouchWiz interface, and they do share a lot of the same hardware; other than the obvious larger size of the Tab, here's a break down:
 
| | | | |
| --- | --- | --- | --- |
|   | iPad | Galaxy Tab | Galaxy S |
| Width | 189.7mm / 7.47in | 120.45mm / 4.74in | 64.2mm / 2.53in |
| Height | 242.8mm / 9.56in | 190.09mm / 7.48in | 122.4mm / 4.81in |
| Thickness | 13.4mm / 0.5in | 11.98mm / 0.47in | 9.9mm / 0.39in |
| Weight | 730g / 1.6lbs | 380g / 13.4oz | 119g / 4.2oz |
| Screen | 9.7" IPS | 7" TFT LCD | 4" SAMOLED |
| Resolution | 1024×768 | 1024×600 | 800×480 |
| 2G Network | 850/900/1800/1900 | 850/900/1800/1900 | 850/900/1800/1900 |
| 3G Network | 850/1900/2100 | 900/1900/2100 | 900/1900/2100 |
| Processor | Apple A4 1.0Ghz | Cortex A8 1.0Ghz | Cortex A8 1.0Ghz |
| RAM | 256MB | 512MB | 512MB |
| Built in storage | 16/32/64GB | 16GB | 8/16GB |
| WiFi | a/b/g/n | b/g/n | b/g/n |
| Bluetooth | 2.1 + EDR | 3.0 | 3.0 |
| Storage Expansion | none | MicroSD | MicroSD |
| OS | iOS 4.1 | Android 2.2 | Android 2.2 |
| Battery Life* | 10 hr | 7 hr | 6.5 hr |
| Front Camera | none | 1.3mp | 0.3mp |
| Rear Camera | 5mp, no flash | 3.0mp, flash | 5.0mp, no flash |
| Connectivity | Apple proprietary | Samsung proprietary | Micro USB |
* as rated by Manufacturer
So as you an see, besides the size/weight differences, they're all fairly similar (with the Tab and Galaxy being very similar). 
General Usage:
Seeing as how I didn't get to take tab home (because it's £600…), I was only able to play with it for a few minutes.  I was able to play NOVA which is a Halo-like First Person Shooter game – how was it?  fantastic – While the on screen controls for any FPS game like this takes a bit to get used to, the game play and quality was great – smooth frames through out the 5-10 minutes I played and never once had an issue. 
That being said, when playing the game, I did manage to hit the Home soft key twice (since it's right along the right edge), so that was a bit of an annoyance — perhaps there's a way to disable it…either with or without rooting it?
Unfortunately, I did not have a chance to test web browsing and give Flash a go, so that will have to wait until mine arrives and the full review gets posted…
Final thoughts:
For the few minutes I was able to use it, I'm not sure which of similar devices I like the best (iPad, Galaxy Tab, Galaxy S, or even the Dell Streak).  It's definitely has it's own slight niche in terms of form factor, but I think it will be hard to choose between the cheaper and slightly smaller Dell Streak (also with Android and similar hardware specs) or the larger and slightly more expensive (if you get 3G+WiFi) iPad.  All three offer similar functionality (yes, iOS vs.. Android have major differences…) but all come with different foot prints, so mobile operating system choice aside, I would say it's going to come down to what size device you are looking for.    That being said, I'm going to wait until I get my own Tab and am able to use it for a longer period of time before I give my "final" final thoughts! 
And to finish this prereview, here are a few more shots I was able take:
Have you ordered a Tab yet or perhaps you are in the UK and already picked one up from O2?  Tell us about it in the comments!  (be sure to stay tuned for future Samsung Mob!ler missions and my full review of the Tab once it arrives at my door!)
Tags: prereview, review, samsung galaxy tab, samsung mobilers