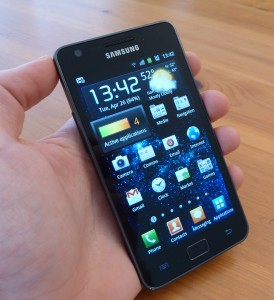 The Samsung Galaxy S 2 is Samsung's latest android phone featuring an Eynos dual core processor, 4.3" Super AMOLED Plus screen, and 1080p 8.0mp rear camera all in an sleek and extremely light (4.1oz) package.   First off, thanks to Samsung for the opportunity to be a member of the Samsung Mob!lers group again, and to be able to take part of this first mission to review this phone – be sure to stay tuned for our next mission! 
What is my quick conclusion of this phone?  It's the best phone I've ever used.  Why?  Read on to find out!
Specifications:
Below are the specifications of the reviewed unit (given to me by being a member of the Samsung Mob!lers group). 
4.3" Super AMOLED Plus screen
Android 2.3.3 Gingerbread with Samsung TouchWiz 4.0
8.0mp/1920×1080 video rear, 2mp video front
1.2Ghz Exynos 4210 (using ARM Cortex A9) Dual Core Processor
16gb internal storage (expandable with MicroSD slot)
125.3mm x 66.1mm x 8.49mm (4.93" x 2.60" x 0.33")
116g (4.1oz)
WiFi a/b/g/n, BT v3.0+HS, USB 2.0
Network:
HSPA+ 21Mbps/ HSUPA 5.76Mbps
EDGE/ GPRS Class 12
Quad band GSM 850/900/1800/1900
Quad band UMTS 850/900/1900/2100
Glamour Shots/Aesthetics:
Here's a quick video showing off the phone:
Video checking out the Galaxy S 2 (ports, buttons, etc)
And here are a few pictures.  In the front you've got the front camera, proximity and light sensors, and the speaker along the top, and the home button (and menu and back buttons) along the  bottom.  On the back is the rear camera with LED on the top and the main speaker on the bottom right.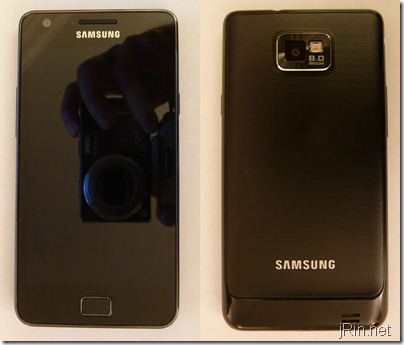 As far as the touch sensitive buttons go, you have the option to have them always lit up, always off, turn off after 1.5s or 6s, or only have them light up when it's dark.  (also, they do not rotate with the screen):

On the top you'll find a microphone and the 3.5mm headset jack, and on the bottom is the MicroUSB connector and another microphone.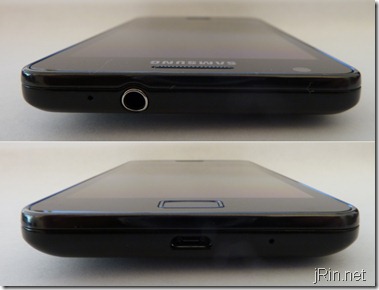 On the left you have a hole for a wrist strap followed by the volume rocker, and along the right you have the power button: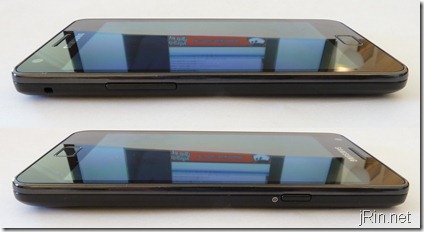 On the back, the area around the camera is slightly raised and the bottom of the phone has a bit of a lip:


Cameras:
The cameras, both front and rear, are very good quality.  The rear camera is capable of 8mp photos and 1920×1080 videos, while the front camera is 2mp photos video.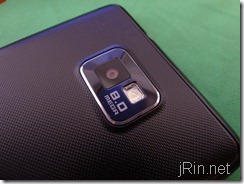 Below is a video of the available photo and video settings as well as a few examples:
Using the camera on the Samsung Galaxy S 2
Here is the full list of options/settings for photos as well as a few sample pictures and descriptions:
Self shot (this switches to the front camera)
Flash (off, on, auto flash)
Shooting mode (single shot, smile shot, beauty, panorama, action shot, cartoon)

Smile shot:  choose this option and then press the shutter button, the phone will then wait until it detects all the faces it detects are smiling before actually taking the picture (it seems to work pretty well with the few test shots I took):

Panorama:  this will have you take 8 pictures while slowly moving to the left or right and then automatically (and quickly) stitch them together to make a panoramic picture (however, in low quality – linked image is full size and unedited)


Scene mode (none, portrait, landscape, night, sports, party/indoor, beach/snow, sunset, dawn, fall color, fireworks, text, candlelight, backlight)
Exposure value
Focus mode (auto focus, macro, face detection)
Timer (off, 2 sec, 5 sec, 10 sec)
Effects (none, negative, grayscale, sepia)
Resolution (640×480 to 3264×2448)
White Balance (auto, daylight, cloudy, incandescent, fluorescent)
ISO (auto, 100, 200, 400, 800)
Metering (centre-weighted, spot, matrix)
Outdoor visibility (off, on)
Anti-shake (off, on)
Auto contract (off, on)
Blink detection (off, on):
This here does what you would expect – it lets you know if any subjects were blinking after you took the photo.  From the few test shots I took, it wasn't always reliable as you can see from the photo below (it only thought one of the two girls were blinking):

Guidelines (off, on)
Review (off, on)
Image quality (superfine, fine, normal)
GPS tag (off, on)
Fancy settings aside, the camera does take rather good pictures.  I'm not anywhere close to being a photographer, but the pictures I've taken with the Galaxy S 2 seem very good in my opinion (linked pictures below are full size and not edited):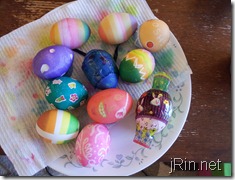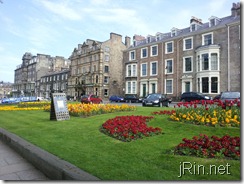 And to test some low light pictures, I took a few with and without the flash under my desk (both with auto ISO):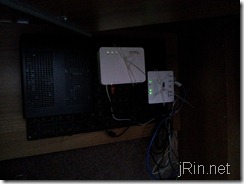 And of course, the HD videos.  The rear camera on the Galaxy S 2 is capable of taking Full HD (1920×1080) videos and I was surprised at the quality.  They're not as good as full fledged digital/video cameras, but it's still impressive.  The video quality is crisp and detailed, though it is a bit…."bumpy in the sense I feel it could use some sort of built in stabilization (not quite sure how to describe it).  Below is a sample 1080 video:
Video taken from the rear camera at 1920×1080 resolution
Keep in mind that 1080 videos take up a lot of space – the 46s clip above is about 97mb. 
Speaker: 
It's excellent in my opinion – it has a full range of sound, it's not washed out or "tin-canny", and it can get quite loud without distortion.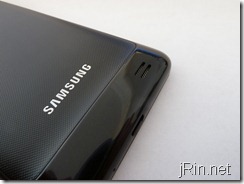 Even though it's located on the back at the bottom left corner (when holding it), it still produces great sound.  Headset volume/quality, too, is good; coming from using the Desire HD, Dell Streak, and Galaxy Tab, I was really hoping it wasn't going to suffer from low headset volume and I was happy to find that it didn't.   One thing I personally am happy about is that it can get loud enough (and without distortion) to play it in the bathroom while taking a shower:
The Galaxy S 2 is loud enough to hear while taking a shower (props to the Android radio app "Tune In")
I also set it up in my universal car dock to see how well the speaker performed with GPS navigation and speaker phone (especially considering my car produces a LOT of road noise). Hearing the GPS directions was no problem, even with the radio on, though the speakerphone was on the cusp of not quite being loud enough – it was definitely better than any other phone I've used recently, but not quite as loud as I'd like it to be in order to hear 100% of the call.
Music and Videos:
I was very curious if this phone would be able to play back 720p and 1080p videos without issues, especially since it can record in both of those formats.  I tried a few sample videos from http://www.highdefforum.com/high-definition-movies-video-clips/6537-official-hd-video-clip-list.html and the phone played back both 1080p and 720p clips without issue, and they looked and sounded absolutely fantastic.  For good measure, I also tried a ripped DVD (LOTR) I created with H.264 as well as an episode of Modern Family which also had no issues.  And of course, playing back HQ youtube clips looked and played back fine as well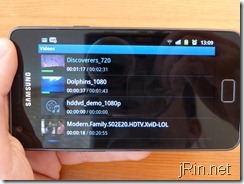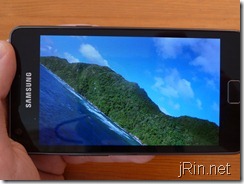 Music playback, too, worked as good as you would expect after watching the phone playback 1080p videos.  The music app is nice enough – it has album art, and the normal playback controls you would expect to find in any media app.  (note:  I'm not picky when it comes back to media players as long as it plays the media without issue).
Playing back 1080p/720p videos, music, and YouTube clips on the Samsung Galaxy S 2
Screen:
The Super AMOLED Plus on the Galaxy S 2 looks very nice.  The colors are crisp and the screen in general is very sharp.   With the screen on and showing only an all-black image, I can't tell that it's on and there's no light leakage: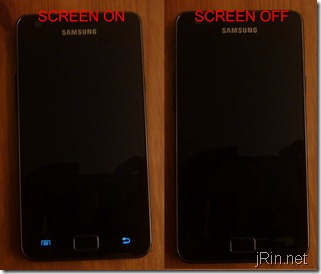 Starting at 10% battery life remaining, I discovered that the screen goes on it's lowest brightness level and you are unable to increase it (even with the power saving features turned off) – notice how the option to adjust the brightness is greyed out/disabled:
At first thought, that feature may seem useful to conserve what little battery power you have left.  However, I was outside when it happened and that made it almost impossible to read the screen for a quick, important phone call I had to make.   I'd be okay with it as long as there was the option to manually turn the brightness back up.
Outdoor screen visibility, like most other screens, isn't very good – that being said, however, it is at least usable.  When on automatic brightness, it does appear to boost it to the max when in direct sunlight, and it's just enough to get by (unfortunately, it's been rainy the past couple days, so I haven't been able to re-test outdoor viewing while having my camera with me). 
The resolution is 480×800, and before I actually received the phone and used it for a few days, I was a bit disappointed; I was hoping for something better (such as the iPhone 4's screen) than what most other phones currently have. However, as soon as I turned it on and used it, that was the furthest thing from my mind. The quality of the screen completely overtakes any "limitation" (480×800 is still fine in my opinion) of the resolution
Battery:
It's impressive.  I have gone 46 hours and 42 minutes, had it charge for about 30min total (while plugging it into the computer to get pictures, screenshots, and what not, to write this review) and I am at 1% battery life.  This was using the camera (HD videos and pictures), installing and playing games, watching a few videos, about 15min of calls, 20 minutes of music playing, and about 10 minutes of GPS navigation (with WiFi on and automatic brightness).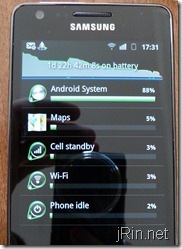 When charging from the usb cable connected to the computer with the phone on (which is how I charge the phone 99% of the time), it took roughly 5.5 hours to perform a complete charge from 1% to 100% (from the 2 times I ran it down to 1%), which works out (on average) to be about 3 min 24 seconds per battery percentage. 
Web Browsing:
I've been using it for a few days now and have yet to come across any issues while web browsing.  I've been able to play back BBC iPlayer, play a few flash games (that don't require special input from the keyboard or anything), any website I regularly visit, and all the while having flash enabled and multiple windows open:
Web browsing on the Samsung Galaxy S 2
Software and Included Apps:
With any phone, there are a bunch of included apps that come preinstalled with the phone, as well as Samsung's own TouchWiz (4.0) interface. 
Email app:  This is basically meant for any email other than Gmail (such as you work's Exchange account, though you could feed gmail through here if you wanted).  Like the email app on the Galaxy Tab, it has a nice dual pane view when in landscape mode:


One thing I don't like, however, is that when setting the view to "conversation mode", it won't fade the conversation when it's not expanded even if all the messages in that conversation have been read.  In other words, even though I have read all my messages in the "galaxy s 2 is a cool phone" email thread below, it looks as though they're unread (vs, in "standard" mode, you can see messages that have been read):


Video maker and Photo editor:
Samsung includes a simple photo and video editor as well.  The photo editor lets you do basic things such as cropping, selecting, warping, filling, and a few different effects (blur, lens blur, linear blur, radial blur, ghost effect, and speed line effect).  Below you can see a few of the effects as well as a sample of me selecting part of a picture and applying the Speed Line effect:


The Video maker app also allows basic video editing such as splitting and trimming clips, creating transitions between clips, adding music/pictures/videos, and applying transitions and themes.  Below is a sample of creating a transition between two clips:

One limitation is that it can only work with video clips that are 1280×720 or smaller:


Here's a quick demo of the video maker app:

Using the video editor (Video Maker) app included on the Galaxy S 2

Touch Wiz and other phone features:
One of the first things I noticed were the advanced motion setting controls that Samsung has included with this phone which are Turn Over, Tilt, Panning, and Double Tap:

Turn over allows you to mute incoming calls by turning your phone over, tile allows you to tilt the phone to zoom in and out, panning allows you move from side to side in the gallery and applications, and double tap turns on Voice Talk:


Advanced motion controls of the Samsung Galaxy S 2
Performance / Gaming:
Seeing as how this phone has a dual core 1.2GHz processor, I was eager to find out more about and see how it performs.  From connecting it to the computer in debug mode and running ADB with the cat /proc/cpuinfo command, I was presented with the following info:
Processor : ARMv7 Processor rev 1 (v7l)
processor : 0
BogoMIPS : 1592.52
Features : swp half thumb fastmult vfp edsp neon vfpv3
CPU implementer : 0x41
CPU architecture: 7
CPU variant : 0x2
CPU part : 0xc09
CPU revision : 1
Hardware : SMDKC210
Revision : 000e
Reading around a bit then lead me to find out that it is using a Exynos 4210 processor (which utilizes the Cortex A9) and you can read more information about it over at Samsung.com.  [one interesting thing to note is that according to the samsung link above, it lists "USB 2.0 Host 1-channel, supporting LS/FS/HS (1.5Mbps/12Mbps/480Mbps) with on-chip PHY" – does this mean we'd be able to plug devices into the phone, such as usb drives, or am off base here?]
Running Quadrant CPU gave me an average of 3521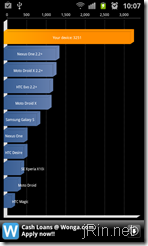 with the following details:
CPU:  ARMv7 Processor rev 1 (v71)
Current Freq: 500mhz
Max Freq:  1200MHz
Min Freq:  200MHz
Cores: 2
Architecture:  7

Memory:  Total 853032 kB
Display:  480×800
Renderer:  Mali-400 MP
Version:  OpenGL ES-CM 1.1
Max texture units:  8
Max texture size: 4096
Max lights:  8

Sensors:
K3DH Acceleration sensor
AK8975 Magnetic field / Orientation sensor
CM3663 Light and Proximity sensor
K3G Gyroscopic sensor
Gravity sensor
Linear Acceleration sensor
Rotation Vector sensor
Running Linpack for Android resulted in:
MFLOPS:  46.394
Time:  1.81 seconds
Norm Res:  5.68
Precision:  2.220446049250313e-16
In general, though, I haven't found any issues with lag or sluggishness while using the phone.  Even during the initial sync when you add a Google account, other phones I've used become noticeably slow until it was finished, but with the Galaxy S 2, things seemed fine.    Game play is also well executed – I've tried a few of the Gameloft HD games (and of course, angry birds), and everything played back just fine:
Playing Brothers In Arms 2 HD, Shrek Kart HD, and Angry Brids on the Galaxy S 2
When connecting the phone via usb storage (to have it act as a USB drive), I achieved average write speeds of 4.7MB/s and read speeds of 15MB/s(while transferring a 1.5gb mkv video):


Wrap up:
All in all, this is a great phone in my opinion.  Media playback is great (both from audio and visual standpoints), performance is great in that I never experienced any significant lag (either when doing video editing or playing HD games), battery life is great (almost 2 full days with what I would consider moderate usage), and it's all in a sleek, lightweight package.  
To give a bit of background, my primary phone was an iPhone 3GS for almost two years, and the phone I used after that the most was the HTC Desire, and in between I jumped around between the Dell Streak, Galaxy S, Desire HD, Orange San Francisco, and iPhone 4 – all for about a month at a time – so I've had my fair share of phones. I've of course used MANY more (ie, playing with devices at the phone stores, friend's phones, etc), but the specific ones listed above I've had long term experience with. Of all of those phones, I can without question say that the Galaxy S 2 is my favorite phone that I've used (and it will only get better once 3rd party roms such as Cyanogenmod is ported over!).
You definitely cannot go wrong with the Samsung Galaxy S 2 in any way you look at it (well, other than the current PAYG pricing is a hefty £494 at carphonewarehouse).   Sell the phone you currently have, maybe some family jewels or save up, and buy a Galaxy S 2.