Samsung Galaxy Pro vs BlackBerry – Samsung Mobilers
Written By: James Rintamaki on July 28, 2011
No Comment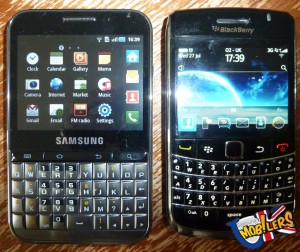 The Samsung Mob!ler program is back and better than ever.  We are now a larger group, it's been said that there will be many more missions than last year, and this year we've already been given a Samsung Galaxy S 2 to review and now we're onto a Samsung Galaxy Pro.  Our first 'official' mission this year is to compare the Galaxy Pro against BlackBerry.
First off, it's hard to compare a single phone to an array of phones (Galaxy Pro vs BlackBerry in general), so let's take a birds eye look at comparing the Galaxy Pro two of the latest BlackBerrys (BlackBerries?) of a similar form factor – the Curve 3G and the Bold 9780 – and while we're add it, let's throw in the HTC ChaCha. 
Let's first start out by comparing their spec sheets:
Spec
 
HTC ChaCha

BB Curve 3G

BB Bold 9780
CPU
800 MHz
800 MHz
624MHz
624MHz
Screen Size
2.8" TFT
2.6" TFT
2.46" TFT
2.44" TFT
Touch Screen
Yes (not multi)
Yes
no
no
Screen Res
320×240
480×320
320×240
480×360
OS
Android 2.2
Android 2.3
BB OS 5.0
BB OS 6.0
Memory
512MB
512MB
256MB
512MB
Storage
512MB Internal
2GB MicroSD
512MB internal
256MB Internal
2GB MicroSD
Rear Cam
3MP
5MP+Flash
2MP
5MP + Flash
Front Cam
none
0.3MP
none
none
Height
4.28in/108.6mm
4.5in/114.4mm
4.29in/109mm
4.29in/109mm
Width
2.62in/66.7mm
2.54in/64.6mm
2.36in/60mm
2.36in/60mm
Thickness
0.42in/10.7mm
0.42in/10.7mm
0.55in/13.9mm
0.56in/14mm
Weight
3.74oz/106g
4.23/120g
3.7oz/104g
4.3oz/112g
Batt TalkTime
6.3hrs
7.5hrs
5.5hrs
6hrs
Batt Stand By
460hrs
640hrs
456hrs
528hrs
WiFi
b/g/n
b/g/n
b/g/n
a/b/g
As you can see, they're all fairly similar.   The ChaCha and Galaxy Pro (on average) have the better battery life, processor, memory, and screens
Media/Screen:
First and foremost, neither device is meant to be a media power house.  Yes, you'll be able to watch a wide variety of videos from either device, but at 2.8" and less, it won't necessarily be something overly enjoyable.   The screen on the Galaxy Pro specifically is a bit pixely given that it's a 320×240 stretched across a 2.8" screen, and the viewing angles aren't the best – when viewing text and/or a webpage, it can be a bit hard to read when zoomed in to a point where you don't need to horizontally scroll to read the page:

However, the same issue exists with the 320×240 screen on the Black Berry Curve 3G as shown from Tech Radar in their post here.  It's just how it's going to be with a screen this small and at this resolution.  
However, where the Galaxy Pro definitely beats either BlackBerry is that it has a capacitive touch screen.   (Yes, there are newer BlackBerrys that have touch screens, but they're a bit above the class from the Galaxy Pro).  This is essentially where the Pro mixes non-BlackBerrys with the BlackBerrys.   Where most BlackBerry users are used to using the optical pad/scroll ball wheel, users of the Pro now are able to control input by directly on the screen.   But of course, there is a limit to it's capabilities in that it is not a multi-touch screen, which means (for example), there's no pinch to zoom for websites or google maps – one must use shortcuts built into the various apps for such actions: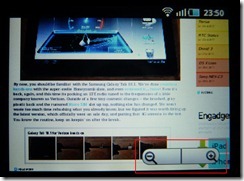 However, having a touch screen is still much better in my opinion than having to scroll through a list of links on a given page in order to click on the one you want (BlackBerrys). 
Keyboard:
It's not common to have an Android phone with a hardware keyboard like most BlackBerrys do, so it's a definite way that Samsung is trying to steal some of the BlackBerry users out there.   For traditional Android phone users wanting an affordable option to have a hardware keyboard, then this is of course an option.  However, I found the keyboard on the Galaxy Pro to not be quite as well laid out as those on either the Curve 3G, Bold 9780, or even the ChaCha. 
As you can see, of the four phones I've been mentioning in this review, the Galaxy Pro is the only one that does not stagger the keys in a more ergonomic (curved) fashion:
Also notice that the Galaxy Pro has it's bottom row of keys pushed to the left so that the Z is directly under the A and Q which, at least for me, has caused me a great number of typos (not that I use 'Z' a lot, but many of the other keys are not in their 'natural' location either).   
While it is a step up for those of you who have been yearning for a hardware keyboard on such a form factor, I feel as though it's just simply not as good as a BlackBerry (or the ChaCha). 
OS/Software:
Now this is going to be hard to discuss without being biased towards Android, as it's what I've been using for quite some time and am therefore quite used to what it has to offer.  That being said, the fact that the Android app market is much more developed (number of quality apps), leans me towards Android as a winner here. 
There are, however, good BlackBerry-Only apps – one most known about is BBM (BlackBerry Messenger), which is basically a built in IM client that works, and is present, across all BlackBerrys.  While this exact feature does not exist in the Android realm, there are plenty of cross-platform/OS apps that accomplish a similar feature, such as any number of IM clients (AIM, Meebo, etc), or one that is very similar:  What's App, which is a cross-platform IM client that works on iPhone, Android, BlackBerry, and Symbian.


Conclusion:
Unfortunately, I do not have the years of experience of using and owning a BlackBerry to go into a detailed comparison, but as you can see, they two mentioned here are very similar from a quick overview.  Each has their own advantages over the other (when comparing similar form factored devices), and I feel that it (mostly) comes down to which mobile OS you prefer and how important it is to have a touch screen.  Both are of similar size, weights, and battery life – both provide a similar hardware keyboard (though, arguably, BlackBerry may have the upper hand here) – though the Galaxy Pro affords a touch screen. 
Do you have a definite leaning towards which you feel is the better mobile phone?  Are you on the fence as to go with a BlackBerry or a Galaxy Pro (or even HTC ChaCha)?   Sound off in the comments below!
Tags: blackberry, galaxy pro, samsung, samsung mobilers, samsung mobilers 2011