Welcome to my review of the dell xps m1330:
---
Updates to this review:
---
External Reviews:
---
Personal Review:
Specs of my m1330 in this review:
Core 2 Duo Santa Rosa T7300 2.0Ghz
2x1GB DDR2-667Mhz
120gb 5400RPM hdd
dvd-rw
nVidia GeForce 8400m Video
LED Backlit screen with VGA webcam
6 cell battery
vista home premium
3 year warranty
Thanks to engadget, I read the post about dell starting to ship out the m1330's this week so I checked my order status and it had ALREADY BEEN DELIVERED!! So I got home and quickly started to unbox it!
---
Taking everything out, you find the accessories, the laptop itself, and to my surprise, a nice little case! The accessories include an express card remote, the charger (which is only 65w, so charging may take longer than with a normal 90w, like w/my m1210), software (yes, vista reinstall comes with it), and a carrying pouch. The actual case that the laptop comes in is a nice fit, and there is no zipper or any other kind of 'latching' mechanism to keep the case closed the 'lid' has a magnet in it to keep it closed, not powerful enough to damage anything 'magnet sensitive', like the laptop haha — it's like a laptop sleeve.
---
Then you have the laptop itself. It's VERY sleek. The inside is metallic, and has plenty of ports to go around — check the pictures and see for your self.<,/p>
---
Now, I don't know if this is supposed to be like this, but the keyboard seems to be a little 'curved'. The middle is a bit raised (higher) than either side…. I still haven't decided if this is by design or by …. fault? haha (you can't tell from the picture — I tried and tried to picture it, it just wouldn't show!). The webcam (this is the VGA one since the display is LED backlit) sits flush w/the panel. Oh, and the charger is nice and small, which a weird shaped (not circular, but octagonal) and is just as easy to plug in as a normal plug.
---
Now here is the screen open (left), and in the right picture, it shows how far it can open. I miss being able to open the screen a full 180 degrees like the m1210, but I'll get used to it (besides, how often did I need to open it that far? never!)
---
Here's the first bootup of the laptop — everything going as you'd expect, dell logo, windows welcome screen….
but then, as windows was starting up, I got the blue screen error (figures..), windows rebooted, and upon logging back in, had this error message. Now, I'm hoping this is a one time thing, or at least it's just a vista thing (I plan to put XP on it later)….but we'll see…..
---
Here we can see this laptop gets a 4.0 on the vista scale (good? bad? I dunno!), and look at that! I have an unknown processor! hmpf…. wonder if that has to do w/the blue screen error I had…..who knows!
so I went to eat some dinner, and came back, and look what sneaked in! a bluetooth error!! this is starting to aggravate me. I REALLY hope this is just vista issues!!!
---
Okay, now I haven't got to using it a lot yet, so I will add to this review later after I've used it (heat, battery life, speed, etc) — but for now, here are some pictures comparing it to the m1210!
here we've got the weights of the m1210 (left) @ 4.9lbs, and the m1330 (right) @ 4.35lbs.
Here they are side by side,
stacked on top of each other,
and an overhead shot!
---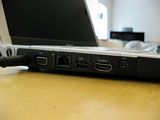 ---
Now, like I said, I will be updating this review within the next few days to write more about actually using it — I've spent enough time taking these pictures and doing this writeup, I want to actually use it now! I'll keep ya'll posted!…
---
UPDATE 1: so I have found a flaw that I really don't like — so I am trying to install XP, and I may be using an older xp install cd because it can't find any hard drives, so I want to eject the CD to put in a newer one (with sp2 slipstreamed), but I can't! I press the eject button and nothing happens — it appears to be 'software' based — how the heck do I get the CD out if I'm not in windows/os!? — to reply to a comment below, the eject button works fine when ever you can actually use the media buttons (in the media direct, or in windows) — it just won't work, or any of the media buttons, if ur not in an OS that can load the drivers for it :-( — anyone else know differently?
UPDATE 2: ahhh – reinstalled vista and i don't get the blue screen nor the bluetooth errors anymore :-) — dunno what happened before, but all is working great now
UPDATE 3: after thinking about it all night…. I have reset it back to dell factory settings, packaged it back up, and put it up on ebay — I decided I just simply can't afford it, especially cause I have a perfectly fine m1210 haha I have decided to sell it because compared to the price of the m1210 that I have, it isn't worth it (to me) to spend the $400+ more to keep the m1330 over the m1210 I already have. I just don't need the speed/performance/aesthetic increase — Please feel free to bid/buy! (which also means this is as far as the review will go :-( ) already sold, but I still have it another night to finish the review
UPDATE 4: on second thought, I will do the video review and further usage review tomorrow night tonight (tuesday). Keep a look out for more updates!
---
UPDATE 5: aight, here's some videos — first one is a simply showing the laptop and using it some. It shows the boot up sequence, the cd drive noise, comparrisson to the m1210, fan/keyboard noise, media direct, media buttons, etc. The other video (which I still have to upload) will have game play footage of the game F.E.A.R. (w/framerates, cpu temps, etc). (until my webhost converts them to FLV for better quality that youtube, here they are on youtube, haha…)
now after taking all these videos after installing fear, and playing it for about 20 minutes or so, the laptop got a little warm on the palm rests, but not any worse than my m1210. Notebook Hardware Control reported the CPU temp of being 59c (138.2f). However, I didn't think to see how warm to the touch the bottom of the laptop was…I'll have to try it again if I have time (I have to ship it off tomorrow before UPS closes!).
the display definitely looks a little sharper and brighter than my m1210 and I like it. The mouse pad and buttons are real nice, all my co-workers mentioned how they liked it as well (kinda weird that was the only thing they seemed to think stood out haha). The weight of the system is evenly distributed so it feels 'right' when carrying it.
the laptop over all looks to be significantly bigger than the m1210. while it is quite thinner, it is about an inch wider and longer. In reality, that's not much of a size difference, but it just seems to look a lot bigger (when compared to the m1210). Now, that doesn't really bother me, I was just stating my opinion :-). The speakers are on par with what would be expected, nothing great, but they're fine for a laptop. The webcam (vga w/this led backlit screen) is of the same quality of the m1210, except that it seems to have a little bit faster frame rate.
as I stated earlier, the keyboard definatley has a curve to it, and everyone I have shown it to also noticed it (so it's not just me!). This kinda upsets me seeing as how my first m1210 had a buldge in the keyboard too and it turned out to be a cable somehow got somewhere it shouldn't have been and got wedged under the chassis (link to post) — so it just kinda reminds me of that. Now, it seems as though the area between the keyboard and the screen (where the media and power buttons are) is also bowed/curved, so maybe that's how it's supposed to be? I'd like to know if anyone else has this issue once they start getting theirs
I also wonder why I seem to be one of the first people to get one, haha. I ordered in on 6/30, and I'm thinking the fact that I got the black casing has a lot to do with it. Other people I know that ordered the same day ordered different colors and sill have theirs in production.
hdmi output — I was really excited to try this out as I have been missing having a computer hooked to my hdtv since I sold my htpc. Well…. I plugged in it, and of course it's not working well (see video below). Now it could be the TV, the cable (the cheap ~$5 from monoprice.com), or of course the laptop, I just don't know — anyone have any suggestions?
---
UPDATE 6:look in the youtube playlist above for the FEAR gameplay footage. I'll edit the post here, later, to talk more about it — just wanted to let ya'll know it's been uploaded for now!
---
UPDATE 7:here are some of the answers to some of the comments below:
Battery Life — I did not have a chance to test the battery life (had to ship it out) — sorry ya'll, can't comment at all about this
Case — I did not order the case, nor did I even see the option for it when I was ordering it (though it may have been there, I did not see it). It was also NOT listed in my order. It's actually a pretty nice case — simple and does it's job. Can it fit the laptop w/a 9 cell battery? I don't know since I had the 6 cell. From other reviews I've seen w/the 9 cell, it doesn't look like it sticks out too much from the bottom, and there was a little room in the case, so I would think it would fit. But keep in mind, I don't know for sure! – UPDATE: dell now shows "FREE Timbuk2 Messenger Bag with XPS M1330 purchase ($149 Value)!" in their product page for the m1330
WWAN Card — Also, unfortunately, I had to ship out the laptop before I was able to check on this before I shipped it out. However, dell's description for the m1330 includes "Optional Built-in Mobile Broadband – Enjoy great coverage and fast, broadband-like speeds", so that would mean that it should have the option for wwan card (w/the antennas).
gig-e ethernet (10/100/1000) — again…wasn't able to test :-
Modem — correct, this does not have a modem, but I also don't see where dell listed this having a modem.

Also, I'll be writing up a pros/cons list when I get a chance, and explain why I decided to sell it and keep the m1210, soon.
UPDATE 8: so I've spoken with some other m1330 owners, and they're saying that as long as their machine is on, they are able to eject the cd — in other words, they don't have to be in windows (or an OS) in order to eject a cd — anyone else experiencing this? perhaps it's a newer firmware?