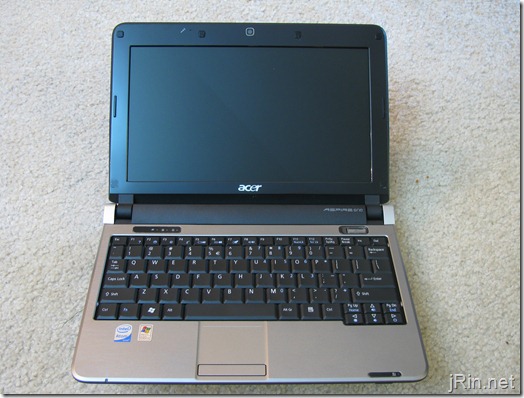 The first contender from the list of Lifehacker's Five Best Netbooks that I will be reviewing is the Acer Aspire One 10" netbook (AOD150).   Weighing in at 2.91lbs with a price tag of about $330 (or $280 using Bing.com cashback), this 10" netbook definitely holds it's ground in the competition (not to mention quite an improvement from it's older 8.9" sibling).  Just how nice is it?  As always, continue reading to find out!
Specifications of the reviewed system:
Intel Atom N270 1.6GHz, 533mhz, 512KB L2
2GB DDR2-8800 (running at 533mhz)
10.1" WSVGA CrystalBrite (glossy) TFT Screen
160gb Western Digital Scorpio Blue SATA HDD
6 Cell battery
Intel 950 graphics
2lbs 14.5 oz
10.3" x 1.3" x 7.3"
VGA, 3xUSB2.0, Headphone/Mic, Ethernet, 802.11b/g wifi.
Glamour shots / views:
I'll start out by simply showing different views of the netbook:
First we have the top, and then the bottom:
Left side (VGA, ethernet, usb, headphone, mic, memory card reader), and right (2 x USB, power jack, lock):
And then the front (power light, wireless switch)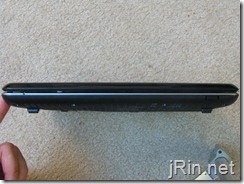 Screen:
The 10" Acer Aspire One comes with a 10.1" glossy screen – and as I mentioned in the Lenovo S10-2 review, it basically comes down to personal preference whether glossy or matte is better for you. 
The lid itself isn't as sturdy as I would like.  While it's not as flimsy as the Lenovo S10's lid, it doesn't take too much force (twisting action) to make the screen bend.  Over the lifetime of owning this netbook, you may start to see pressure marks on the LCD if you pack it with books and the like on top of it in a book bag.  Also, like the screen, the lid is also glossy – meaning, it is quite the magnet for fingerprints: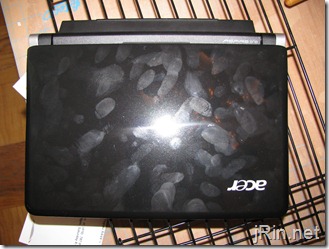 Keyboard and Touchpad:
The keyboard is 89% the size of a normal keyboard, which unfortunately was not upgraded from the same size keyboard of the acer aspire one 9".  The key clicks However, the keyboard is well built though with a SLIGHT bit of flex – but you don't notice it during normal typing:
The increased area of the touchpad (over the 8.9" AAO) is a welcome edition.  The left and right buttons are combined into one, and the entire touch pad area is slightly recessed from the rest of the palm rest: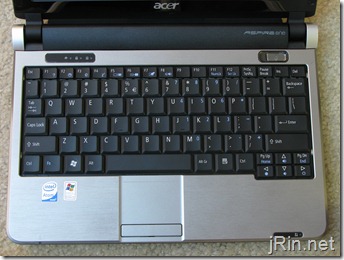 Battery:
Compared to other 10" netbooks I have reviewed so far, I was a bit disappointed at the battery life that this Acer has (for the tests below, I had WiFi one, screen at level 4 brightness, and let the battery run down to 3% and interpolated the remaining 3%):
100% full screen hulu:  3 hours, 58 minutes (238 minutes)
100% web browsing (refreshing cnn, yahoo, and engadget every 10 seconds):  4 hours, 37 minutes (277 minutes)
This is quite lower than I would have expected, so I will try to run some more of the same tests to see if perhaps I may have messed something up, but I already ran the 100% hulu twice, but the 100% web browsing only once – so we'll see (does anyone else get similar results?) – this is about the same battery life you get w/the 6 cell and the Acer Aspire One 8.9".
And, if anyone happens to need it, here's a picture of the battery all by it's lonesome:

Performance:
As with most other netbooks, the Atom N270 is not very powerful, and therefore performs about on par with every other N270 netbook out there.  It does just fine with basic usage consisting of web browsing, office work, music listening, EVER SO LIGHT photo editing (resizing, cropping, blurring, etc), and the like – but once you start playing back full screen Flash (hulu), any sort of game above pinball, or heavily multitasking, you'll start to see the netbook fall to it's knees.   Below are some simple performance benchmarks:
Super Pi:
1M = 1 minute, 33.937 seconds
2M = 3 minutes, 30.078 seconds
HDTune:
Min:  31.6 MB/sec
Max:  63.3 MB/sec
Average:  50.7 MB/sec
Access Time:  17.1 ms
Burst Rate:  62.4 MB/sec
CPU Usage:  3.9%
PCMark 05: 1501 pcmarks (connected to an external monitor at minimum required resolution of 1024×768)
As you can see from the results above, don't plan on replacing your normal laptop with this (or any) netbook :)
Upgrades:
As with all the other 10" netbooks I've seen, Acer has given easy access to the hard drive (which is replaceable/removable), memory slot, and wireless card.  Also, Acer is using the same hard drive that can be found in the Lenovo S10-2 and S10:
Versus other 10" netbooks:
So how does it stack up (visually) to other 10" netbooks with 6 cell batteries?  Well, lets see!
vs Dell Mini 10:


For all these pictures, the Acer is on the left, Dell on the right:
vs Asus EEE PC 1000HE:
Final thoughts:
While it's not as thin or has a long of battery life as other 10", 6 cell netbooks, it's price helps compensate where it falls short.  The Acer Aspire One 10 AOD150 is definitely a worth upgrade from it's 8.9" version (as well as any 8.9" / 9" netbook for that matter) as it is hardly any larger/heavier, yet packs a larger screen and touchpad.  
Buying it new from Tiger Direct (assuming the Bing.com cashback is still 15%), at $280 this netbook, in my opinion, would win the "best for the price" category (if such a one existed) – even though it's possible to get the Dell Mini 10 (review coming soon!) cheaper, the Acer Aspire One 10 has a slightly smaller profile which should help it edge ahead of the Mini 10 (in the race for the cheaper end of the netbook spectrum)
Pros:
Cheap ($330 @ Amazon/Tiger Direct, $280 after Bing.com cashback)
6 cell battery does not add to much to thickness
Well built, weight evenly distributed
Light weight, under 3 pounds
Cons:
No bluetooth
Only 89% sized keyboard (other 10" have 92-93%, albeit not much real-world difference)
Lower than average battery life (~4.5hrs light usage)