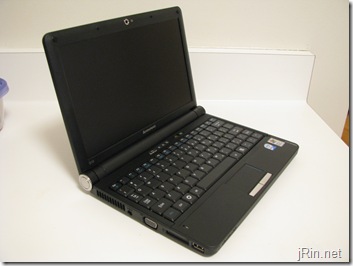 So here we have the Lenovo IdeaPad S10 (netbook) review.  I was hoping to do a more in depth review about it, but I forgot I started to write this review back in November (2008) and just now happened cross it – that, and at that time I had bought about 10 other laptops/netbooks, so I had to get rid of a few before the credit card bill was due :- haha.  So while this is still a review, it's very limited in what it will cover!  However, for the hour or so that I used it, I must say that if it wasn't for the flexibility of the lid (lcd) and the fact that it gets rather warm, I would have voted this the best netbook out of those that I have reviewed (dell mini 9, acer aspire one, and the asus eee pc).
First as always, the specs of this machine are as follows:
Intel ATOM Processor N270 Single Core ( 1.60GHz 533MHz 512KB )
10.2 WSVGA AntiGlare TFT with integrated camera 1024×600
Intel Graphics Media Accelerator 950
512 MB PC2-5300 DDR2 SDRAM 667MHz
Broadcom 11b/g Wi-Fi wireless
3 Cell Lithium-Ion battery
Memory card reader, express card slot, 2xUSB, VGA, headphone/mic
2 pounds, 10 ounces — 9.8" x 7.2" x 0.81-1.08"
Table of Contents:
Unboxing
Screen
Keyboard/Touchpad
Glamour Shots
(limited) Conclusion
Unboxing:
As with all the netbooks I've seen, it's pretty minimal in what comes packaged with them — the netbook itself, battery, charger, and manuals (not that I'd expect anything else, though!). 
Screen:
At 10.2", this is much easier on the eyes than being stuffed into the 8.9" I've been accustomed to thus far, with the Dell Mini and Acer Aspire One.  It's also matte (non glossy) which is another plus because it doesn't suffer from any glare from overhead lighting or the sun.  It's just as crisp and bright as all the other netbooks, and has great even backlighting with the LEDs — also, it has a vast range of different brightness levels ranging from basically no light to blindingly bright.  Oh how I wish 'normal laptops' had these great types of screens (actually, the IdeaPad U330 has similar lighting/screen quality, except glossy).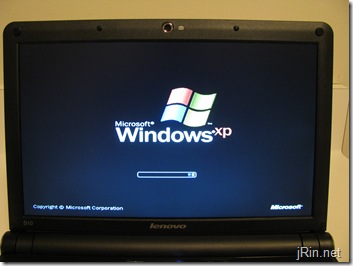 It also has an integrated webcam, and interestingly the mic is on the palm rest, just below the Fn key.  The one downside, however, with the display is the fact that the lid/screen is very flexible.  If I press on the back of it with just about any level of pressure, it easily flexes and creates the "water ripple" effect on the screen.  I'd be afraid that after hanging on to this netbook for a year, traveling with it in my bag and having it sandwiched between books and such, that the screen may eventually suffer damage – but perhaps it would be okay, I just don't know (but it would make me nervous!).
Keyboard / Touchpad:
The keyboard and touchpad are great!  The only thing I don't like is that the number keys are a bit shifted to the left (compared to any other keyboard), but it is by no means a deal breaker.  They (Lenovo) continue to swap the Fn and left Ctrl key, but again, it's just how they do it, and since I've had my x61s for a few months now, I grown to like it.  The touchpad, while a little smaller than normal laptops, functions just fine and has the buttons in 'the right place'.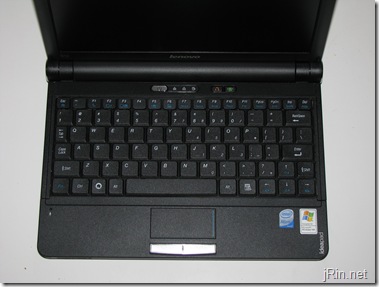 Glamour Shots:
Here are some simple pictures of the netbook:
Upgradability:
Unlike the Acer Aspire One, Lenovo made it very easy to access the hard drive and memory by simply removing the bottom cover: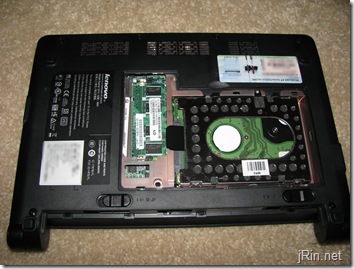 (limited) Conclusion:
Even though I did not get to use it for too long, I was quite pleased with this netbook.  I liked how the screen was not glossy, it was a 10" screen yet still kept the weight to a minimum (2lbs 10oz), has easy access to upgrade the memory and hard drive, and keeps a full size (and normally laid out) keyboard! However, since the time I started to write this review, many many more netbooks have come out (including a 6 cell, and new 'generation') of this S10, so my statement of "this is my favorite netbook thus far" should be taken with a grain of salt!