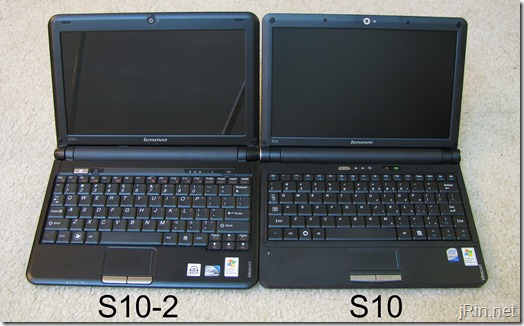 If the Lenovo Ideapad S10 is the male, the new S10-2 would be the sleek and slender female – it's made from (mostly) the same parts but with a different exterior.  The S10-2 was redesigned from the S10 to have a glossy screen and lid, more defined curved edges, 4mm thinner, 5.5oz lighter, and larger keyboard and touchpad.  Was the redesign of the S10 a success?  Continue on to find out!
Specifications:
Below are the specifications of the S10-2 reviewed here (as well as the S10 that it will be compared to):
 
S10-2
S10
Processor:
Atom N270 1.6Ghz, 533mhz
Atom N270 1.6GHz, 533Mhz
Memory:
2GB DDR2-800
2GB DDR2-800
Hard Drive:
160GB SATA 1.5GB/s Western Digital Scorpio Blue
160GB SATA 1.5GB/s Western Digital Scorpio Blue
Display:
10.1" 1024×600, Glossy, LED,
300:1, 1.3mp webcam
10.2" 1024×600, Matte, LED,
300:1, 1.3mp webcam
Graphics:
Intel GMA950, 945GSE
Intel GMA950, 945GSE
Keyboard Size:
89%
85%
Weight (6 cell):
2lbs 11oz
3 lbs 0oz
Dimensions:
10.2" x 7.6" x 0.7"-1.8"
9.8" x 7.7" x 0.9"-1.4"
Ports:
3xUSB, VGA, Ethernet
2xUSB, VGA, Ethernet
Express Card:
no
yes
Card Reader:
4-in-1
4-in-1
Operating System:
Windows XP Home SP3
Windows XP Home SP3
Battery:
6 cell
6 cell
Unboxing & glamour shots:

Hopefully yours will be handled better during shipment, or at least put inside a proper shipping box, because mine basically came pre-opened and a little crushed :-\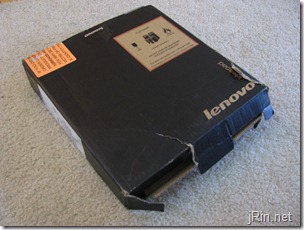 However, upon opening it, everything looked fine and upon booting it up, more importantly everything worked fine!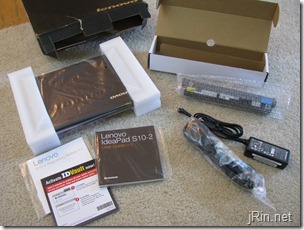 As you can see, you get your standard array of pamphlets/manuals, as well as the battery, ac adapter, and of course the netbook. 
And here we have the glamour shots — we'll start off showing the left (ethernet, exhaust, vga, usb, mic/headphone) and right (wireless switch, 2 usb's, lock, and power jack) sides:
The top (glossy and checkered-like pattern lid) and bottom (notice the two downward firing speakers on the left and right):
And last but not least, a shot of it straight on with the lid open (with the memory card slot towards the right):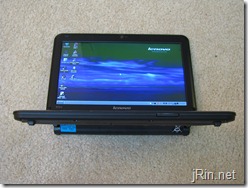 Screen:
The S10-2 moved away from the S10's matte screen and slapped on some glossiness, and on this front, it's just your personal preference whether you like glossy or not.   The S10-2 sports a slightly smaller screen at 10.1" (vs 10.2"), and when compared to the S10, you can't really tell the size difference.   Viewing angles are very good, I didn't find my self having to consciously tilt or move my head in order to get a good picture.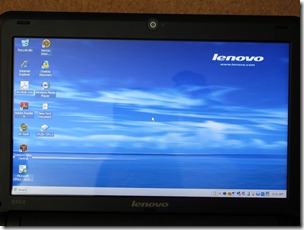 My only qualm about the screen (other than that I have grown to prefer matte), is that with the 6 cell battery, it cannot open at too wide of an angle.  When I'm sitting in a chair with the netbook in my lap, I have to stick my legs out a bit in order for the laptop to slightly tilt back in order view the screen straight on (that being said, it may because I am on the tall side and have a smaller chair, ha):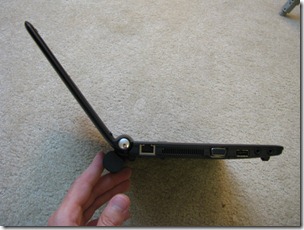 Webcam & face recognition:

The webcam is about on par with any other netbook webcam – it works fine to do basic video chat, and is laggy in low light situations.  What seems to really set them apart from each other, however, is the software that comes with them.  With the S10-2 (as well as S10), Lenovo has included "Lenovo VeriFace Recognition" which allows you to login using your face.  Setup is quite fast and easy, and logging in is pretty snappy.  However, please don't use this thinking it is a good security measure – all that someone would need to get through your impenetrable fortress of security would be to pull up a picture of you on Facebook.
Keyboard & Touchpad:
The keyboard is 89% full size and requires slightly more force to depress the keys than any other netbook I've used.  After using it for a day, you will get used to it as I did (just as you'll need to get used to a smaller keyboard in general if you have never used a netbook) – but, basically, I would find my self occasionally missing a space, or any other key that requires a stretch of the fingers (t, y, 5, 6, v, b, etc) as you need to press harder than you're used to; that being said, they keyboard does feel closer to the "normal" lenovo keyboard (no flex, strongly built, etc).   Both shift keys have been elongated to respectable sizes, as well as they moved the Home and End keys to the top row.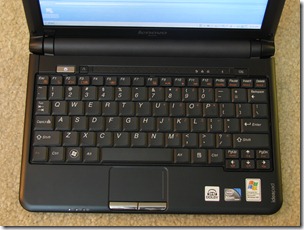 The touch pad not only has been increased in size from about 5.6mm x 2.6mm to 5.6mm x 3.4mm (0.8mm 'taller'), the buttons require less force to press and are quieter when clicked.   The texture of the pad is also slightly smoother, allowing one's finger to slide across it more easily (not that it was 'difficult' to slide across on the S10, but it "grabs" less to your skin when using it). 
Built Quality, Heat, and Noise:
One of the few differences between all netbooks is their build quality, and the S10-2 would rank among the top.  The keyboard has virtually no flex and the screen lid is resistant to bending.  A (slight) thumbs down on quality, however, is that the battery is a little loose, and you can feel and hear it move around when holding it which bothers me:
As far as heat goes, it stays much cooler than the S10 (even with the S10's updated bios), and I can't remember once being able to hear the fan (even though it was running) – again, unlike the S10's fan which was on quite frequently and audible.    The S10-2 does get warm, though not uncomfortably so as the raised battery seems to helps with airflow. 
Performance:
Simply put, the S10-2 stacks up to all the other netbooks running the N270 Atom processor – it's good enough for the basics (web browsing, listening to music, watching/playing non-flash based media, word processing, VERY light games), but once you start doing light photo editing, or watching flash (especially full screen) you'll start to feel the pain of sluggishness.   When trying to watch full screen hulu, it constantly stuttered and stayed at 60-70% processor usage.  That being said, here's some benchmarks of SuperPI and HDTune speeds:
| | | | |
| --- | --- | --- | --- |
|   |   | S10-2 | S10 |
| HDTune | Avg: | 52.1MB/sec | 50.1MB/sec |
|   | Access Time: | 17.2 ms | 17.0 ms |
|   | CPU Usage: | 5.1% | 6.4% |
|   | Burst Rate: | 62.3MB/sec | 67.4MB/sec |
| Super PI | 1M: | 1min 35s | 1min 33s |
|   | 2M: | 3min 45s | 3min 23s |
| Time to boot: | Login Screen: | 0min 46s | 0min 46s |
|   | Desktop: | 1min 13s | 1min 15s |
Battery Life:
I was hoping that since many other things were slightly improved upon in the S10-2 compared to the S10 that the battery life would too – and it did (about 7% longer).  Tests were performed at level 4 brightness, wifi on, and auto performance:
| | | |
| --- | --- | --- |
|   | S10-2 | S10 |
| Full screen Hulu 100% of the time: | 3:14 | 3:07 |
| Full screen Hulu for 1.5h, web browsing for rest of the time: | 4:20 | 4:02 |
| Web browsing, typing in text pad, and install a few windows updates: | 5:17 | 4:46 |
And in case years down the road, someone happens to buy a used s10-2 and wants to buy a replacement battery … or something … and needs to know all the numbers and barcodes on the 6 cell battery:

Upgrading:
As with most of the newer netbooks (basically, unlike the original line of 9" ones that first came out), it is fairly easy to upgrade the memory, hard drive, wireless card, and WLAN – all you need to do is remove the bottom covers, pop out the old and put in the new.  And contrary to the Lenovo spec sheets, the hard drive IS removable/replaceable:
Comparison shots to the S10:
To further drive in the (minor) differences/similarities of the S10-2 and S10, here are a few more pictures of them together.  All-in-all, the actual main chassis of the S10-2 is thinner, but the feet are a bit taller than the S10 thus making it appear the same thickness overall.  As you can tell, the S10-2 is barely shorter than the S10: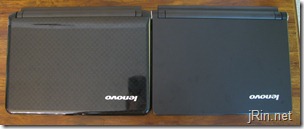 And while the S10-2 is slightly thinner in the front, it's slightly thicker in the back, so it evens out.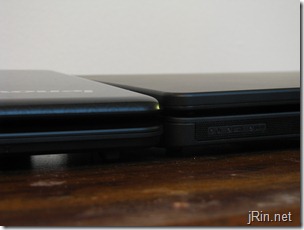 And then two more shots showing the size of the battery (almost exactly the same), as well as their height when opened 90 degrees:
Final thoughts:
All things considered, yes, the S10-2 was a successful redesign of the S10. However, unless you really want the extra battery life, it's not worth the extra price of the S10-2 – as of 6/24/09, you can get the refurb S10 for $277 or a new S10-2 for $399 [though, after time, s10-2's will pop up in the outlet, for a lower price].   
As far as performance, it's about on par with any other netbook I've used/reviewed.  The added benefits over other netbooks is that it is smaller/lighter than most, has a great keyboard, and when it was first released it was only $300 (now $400 through their main site, who knows if they'll lower the price again).   With a battery life of around 5 hours with 'normal/light' usage, it's definitely a netbook you could feel comfortable with taking with you on a day trip without having to pack the charger. 
Pros:
Light (2 pounds, 11oz)
5 hours + battery
Sturdy keyboard, no flex
3 usb ports
Stays cool and quiet
Large touchpad & soft(er) buttons
Cons:
Loose battery
Too expensive for it's differences compared to it's predecessor (S10)
Fingerprint magnet (as is any glosssy netbook/screen)