I recently moved to the Baltimore/Washington area and have opted to use the trains to get to and from work, so I was looking for a ultra portable laptop to take with me on my commute.  At the time, I had a Dell Latitude D630 and though it's weighs about 5 pounds, I wanted something much lighter – which is when I came across the Acer Aspire One.   I just started a new job, so money was tight, and this was the cheapest 'netbook' available that had the new Atom processor and XP (plus it was carried locally by Best Buy, so not having to wait for shipping), so I decided to give it a go:
Here are the specs of the machine reviewed:
Intel Atom N270 1.6Ghz 533mhz fsb 512mb cache
1gb ddr2-667 (512mb soldiered, 512mb removable/upgradeable, though difficult)
8.9" WSVGA (1024×600), CrystalBrite (glossy), LED Backlit screen
120GB 5400rpm SATA hard drive (1.8")
Intel integrated 950 graphics
Built in 0.3mp (vga) webcam with mic
2 Memory card slots

1 SDHC
1 5-in-1 (SD, MMC, Reduced Size MMC, MS/MS Pro, & xD)

3 usb 2.0 ports
Built in 802.11b/g wifi (atheros invilink)
2.2 pounds, 1.1" thick
Windows XP Home
Unboxing:
First, lets see some unboxing shots:
And now for the review:
Screen: 
The screen in a nutshell is quite amazing.  It's LED backlit, very sharp and crystal clear, and is even viewable in sunlight (ie:  sitting on the train with the sun shining directly on it). That being said, I don't mean to say it's crystal clear with the sun directly over head outside – it's still a bit hard to see then, but it's at least usable (unlike compared to my old m1210 for example).  Being that it's a glossy screen, you do get reflections, but with the brightness set on max, even during sunny days or bright overhead lights, most reflections don't much matter and you can still view the screen.   There is a minimal amount of (what looks to be) light leakage that comes from the bottom, but it's hardly worth mentioning (and I can't tell during normal use – only if the screen is all black, or black at the bottom like in a widescreen movie, and even then, it's not bad) – I think it's more of a viewing angle issue (but again, it's minimal).  In the image below, the white you see in the corners and bottom is just because of the angle it's being viewed at; if I were to move the camera, it would look different (it's not nearly as bad as it seems, I promise – it's just the way the camera captured it).  I was debating to even include this picture, but figured I would since I took it, haha: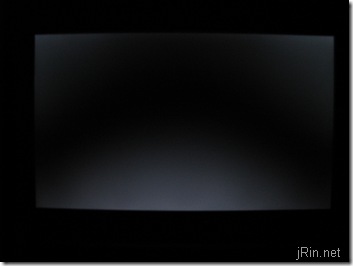 The 1024×600 resolution is a nice fit for this size screen as any higher resolutions would probably make it hard to see (things would be too small).  The LCD is also pretty thin, which is a tad bit thinner than my d630 and hp dv2000t.
When running off battery and at the lower screen brightnesses, everytime time the hard drive is accessed the screen backlight flickers ever so slightly.  It seems as though there isn't quite enough power coming from the 3 cell battery to keep a constant power level to the screen's LEDs so when the hard drive spins, there's a power drop to the LEDs and the brightness flickers (this is a guess!).  At first it bothered me because I thought it was broken, but then I read up on others having the same issue, and after using it now for a while I don't notice it anymore – it is very subtle. I would give it maybe 1/4 the 'brightness change' of actually, physically, changing the brightness level (maybe not even 1/4); the flicker doesn't occur when at higher brightnesses (actually, it probably does, but you just can't tell).  I tried to take a video of the dimming, but I couldn't get it to be noticed on my camera.
I've been using this on the train to do basic web browsing and web development, and as far as the screen is concerned, I have almost nothing bad to say…. except for sites that are designed for 'taller' resolution screens, such as google reader.  Being that it's only 600px tall, once you add in the browser's menu, status, bookmarks, etc tool bars, you don't have much vertical web viewing real estate. Sites such as google reader don't provide vertical adjustment, so I can only "see" 1 feed title at a time: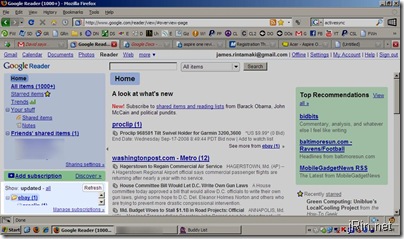 Though, in retrospect, I think this is more a limitation of the website than anything else because I feel that it should be an option to resize the sections on that page anyway!  So far, however, that's the only site that has not 'done well for me' with this 1024×600 resolution.  (and seeing as how most sites are designed with 800×600 or 1024×768 resolutions in mind, horizontal space shouldn't ever really be an issue).
Want to easily see what it would be like using different programs, that you are using right now, in a 1024×600 resolution?  Download sizer (www.brianapps.net) which allows you to right click on the title bar of a window (ie: firefox, word, etc etc) and have it resize to different resolutions of your choosing (ie:  create one for 1024×600!).

Keyboard & Touchpad: 
Being that this is a 8.9" laptop, the keyboard is smaller than a standard sized keyboard (89%).  Yes, the keys are smaller, but after about 15 minutes (at least for me), I was able to get used to it and was never really a big deal (reminds me of the good old days with the dell 700m). However, if you have larger hands, I could see it being more of an issue.   There is minimal flex  – again, nothing really worth mentioning, in fact, I'd say it has the least flex of any keyboard I've ever used.  The keys are pretty quiet (on par with the latitude d630) and you do have to hold the FN key to do Home, End, num lock, and scroll lock.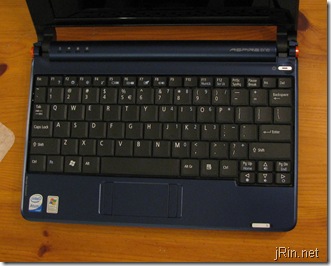 The touchpad is quite small; It's about half the height of a normal touchpad, and maybe 3/4 the width.  I've found myself having to consciously start my finger at the very bottom of the touch pad in order to move the cursor from the bottom of the screen to the top, in order to get the same 'reaction' as a standard sized touchpad.  On regular sized laptops, I never really use the bottom of the touchpad, but with this "half height" one, you'll either want to turn up the speed and/or sensitivity of the cursor (so small touchpad movements result in larger cursor movements), or really try to utilize the entire touch pad.  Another thing I did that helped touchpad usage was to change the area for horizontal scrolling to a minimum: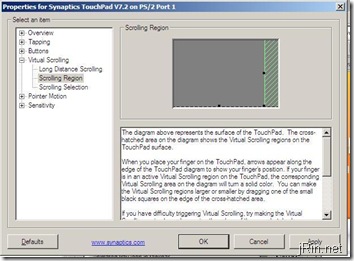 Now we get to the touchpad buttons… I am so not a fan of how the buttons are on either side of the touchpad (as opposed to below it), but after using it a while and realizing how small the laptop is, and how small the touchpad is already, I am used to it and don't see there being any other option.   The buttons themselves are a bit stiff in that they require more effort to press than I would like (but I also usually tap the touchpad for clicking anyway, so everything but dragging isn't a big deal for me personally).   I have, however, found my self to occasionally use my left thumb to handle left clicks, seeing as how it's RIGHT there, but the buttons have definitely been one of the few major things I dislike about this laptop (not to say it's a show stopper – it's more of just an annoyance).    I've therefore found myself getting around using the touchpad buttons by doing things such as using the arrow keys for scrolling/moving around a document/webpage, and relying more on keyboard shortcuts than before (and of course tapping the touchpad for clicks).
Heat & Noise:
This netbook does get fairly warm after about 15 minutes of usage. Nothing even close to something that would burn you, or uncomfortable with direct skin contact.  However, having it sit on my lap on the train after running to try to catch it (ha), it definitely makes me a bit warm to the point where when I'm on the train, I will purposely find a seat under an air vent, or put a notebook between my lap and the laptop.  
When the netbook first starts up, you can see just how loud the fan CAN get.  It starts with a higher pitched, relatively loud (for the size of the laptop) whirring, but then promptly becomes almost silent (in a silent room, you could hear it); When warm, the fan is on and running, but it's more of a low hum – nothing that would ever bother me at least, and I would venture to guess that most others wouldn't care either.  After using it for little over a week now, I've never had it run the fan at full speed like when starting up, so the noise level has never been an issue for me.
Battery (3 cell):
The battery is my worst gripe with this netbook.  Using it at the 2nd-lowest brightness, while having my phone plugged in for internet access (but not charging the phone), and wireless off, got me just at 2 hours and 30 minutes.  This consisted of simple web browsing, a bit of youtube play back, and some web development (notepad, etc).   While I would love to have the 6 cell, which would basically afford you ~4.5 hours, the ~2.5 is bearable.   Starting at a 0% charge, it took 2:20 to charge it back up to 100%.
Below is the data sheet from running BatteryEaterPro.  With this, I had wifi and bluetooth on (using one of those MicroUSB bluetooth adapters), and had the screen brightness at 50%, and the 800×600 resolution of video rendering.  Clocking in at just over 2 hours with max usage with BEP, and just under 2:40 using "moderate" usage (detailed earlier), if you are looking for good battery life as well as ultra portability, I would hold out for the 6 cell version (which amazon will have on 9/22/08 for $399).
  
(click here for full BatteryEaterPro log)
For me, personally, I only need about 1.5 hours of battery life a day (for the train), so it fits my needs just fine.  However, if I want to use it for more than an hour at work as well as on my commute, or I forget to charge it one day, I'll be out of luck (though, the charger is very small and light weight at about 10oz).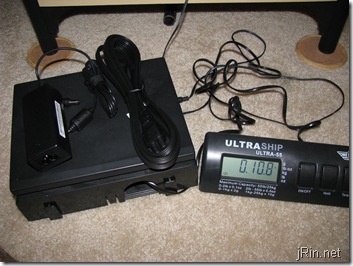 Build quality, 'physical aspects', and ports:
This laptop is very well built, and I haven't noticed any flex anywhere – being that it's so small and compact, I don't think it could ever flex. The keyboard is firm, as well as the LCD panel and the whole laptop itself.  The screen only opens to about maybe 155-160 degrees.  When using it on your lap, with the screen open, the laptop does tilt backwards ever so slightly, but not enough for it to be in danger of falling/flipping backwards or anything.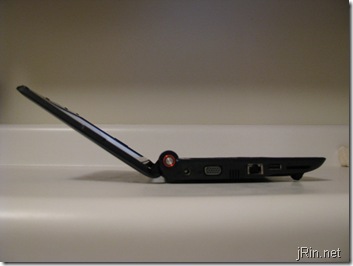 (screen fully opened)
Here is my last, and final 'major' gripe with this laptop:  The 4 rubber feet that are on the bottom, to give it a 'non-slick surface', aren't all the same height.  One of them is about a millimeter shorter than the rest, so if you have it on a table and you are typing, you are able to slightly rock it – not really when typing, but only when lifting the heels of your hands off when you're "done typing".  I am not the only one with this issue, as I read about someone else over at slickdeals.net forums (where they discuss getting this for $250 like I did!).  If my best buy had more in stock, I would return it to get a replacement; however, if I had ordered it online, I wouldn't bother going through the hassle of shipping it back (even if it was free), just because it's something I can live with: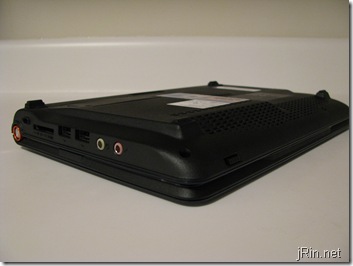 It comes with 3 USB 2.0 ports, vga, headphone and mic jack, built in webcam and mic, SDHC card slot (left) and 5-in-1 card slot (right – sd/sdhc, xD, memory stick/pro), power, and the hole to put a lock into.   That's right, it has 2 memory card slots.
The only reason I can think it has two is for the SSD hard drive versions of this laptop so you can use one for extra storage (seeing as how the largest SSD option is 16gb), and the other for 'daily use' (cameras, etc).  The slot that is only the SDHC reader will allow the card to fit all the way into the laptop (flush, without sticking out), whereas the multicard reader has the card stick out (for easier/faster removal).  Once larger SDHC cards come out or if you find a SDIO card you could actually make use of, I could maybe see the dedicated SDHC slot being useful — but until then, I will stick with my wish that they turned one of the card slots into an extra USB port, express card slot, or something else wonderful.
Here are some size comparisons to my Dell Latitude D630 (14.1" widescreen laptop) and other objects:
Seeing as how the lid has the "glossy" texture to it, it does attract finger prints, but luckily they don't show up as bad as on a completely black lid (like on the dv2000t):
Size / Weight:
Weighing in at 2.55lbs with the 3 cell battery, walking the mile from the train to work I can hardly notice it's in my bag.  This is definitely it's major selling points — being so light and about the size of a book.  On busy train rides, with people crowded all over the place, and sometimes not being able to find a seat, it's small and light enough to hold in one hand while standing, and using the other one to type/use the mouse;  however, if it was a tablet, it'd be even better haha.   I can definitely see this being nice to use on small planes – using my 14.1" is hard to type with because it's too deep to be able to maneuver my hands and elbows with the 2 seats x 2 seats planes with about a foot from you and the seat in front of you.
Performance:
Being "only" 1.6ghz (atom processor), I was very surprised at the speed this thing can deliver.  No, it is not going to be as fast as a core 2 duo laptop, nor do I expect (hopefully) that anyone would hope for such.  Opening MS office, firefox, media player, etc, I don't notice much difference than if I were using my desktop.  Installing software, however, is where I found the most lag – while installing office, activesync, firefox, etc, I definitely noticed a bit of sluggishness, but for 'everyday browsing, word processing, movie watching, music listening, etc', it will be just fine.  After all, it does have 1gb of ram and a 1.6ghz processor – it's not like it was unbearable back a few years ago when we were all using the Pentium M processor in laptops! 
As I've mentioned, I've been using it to do some web development (using Paint.net for image editing, notepad++ for coding), watching youtube videos, writing this review on google docs, and simple web browsing, music listening, etc.  At 1gb, having a bunch of firefox tabs open, while having office and windows media player open, then trying to open something else (say wireshark or paint.net), I'll notice things start to slow down a bit (where as on my t7700 2.4ghz core 2 duo, it hardly hiccups).  However, it is not like it's painfully 'slowed down' when doing alot, you just simply can notice it, and at it's price point and processor, it's to be expected.
Webcam:
The webcam is actually a lot better than I expected.  It does have the lag and poorer quality in low light situations (as any sub $75 webcam I've ever owned), but does great in better lit areas – I wasn't able to find software to record video at the moment, so I don't have a sample video.  I do, however, have a sample picture of our bakers rack.  It's not very good, but it's expected with a VGA cam haha:
Software:
The laptop does not come pre-loaded with a bunch of bloat/crap ware, which was a welcome surprise.  It does come with a 60 day trial of both MS office and McAfee, and other than that, it's just a bunch of 'driver software' (touch pad, quick launch, etc etc).  One thing I really don't like is the absence of a recovery disc (or any discs for that matter, ie windows reinstall), or the ability to create one.  The only option available is the restore partition to which if you delete it, you are out of luck if you want to restore back to factory settings/defaults/etc.
I tried to use DriveImage XML to create a backup of the hard drive, but it would not see the hidden partition, so that was out of the question.  I have norton ghost 12 I got free-after-rebate a while ago, installed it, but can't (quickly) find the way to image the entire hard drive (I miss my norton ghost 10..).  I wanted to install XP Pro, so I just kept the ~5.8gb recovery partition in tact and installed pro on the partition that home was on; you can, however, download the recovery software which will restore your computer given that you have not deleted the recovery partition.  (come on acer…!).
Upgrading: 
Acer definitely made it hard to upgrade anything in this laptop.  As shown at tnkgrl's blog here, there's a detailed guide how to dismantle the laptop to add in extra memory and if you are feeling lucky, you can add internal bluetooth (requires a good amount of work).   I've just been using one of those micro bluetooth usb adapters (like this one) and it works fine.
Conclusion:
There are many "netbooks" out there at the moment:  msi wind, eee pc, hp's <don't know the name>, and soon the dell mini (if mine ever ships..), lenovo s10 (also backordered.. ).   For the price, and the specs of the acer aspire one, it wins the contest hands down, no question (at least in my opinion!).  With 120gb hdd, 1gb ram, 1.6 atom processor, webcam, and windows xp for the low price of $350 (or less), you can't go wrong.   This is great for the person who wants something small and light to travel around with, while not having to go with one of the low voltage (slower) processor (and more expensive) laptops, while also not having to switch to linux.  They keyboard is smaller than normal, and the touch pad is annoying, but it's what's going to happen when you get an 8.9" laptop, and it's nothing one can't over come.
Yes, there are 10" netbooks which would be the best of both worlds (keeping a 'normal size' keyboard and touchpad, while keeping the small foot print and weight), but they also cost around $200 more, and still have the same screen resolution (ie:  eee pc 1000h).  While at the time of this review there's only the 3 cell option, acer is coming out (shortly) with a 6 cell version with a 160gb, which is scheduled to cost $400 (at least on amazon, check link to the left!).  Would I recommend holding out for it?  Yes!  Having the extra battery life is WELL worth the extra $50 (not to mention 40gb more storage space).
Having used this on the Maryland/DC trains for about 2 weeks now (1.5hrs a day), I'm very happy with it (especially over having to drag my twice as heavy Dell Latitude D630).  It has a long enough battery to suit my needs, has a screen bright and crisp enough to use even when the sun is shining directly through the window, and it small and light enough to carry on my mile walk from the train to the office without it becoming annoying to carry.
If you want to check it out in person before buying, I have seen it on display at both Best Buy (where I bought mine) and Microcenter.
Pros:
Very small and light weight
XP Home (not linux)
Large 120gb (compared to similar netbooks with tiny SSDs) 5400rpm sata hard drive and 1gb ram
Sturdy build quality, practically no flex anywhere
1.6ghz atom processor (fast enough for most tasks including light photo editing)
Cheap! ($350 at time of review, or $250 with some work)
Cons:
Only about 2.5hr battery life with standard 3 cell battery (though 6 cell soon to become available)
No recovery disc, or option to create one (but does have a recovery partition)
Touch pad is quite small, and awkwardly placed buttons (though no where else to put them)
Difficult to upgrade ram (must fully dismantle) if desired
Ever so slight backlight flicker/dimming when the hard drive spins when on lower brightnesses and on battery