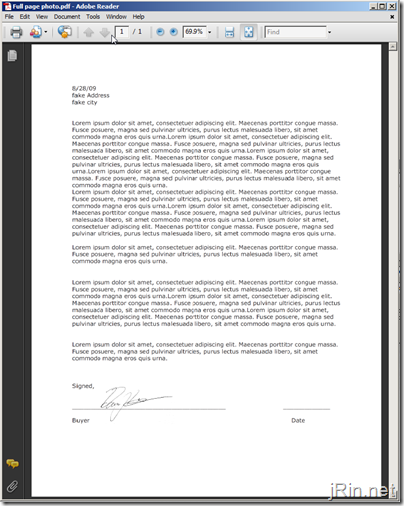 In an effort to go completely paperless, I was presented with the problem of needing to sign a document that was emailed to me and send it back. Without having to print out the form to sign it nor needing access to a scanner or fax machine to send it back, you can simply take a picture of your signature, and then using free tools you can insert it onto the PDF and email it right back!
Since the time this guide was originally written a couple of years ago, thanks to commenters and software updates, there are now much easier methods to add your signature to PDFs for free (though, you can still follow the old guide if you'd like, but it's more complicated than it now needs to be).
Note, like with the old guide, the below may look a little complicated at first, but that's only because I explicitly go through each step/click/etc. Once you read it and try it, it's a lot easier and quicker than it may look.
Method 1 – Adobe PDF for Android/iOS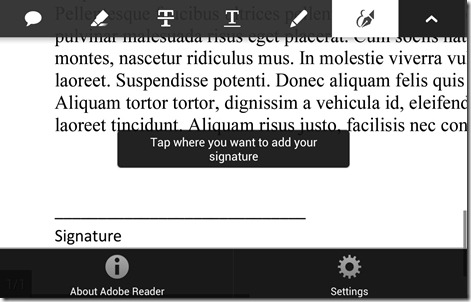 Perhaps the easiest way to sign PDFs would be to use Adobe Reader for Android or iOS. Of the many new features in the latest version, one is being able to add a signature to PDFs; unlike using the Nitro PDF Reader (the other new method discussed later in this post), you use the touchscreen of your mobile device to add your signature directly – there's no need to have a separate image of your signature ahead of time.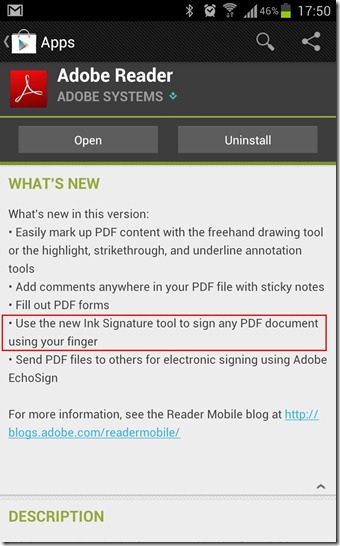 Method 2 – Nitro PDF Reader
This next method is by using the latest (free) version of Nitro PDF Reader, and no other software is necessary. One of Nitro PDF Reader's useful features is that it allows you to import an image of your signature and stamp and resize it onto a PDF without having to do the all the editing from the old method (screenshot of the pdf, adjusting the color and brightness, creating a transparent background, etc) – here's how you do it:
Download and install Nitro PDF Reader.
You still need to get your signature in digital format. My preferred method is simply signing a piece of paper and using your phone to take a picture of it and sending it to yourself


(In particular, I like to use DropBox for Android which now has the convenient option of automatically uploading pictures taken with your phone to your DropBox account for easy access to your photo from your computer)


Using Nitro PDF Reader, open the PDF you want to sign:

From the main ribbon bar, click on QuickSign –> Create New Signature:

Click on Browse to upload the image of your signature:

Once you import your signature, depending on how well of a photo you took, you may have some "extra image" (black smudges) in your previewed signature:


To fix this, you'll have to either try to take a better photo, or (and I know I said you wouldn't need any other software, but…) simply crop out any part of the image that isn't your signature by using your favorite image editing software. For example, in MS Paint for Windows 7, simply select your signature (zoom out if you have to), click Crop,

and save it:


Now, once you upload this cropped version of your signature, it should look much cleaner in the Preview window:


Now, give it a name if you want (useful for if you store multiple signatures), and I would suggest applying a password to it if you choose to not delete it after you use it (so someone can't just open up your Nitro PDF and start signing documents as you):

Once you click Save, you will be brought to the main 'Manage Signature' window (this is where you can edit or delete your stored signatures).

Once you close this window, your mouse cursor will be replaced with your transparent signature. Hover around to where you want to place it and then left-click once which will place it on the PDF. (you can actually place it anywhere because you can move it around once it's placed).

Once it's placed, it'll be highlighted in blue and you can move and/or resize it:


Once you're satisfied with where it is and how it looks, simply double click on it and it's finished!

Now simply re-save the PDF (file->save/save as) and you have a signed PDF (and your signature is stored within Nitro PDF Reader for easy access to sign future PDFs).
Of these two methods, using Adobe Reader mobile is the easiest, though using the Nitro PDF route gives a more 'true' signature because it's using a picture of your actual signature; Adobe Reader doesn't have the ability to record the variable width/thickness of your pen strokes like an actual pen/pencil on paper. But either way, both are much better methods than I described quite a while ago and work great for adding your signatures to PDFs.
So there you have it, you were able to bypass having to print, sign, and scan (or fax) a document! Have a simpler (free) way to add a signature to a PDF? Did I miss a step you can't seem to get passed? Perhaps you know of a way using a non-Windows OS? Let everyone know in the comments!
(caveat emptor, this guide is in no way meant to act as a way to forge, or otherwise impersonate, someone's signature!)