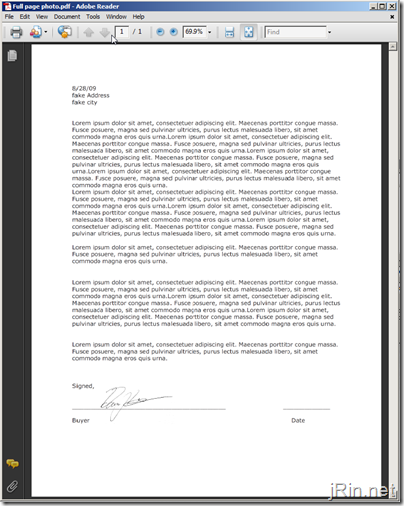 This post has been updated! Check out the new, easier, methods of adding your signatures to PDFs here
In an effort to go completely paperless, I was presented with the problem of needing to sign a document (pdf) that was emailed to me and then needing to send it back.  Without having to print out the form to sign it nor needing access to a scanner or fax machine to send it back, you can simply take a picture of your signature, and then using free tools you can "import" it "into" the PDF and email it right back! 
This may seem long and complicated at first, but once you read through it and do it once, it should be fast and easy a second time – And granted, there may be slightly easier ways to do this with paid tools, but this guide is for using freely available tools which you also may have one or two already installed!:
1. Download and install the tools
Here is what you need to download:
Adobe Reader 9 which you probably already have.  We will use this to view the original PDF and take a single screenshot to import into the image editing software (don't worry, it will look good!),
Paint.net (or really, any drawing program that can do layers and make transparent images) which we'll use to overlay your signature on the PDF screenshot, and then also to re-print to a new PDF,
CutePDF (or any other free PDF Printer), which as opposed to printing to a printer, will allow you to "print to" (create) a PDF, and
A way to get a copy of your signature on your computer.  I used my iPhone to take a picture of my signature, though, you can use what ever camera phone, real digital camera, etc that you have.
2. Convert your PDF to a screenshot (an image)
Open your PDF in Adobe Reader 9 and zoom all the way out so you can see the entire page (even if it looks small and you can no longer read anything):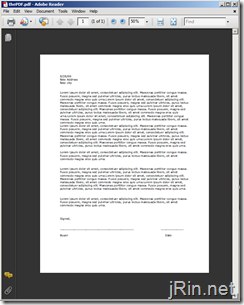 Next, select the SnapShot tool ("Tools" –> "Select & Zoom" –> "Snapshot Tool") and starting at one corner, click-and-drag to the opposite diagonal corner to highlight the entire page.  Once you do that, you should receive a dialog box saying that the selected area has been copied to the clipboard: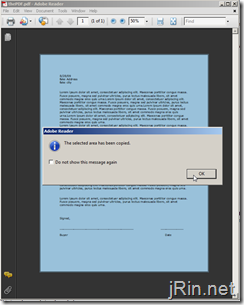 However, if you proceed in using what is currently copied, it will be exactly the same size as you are currently looking at it; meaning, it will be really small and will end up very pixilated when you "blow it up" to normal paper size when you re-print it as a PDF, such as the image below (click to enlarge to full size):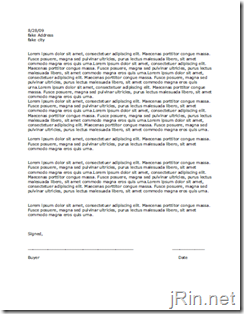 So, in order to fix this, make sure the page is still highlighted (transparent blue) and then zoom in quite a bit ("View" –> "Zoom" –> "Zoom To…").  You don't need to zoom to 5000%, but 200-300% should be enough.  While making sure it is still highlighted, right click anywhere it is blue-ish, and click "copy selected graphic".  You now have a much larger screenshot of the PDF in your clipboard.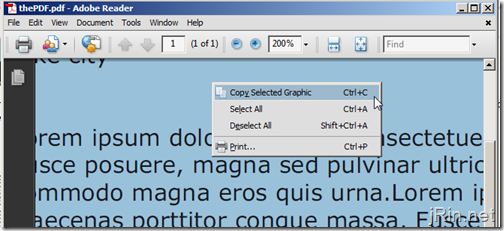 Proceed by opening Paint.net and pasting into a new image (Edit –> Paste) and feel free to save this as a PNG file if you want (I'll refer to this image as "pdf screenshot").  Either way, to make things easier, go ahead and keep Paint.net open while we move forward.  You now have a large, high quality screenshot (image) of your PDF which is ready to have your signature placed on top of!
3. Get your signature onto your computer
Okay, so now you need to get your signature on the computer.  Chances are you have a decent enough camera phone (and a way to get those pictures onto your computer) that you can use to take a picture of your signature , such as the iPhone – or – you can of course use a scanner, a real digital camera, or however else you can come up with a way to do it.  With my iPhone, I just took a picture of the signature in a decently lit room and then emailed my self the picture:
(and no, this is not my real signature, ha)
4. Prep your signature for overlaying on the PDF screenshot
We will now make the image black and white, enhance it (using brightness and contrast), and then make everything that is not the signature (the paper) to be transparent.  Open your signature in Paint.net (or whatever image software you are using) and 1) convert the image to black and white, and then 2) adjust the brightness and contrast so that it really is only black-and-white. 
To do this, start out by opening the signature image in Paint.net ("File –> "Open" –> find your image).  If you already have your pdf screenshot open, you should now be in a new Paint.net window:

First, we'll go ahead and resize the signature just incase it is huge by going to "Image" –> "Resize".  Make sure "Maintain aspect ratio" is checked and change the width to 1000 pixels (leave whatever number appears in the Height section as-is. It will probably not be the same as mine).  Click ok. (resizing now will help prevent issues when pasting it over the pdf screenshot later)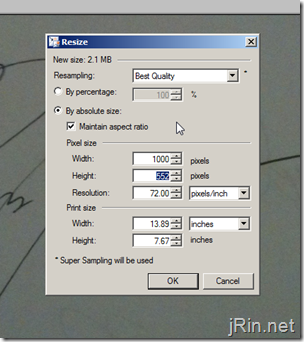 Now, 1) go to the "Adjustments" menu bar, then click "Black and White", and then 2) go back to "Adjustments" and then "Brightness / Contrast" — for my particular image, I had to set brightness at 52 and contrast at 79 for it to look like the following (your settings will vary) – the goal here is to have the background as white as possible while having the signature stand out and be clear:

Now we need to make all the "white" become transparent so we can overlay it on top of the pdf screenshot.  
First, select the Magic Wand tool and start with a tolerance level of 50%: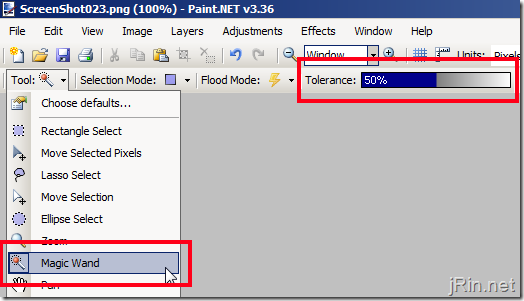 Then, hold the CTRL key while you start clicking on the white areas of the image.  Keep clicking the white areas (while still holding CTRL) until they have all been selected so you get something that looks like this (zoom in if you need to in order to get enclosed small areas such as the white space in letters like P, B, O, etc):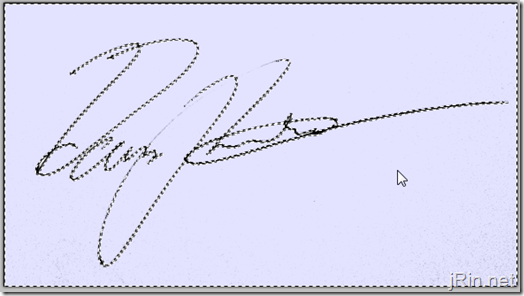 At this point, you can then press the delete key, and everything that is highlighted (all the white) will be removed and will be replaced with transparency (white and grey checkered boxes):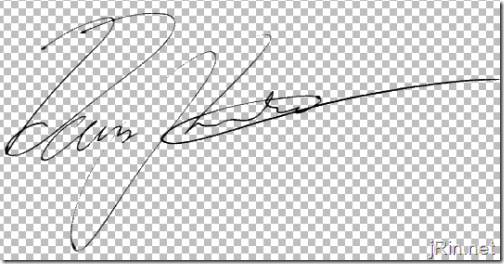 There, now your signature is ready to be placed on the pdf screenshot!
5. Paste the signature onto the pdf screenshot
Start out by copying your entire signature by going to "Edit" –> "Select all" and then copy it (edit->copy).  Then, move on over to your pdf screenshot (just click on it's thumbnail in the top-right corner if you still have it open, or if not, open it! [with Paint.net] ).
From here, create a new layer on top of your pdf screenshot by going to "Layers" –> "Add new layer":  (this will allow you to place the signature "on top" of the pdf screenshot without covering anything up)

Next, paste the signature into this new layer ("Edit" –> "Paste).  Chances are, your signature will be a big large, but either way you will need to resize it to the size your actual signature would be and move it down to the signature line: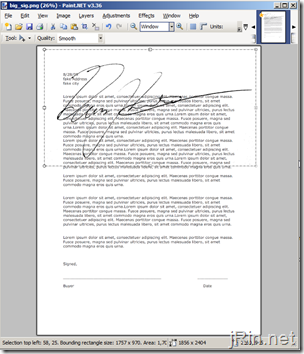 With the signature still selected (dotted lines still surrounding it), hold the SHIFT key on the keyboard while you click and drag one of the corners of the signature selection  (when you move the mouse cursor to one of the corners, the cursor should change from a solid black arrow to a white hand, thus signifying you can resize).  Hold the SHIFT key while you resize it so it will keep the same aspect ratio.   Continue to resize it until it is about the right size that you signature would be.  Once you are happy with the size, let go of the SHIFT key and release the mouse button – now, move the cursor to the middle of the signature so you now have a black arrow cursor – this will now allow you to move the signature down to the signature line:
Now, click and drag the signature to the signature line and release the mouse button.  With the signature where you want it on the pdf screenshot, proceed to "flatten" the image (combine the "signature layer" with the "pdf screenshot" layer) by going to "Image" –> "Flatten".   Congratulations, your PDF screenshot is now signed and ready to be re-saved ("printed") as a pdf!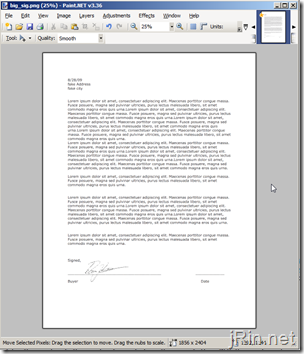 6.  Print to PDF
Now, go to "File" –> "Print", and select your PDF printer (in my case, "CutePDF  Writer").  Be sure that you select Full Page Photo and don't choose the option for cropping if you see it (I am using Windows 7, but if you were using XP you may see the option for full page photo cropped) and continue to print.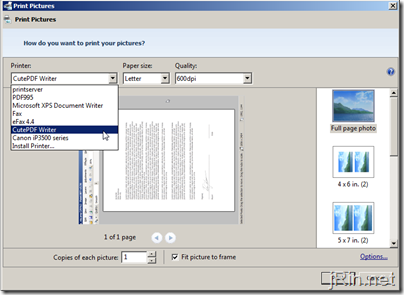 Your PDF printer software will now most likely have some sort of dialog box asking you what to name, and where to save, your new pdf – go ahead with that, and then enjoy your signed pdf!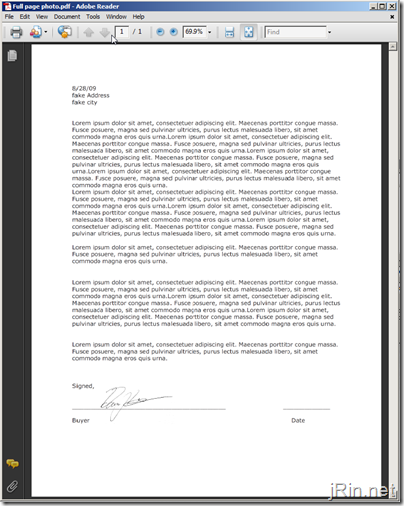 So there you have it, you were able to bypass having to print it and scan it in (or fax it)!  Have a simpler (free) way to add a signature to a PDF?  Did I miss a step you can't seem to get passed?  Let me know in the comments!  (caveat emptor, this guide is in no way meant to act as a way to forge, or otherwise impersonate, someone's signature!)