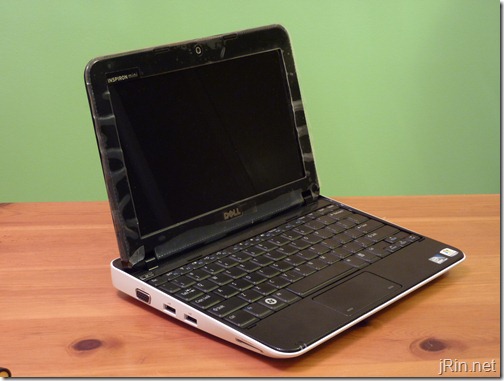 The Dell Inspiron Mini 1012 is Dell's first netbook to utilize Intel's latest Pinetrail platform by using the Atom N450.  Does the N450 result in a significant improvement over the previous Dell Mini 10/10v's Atom N270/N280/Z530?  Yes – better battery life and better performance.  Is the 1012 any better than the 10/10v?  Yes, keep reading to find out more:
Specifications of reviewed system:
Intel Atom N450 1.66GHz, 667MHz FSB, 512K L2 cache
2GB DDR2-667 Memory (upgraded from 1GB)
10.1" 1024×600 Widescreen display
Intel NM10 express chipset
Intel Graphics Media Accelerator 3150
6 Cell extended battery
1.3M webcam
160GB SATA 5400RPM Seagate hard drive
Windows 7 Starter
Dell Wireless 1397 802.11b/g
3-in-1 memory card reader
3 x USB2.0, 1 x 10/100 Ethernet, 1 x VGA, 1x Mic + Earphone
Unboxing and ports:
As with the Dell Mini 10/10v, not much comes in the box with the netbook – just the various CD's (MS Works, drivers, OS, etc), the small charger, and the netbook itself:
Here you can see images of the different views/ports:
In the video above, you can also see the new hinge design of the 1012.  Instead of the hinge being at the far end like most other netbooks, it is rather about a half inch from the back.  My guess is so that this way they were able to make room for the 6 cell battery to be "part" of the normal chassis, instead of seeming to stick out (but of course, that's a total guess!):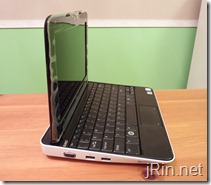 Upgradability:
Unlike the original Mini 10, the memory is upgradable to 2GB (up from the standard 1GB) and thankfully does not require you to fully dismantle the entire laptop like you do with the Mini 10v; however, there is still no easy memory access door.  Instead, you have to simply remove three screws on the bottom of the netbook as well as the keyboard and then you will have relatively easy access to the memory (green) and hard drive (red).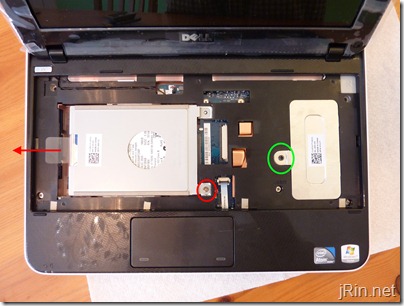 On the other hand, if you want to upgrade your wireless card, wwan, hd decoder, etc – you will have to remove a few more screws and then pry off the palm rest (and it's honestly not too difficult).  See my previous post with an HD video and picture guide on how upgrade and dismantle the 1012.
Screen:
Viewing angles and brightness are both very good.  Using the netbook on my lap or a table, I did not have any problems having to look at it at just the right angle or anything like that – slight movements of my head (or lap) didn't require me to adjust the angle of the screen in order to see everything "normally".  
There are 16 levels of brightness and I found that I was comfortable at keeping it at about 8/16 brightness most of the time.  In direct sunlight, having it at full brightness allowed the screen to be visible (albeit with a bit of reflection from the sun):
The lid (screen) is fairly thin – as thin as any other netbook screen – and while it doesn't open a full 180 degrees, it does open wide enough for normal uses: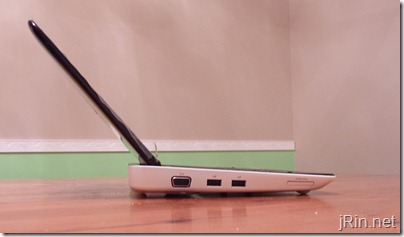 Performance:
Below are some tables comparing the Dell 1012 with other netbooks and laptops:
Windows 7 (Vista) Scores:
| | | |
| --- | --- | --- |
|   | Dell Mini 1012 | Asus EeePC 1008HA |
| Processor: | 2.3 (atom N450) | 2.3 (atom N280) |
| Memory: | 4.6 (2GB) | 4.5 (2GB) |
| Graphics: | 3.0 (NC10) | 2.1 (GMA 950) |
| Gaming graphics: | 3.0 | 3.0 |
| Primary hard disk: | 5.5 (5400rpm) | 5.7 (5400rpm) |
Super PI 0.99b:
| | |
| --- | --- |
|   | Dell Mini 1012 |
| 1M | 1m 49s |
| 2M | 4m 03s |
Flash/Hulu playback:
A big question of mine with every netbook is how it handles flash/Hulu playback and the Dell Mini 1012 is finally one that can handle it quite well.  I'm not sure if it's more due to the new Flash 10 beta 2 or the Atom N450 processor (probably both), but it was able to handle full screen Hulu just fine (except high resolution full screen, but in my opinion, it's not really necessary on such a small resolution screen):
 
You'll notice in some of the screen shots/videos that I installed Windows XP – this is because I was going to run 3DMark and PCMark benchmark tests, but I unfortunately was unable to access an external monitor to meet those software titles' requirements of having a screen resolution of at least 1024×768 – so I was unable to get any of those "official" benchmark numbers.  That being said, the 1012 is definitely a bit more powerful than it's predecessors simply though it's ability to playback Flash better. 
Battery:
I can't say enough how much I applaud Dell for improving on the aesthetics and design of the extended 6 cell battery for the 1012; Instead of keeping it as it was with the Mini 10/10v, protruding from the bottom and effectively adding an inch to it's thickness:
they made it flush with the rest of the netbook – nice, clean, and pretty:

As far as the time that the battery lasts, they improved that too!  The following tests were performed with brightness at half (8/16) and wifi on.   The two tests I perform are 100% full screen hulu playback, and then 100% automatic refreshing of 3 news sites at 10s, 15s, and 30s intervals (separate tabs in Firefox).  Since hulu/flash still demands a pretty good amount of CPU power, I use this as my "worst case scenario" and the auto webpage(s) refreshing as the "usual/best case scenario".  (all tests below are with 6 cell batteries)
| | | | |
| --- | --- | --- | --- |
|   | Mini 1012 | Mini 10v (1011) | Mini 10 (1010) |
| Hulu | 6hr 13m | 5hr 25m | 5hr 19m |
| webpage refresh | 7hr 5min | 6hr 24m | 5hr 59m |
Keyboard & touchpad:
Dell continues to make good keyboards for their netbook (well, except for the Dell Mini 9).  The keyboard is 92% the size of a regular laptop keyboard, there is virtually no flex, and all the keys are in the right place: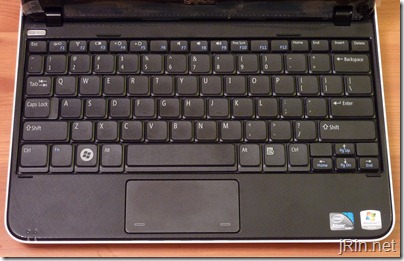 On minor thing to note is that Dell is starting to swap around the default behavior of the F1-F12 keys.  Instead of the F1-F12 keys actually being "F1, F2, F3, …, F12" when you press them, they are instead the "screen on/off, wireless toggle, brightness, volume, etc".  In other words, to get F1-F12 functionality, you have to press the Fn key – notice how they're both in blue font: 
It's really not a big deal, as you can change the default behavior in the BIOS, but it's something to be aware of.
The touchpad, on the other hand, I'm not so crazy about.  The touchpad mouse buttons are not separate pieces of plastic from the rest of the touchpad:
That, coupled with the fact that it is multi-touch, causes issues (at least for me) because I tend to rest my index finger on the left touch pad button and then move the cursor with my middle finger – in the process, my index finger will slightly move at times when moving the cursor with my middle finger, thus causing the cursor to do crazy stuff like move half way across the screen/etc.  (Anyone know if it's possible to disable the multi-touch capability?)
Miscellaneous:
A few people may be concerned about whether the memory card will fit all the way inside the netbook, or if it sticks out:  it sticks out
Final thoughts:
In my opinion, this is the best 10" netbook Dell has come out with.   The Dell Mini 1012 combines the better features of the Mini 10 (HD screen and many pci-e card options) and the Mini 10v (upgradable memory, extra USB port), while improving upon the 6 cell extended battery.  The Atom N450 helps push this netbook into a more "usable" realm of portable computers now that it can better handle Flash playback while keeping it's power usage down to allow good battery life. 
Would it have been nice to have HDMI? Yes, and when I'm buying a laptop these days, I won't buy one if it doesn't have HDMI – but I don't feel as strongly about it when it comes to a netbook.  I guess that since a netbook isn't as powerful as a laptop, it's not a laptop/desktop replacement, so I don't see it as being an "hdmi media playback" computer.   I also wish Dell would quit using the touchpad they've had in these netbooks, or at least have a way to disable the multi-touch capability.
All-in-all, starting at $280 you can't go wrong choosing this netbook over others in this price range; you will get great battery life, good performance, and many upgrade options (hd accelerator, high resolution screen, TV card, etc).
Pros:
Excellent battery life (7+ hrs)
Good upgrade options (hd screen, hd decoder, TV card)
Atom N450 processor + Flash beta = smooth full screen Hulu
Cons:
Not the best touchpad
All color options have a white bottom half