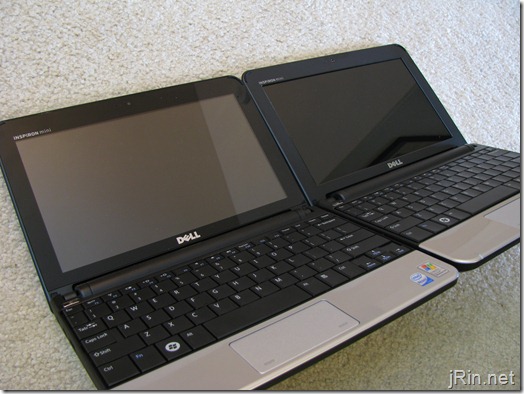 There have been many sales on the (refurbished) Dell Mini 10 and 10v's lately, so here is a comparison review of them.  All things considered, for the price you can get them for in the Dell Outlet, I would have to say they are the best netbook you can get today – with the 15% outlet coupons (which come out every few weeks), you can likely get grab one for around $228 before tax that is 10", 1.3mp camera, Intel Atom 1.6ghz, 6 cell battery – about the same specifications as any other 10" netbook at a fraction of the price!  Now, on with the review (both  in general, and compared to each other):
Specifications:
The below specs are that which were used in the reviewed units, (specs in parenthesis are different options that are available, but not reviewed):
Dell Mini 10

Dell Mini 10v

Processor:
Intel Atom Z530 1.60GHz/533MHz/512K
(Intel Atom Z520 1.33GHz/533MHz/512K)
Intel Atom N270 1.6GHz/533Mhz/512K
Operating System:
XP Home SP3
(Ubuntu 8.04)
XP Home SP3
(Ubuntu 8.04)
Memory:
1GB DDR2-533 (max)
2GB DDR2-533 (max)
(1GB DDR2-533)
Chipset / Graphics:
Intel GMA 500
Intel 945GSE UMA GMA
LCD Display:
Glossy 10.1" LED display (1024×576)
(Glossy 10.1" display (1024×600))
(Glossy 10.1" HD display (1366×768) WLED)
Glossy 10.1" display (1024×576)
(Glossy 10.1" display (1024×600))

Audio & Speakers:
2 x 1.0 watt, Integrated mic
2 x 1.0 watt, Integrated mic
Hard Drive:
160GB SATA 5400RPM
(120GB SATA 5400RPM)
(32GB 2.5 SSD MLC)
(64GB 2.5 SSD MLC)
160GB SATA 5400RPM
(120GB SATA 5400RPM)
(8GB 2.5 SSD MLC)
(16GB 2.5 SSD MLC)
Power:
3-cell 24WHr Li-Ion
6-cell 56WHr Li-Ion
3-cell 24WHr Li-Ion
6-cell 56Whr Li-Ion
Wi-Fi:
Dell 1397 WLAN 802.11g
(Dell 1510 WLAN 802.11g/n)
Dell 1397 WLAN 802.11g
(Dell 1510 WLAN 802.11g/n)
Bluetooth:
(Bluetooth 2.1+EDR)
(Bluetooth 2.1+EDR)
Ports:
3-in-1 card reader
10/100 Ethernet
3xUSB 2.0
HDMI
Mic/Audio
3-in-1 card reader
10/100 Ethernet
3xUSB 2.0
VGA
Mic/Audio
Dimensions/ Weight
Thickness: 1.0" – 1.1"
Width:  10.28"
Depth:  7.19"
2.5lbs 3 cell
Thickness: 1.06" – 1.11"
Width:  10.26"
Depth:  7.19"
2.6lbs 3 cell
Extras:
Built in OTA HDTV TV Tuner
Built in GPS
 
Comparison photos:
When compared side to side, the only difference is that the Mini 10 has an HDMI port (10v VGA), the 10v's screen is a bit recessed, and they have different placements of USB ports – otherwise, unnoticeable differences in dimensions/appearance:
As you can see above, the Mini 10v's screen does not sit flush with the bezel like it does with the Mini 10, nor is it as glossy.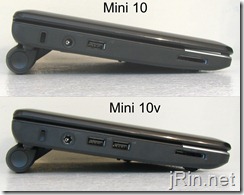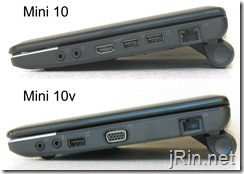 Here, you can see that they are the same other than usb placements and HDMI (10) vs VGA (10v).
And lastly, the front and rear are the same!
Build quality / keyboard / touchpad:
The Mini 10/10v have one of the better keyboards I've used in netbooks (other than the EEE PC 1000HE or Samsung NC20).  The keyboard's size is 92% of a regular keyboard and none of the keys are placed in crazy locations (…such as the Dell Mini 9…).  There is no noticeable flex and the keys are not loose.  One thing that is different when compared to most netbooks/laptops is that the function keys require you to hold down the FN key, as opposed to having the "extra" keys (brightness, volume, external monitor, wifi switch, etc) needing the FN key.  This isn't necessarily a bad thing, it's just different.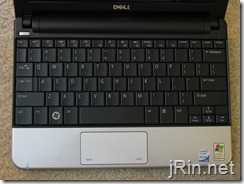 The touchpad is a catch 22 for me on the Mini 10 – it's great in that it's large and works just like any other touchpad, but the multitouch really gets in the way.  I am used to having my thumb rest on the touchpad buttons and then just using my middle finger to navigate the cursor.  However, when I keep my thumb on the touchpad button (not depressed, just resting on it), I am unable to use my other fingers for navigating the cursor – it registers both fingers as a multitouch action (even though my thumb is on the touchpad button area and not the "navigation" part).  What's strange, though, is that this isn't an issue with the 10v – I can have my thumb on the button and still use my finger to move the cursor…strange (and I cannot find an option to turn off multitouch).
Overall build quality for both Mini 10/10v is on par with most any other netbook – no flex, sturdy lid, etc.  If you've held/used an acer aspire one, msi wind, hp mini – they're all pretty much the same as the Mini 10/10v in "build quality".
Battery:
Aesthetically, the 6 cell extended battery on these looks awful.  Not only that, but it sticks straight down from the netbook as opposed to others' which tend to at least extend at an angle towards the back.  This effectively adds about an extra inch of thickness at the back and causes the netbook to sit at a relatively sharp angle. However, the 3 cell battery is flush with the bottom and adds no extra thickness or ugliness:
However, the 6 cell battery at least performs well even if it's not pretty. Below is a chart of battery times when using both the 3 cell and 6 cell while either having hulu running full screen 100% of the time, or auto refreshing 3 webpages (cnn, engadget, and yahoo news) 100% of the time. All the while, brightness was at level 4 brightness:
 
Mini 10
Mini 10v
3 cell
Hulu: 140m (2hr 20m)
Web: 151m (2hr 31m)
Hulu: 138m (2hr 18m) 
Web: 157m (2hr 37m)
6 cell
Hulu: 319m (5hr 19m)
Web: 359m (5hr 59m)
Hulu: 325m (5hr 25m)
Web: 384m (6hr 24m)
As you can see, they were very close in batter life, with the Mini 10v being able to handle over 6 hours when doing ONLY basic web browsing.
Performance:
Let me first say they are both Atom processors with integrated graphics.  They're not powerful.  Basic web browsing, word processing, etc is fine.  Dvd watching / music listening, okay.  Light gaming, you're stretching it.  Flash, photo editing, etc, no.   That being said, besides the Mini 10 being a bit more sluggish when having more applications open (1GB), they both faired just as well as every other netbook out there (sans the EEE PC 1000HE overclocked).  I was unable to get PCMark05 to run on the Mini 10 (no idea why), but I was able to on the Mini 10v which scored 1,498.  (This is only slightly less than my EEE PC 1000HE which scored 1563 in super performance mode). 
Mini 10v PCMark05 scores:
PCMark05 score:  1498
CPU Test Suite:  1481
Memory Test Suite:  2357
Graphics Test Suite:  545
HDD Test Suite:  4100
Upgradability:
The Dell Mini 10 is pretty "locked" down as far as upgrading goes.  The memory is stuck at 1GB (as it's integrated in the motherboard), and in order to upgrade the wireless card, you'll have to fully dismantle the laptop (like you do in order to upgrade the memory in the Mini 10v).   However, in the Mini 10v, there is actually an access door to upgrade the wireless: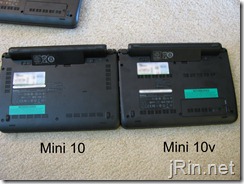 To upgrade the hard drive, both simply require the keyboard to removed (which is just removing 3 screws from underneath):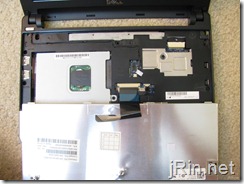 And of course, the Mini 10v is upgradable to 2gb though requires fully dismantling the laptop to get access to the memory slot which is on the bottom side of the motherboard (there is no easy access panel like there is for the wireless card in the 10v). 
Conclusion:
| | |
| --- | --- |
| | All things considered, when choosing to get the Mini 10 or the Mini 10v it mostly comes down to whether you want HDMI (with 1GB max) or VGA (but with 2GB max).  I say "mostly" only because with the Mini 10 you are now able to get an HD screen as well as integrated GPS and TV tuner (but which also substantially increased the price).   I also highly recommend regardless of which one you go with to purchase them from the Dell outlet to get a significant savings in cost – they carry the same warranty and most times you can't even tell they're refurbished! |