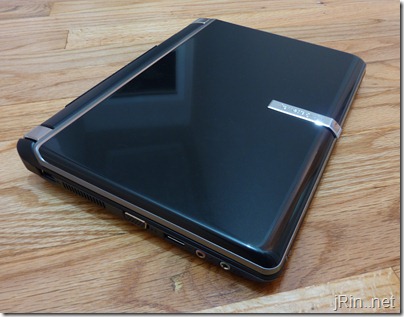 Adding to the plethora of 10" netbooks, the Gateway LT20 series (LT2005u specifically) netbook is a welcome addition to the mix if for no other reason than it's cheap price.  Recently available at BestBuy for $229, or Amazon for $269, the LT2005u is basically the Acer Aspire One with a slight face lift.  With a 10" LED 1024×600, Intel Atom N270 1.6ghz, 6 cell battery, and easy self upgrade to 2gb, and (mainly) it's cheap price, I'd argue it ranks as one of the better 10" netbooks.
The specifications of the reviewed unit are:
Intel Atom N270 1.6GHz, 533MHz fsb
2GB DDR2-667 (easily self upgraded using Patriot PSD22G6672S PC2-5300 2GB )
Hitachi 160GB 5400RPM SATA
Intel 950 GMA integrated graphics/chipset
10.1" LED 1024×600 display
Windows HP Home
6 cell battery
802.11b/g wifi
HD Video Review:
Glamour shots:
Screen:
This netbook has a 10.1" LED backlit, glossy screen.  The only option it comes in is a 1024×600 which is the standard for 10" netbooks (only a very few have higher at 1366×768).  That being said, it's no better or worse than the Acer Aspire One or Dell Mini 10/10v. 
Viewing angles are good.  Even at their worst, which is when you tilt the screen towards you, it's still usable.  Now, if you tilt the screen to the extreme, yes, it will be horrible – but you'd never really use the netbook like that (the bottom angle shot below):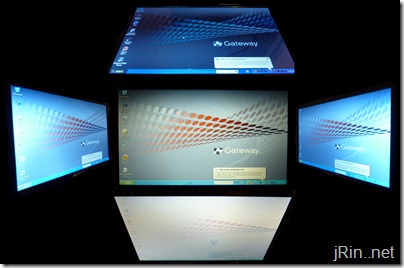 Being that it's LED backlit, the brightness levels vary from very bright to pretty dim.  During my review, I found I liked to have it at about the 2nd or 3rd brightness level (of 10).  When set at it's highest, it was simply just too bright for me (but helped when having bright lights our sunlight shining on the screen). 
Performance:
It's better than I thought.  Maybe it has to do with upgrading it to 2gb and setting windows to best performance mode, but I was able to watch some full screen hulu without much jitter; it wasn't perfect, but it was watchable.  However, it still is only a single core 1.6Ghz atom processor, so don't expect to do any hardcore computing with this little laptop.   Word processing, web browsing, LIGHT LIGHT gaming (solitaire!), light photo editing, and apparently flash videos are okay.  Like to have FireFox open with tons of tabs, while working in excel and listening to music may push this machine towards it's limit (but again, doable!). 
The hard drive included was a Hitachi 5K320-160 3.0GB/s SATA drive, which ranks 73 of 100 (lower = better) at harddrivebenchmark.net.  You could most definitely boost the performance of this netbook by upgrading to a faster drive (perhaps this Friday during Black Friday!)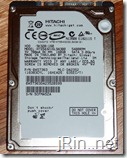 Battery life is very good.  I ran through my test of loading up Firefox and having it auto reload 4 different news sites, and clicking on a few links (and going back) until the battery died.  At 2/10 brightness, and wifi on, I was able to get an average of 5 hours, 36 minutes.  Notice how I said earlier that this netbook is very similar to the Acer Aspire One – well – this is one of the few ways it differs; the Acer only got 4 hours 37 minutes on it's 6 cell with the same test). 
Keyboard and touchpad:
They're both pretty small.  Many 10" netbooks' keyboard are  92-93% size of a normal keyboard – this gateway's is 89%.  After a few weeks, I would probably be able to get used to the smaller keyboard, but I definitely found that I could not type at full speed while using it for this review.  The touchpad is quite small, annoyingly small even.  Throughout the review, I had to noticeably keep swiping my finger more than normally would on a touch pad.  It's fine to use when necessary, but use a mouse when you can!    Like every other netbook though, there is virtually no flex in the keyboard which is appreciated.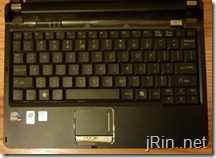 General thoughts:
Again, if you are looking to get the best (new, not used or refurbished) netbook at the cheapest price possible, the Gateway LT2005u ranks among the top.  It has the same basic specs as most other non-Ion based netbooks with it's 10" 1024×600 display, 160gb hard drive, max memory 2gb, and Intel 950 graphics, so there isn't much room for netbooks to stick out.  The price and battery life is how this netbook "outperforms".  Though, depending on how you feel about the keyboard and touchpad being smaller than most, this may offset the low price and longer battery life upside. 
Pros:
Cheap!  ($229 at bestbuy)
Easy upgrades (access door for hard drive, memory, and wwan cards)
Long battery life (and battery sticks out the back, not down)
Good build quality
Cons:
Small keyboard and unusually small touchpad
LED blinks during network/wireless activity on the front of the laptop
For those of you looking to pickup a 2gb stick, amazon has a few of them at reasonable prices (it's sad they're not the prices of a year ago, where you could easily get 4gb for around $20 after rebate…)