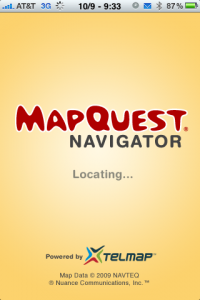 With more and more GPS navigation apps arriving in the App Store,  how does the new MapQuest Navigator compare?  A subscription based app ($4 monthly, $10 quarterly, $30 yearly), it requires a constant data connection but offers turn-by-turn and text-to-speech routing – but is it worth the cost over the free Google Maps app and is it cheap enough to buy instead of the $80+ "stand alone" apps TomTom and Navigon (or even the $35 CoPilot)?
Initial thoughts: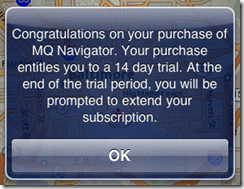 It's subscription based.  As soon as I saw this I was instantly turned off – however – after sitting on it a bit and thinking about the price, it's not that bad for a subscription.  At $4/month, $10/quarter, or $30/year, that price will probably be cheaper than what you will have to pay for TomTom or Navigon map updates (no word how much they will be);  $30/year is at least cheaper than the map updates of $40/year for TomTom and $95/year for Navigon stand alone units.
Update 10/12/09:  MapQuest Navigator was initially $0.99 with a 14 day trial, but due to App Store policies, they had to make it $3.99 which includes the first month of service. 
Requires constant data connection.  Unlike CoPilot, TomTom, and Navigon, this requires a constant data connection (like GoogleMaps); there is no map download that allows the app to read map information directly from your phone.  If you have spotty reception or even spotty 3G coverage this will present a problem for you.
Turn-by-turn, text-to-speech, and live traffic data:  While it has it's shortcomings, it does at least come with welcomed features.  Unlike GoogleMaps, it does turn-by-turn "3D" directions while also announcing directions and street names ("turn left on twenty third avenue").  Not only that, but it also integrates traffic data to help adjust your route in order to avoid traffic delays.
So all this is what MapQuest Navigator is "on paper", how about how it actually performs in every day use?
Navigation, routing, and re-routing:
It's so-so.  Testing it out on my way home from work today (~9 mile drive), both my TomTom stand alone unit and GoogleMaps have me go the same way – the fastest way (from many of the other possible routes, which I've tried).  
However, I found that MapQuest Navigator seems to highly prefer usage of highways.  It wasn't until the 4th route recalculation that it finally had me go home my normal route (which again, is the preferred route by gmaps and TomTom).  If I were to have taken MapQuest's route, it would have increased my trip time by 5 minutes (I've taken that route before, without traffic).
Re-Routing:  Understandably, it appears that it only downloads enough map data to handle your surrounding route, and also bases it's immediate re-routing on these "limited maps".  What I mean by this is that I turned away from the suggested route (to go the way I feel it should've sent me) and each road I passed it wanted me to turn down to get back on the original route.  After the 5th intersection, it ran out of road and only then did it completely recalculate the route (dotted lines added by me, which signify where the roads actually continue on):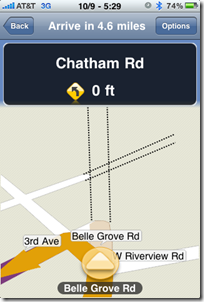 Searching for POIs
First and foremost, it's nice to be able to search for POIs online vs only being able to use ones that are stored locally (ie: stand alone GPS units).  However, finding the right POI can sometimes be a bit of a pain here.  While located in Baltimore (inner harbor area), I tried to search for BWI airport – I type in "BWI Airport", click search, and then I have to zoom out to see any results (if there are indeed any).   If there are no results at your current zoom level, a message appears telling you to zoom out, and if you wait about 7 seconds that message goes away and you are looking at the map as though nothing happened.
Then, proceeding to zoom out in order to see any of my results, there isn't a clear and easy way to tell which of the results is even close to what I'm looking for (at least not without zooming into each one and tapping the bubble to see what it is):

However, if I had chosen to use one of the preset POI category menus from the bottom, "Airports" for example, it finds it right away: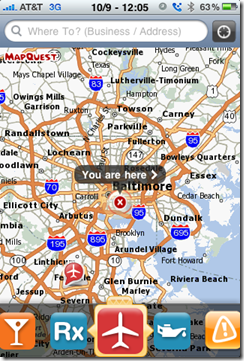 In other words, it's fairly easy to find "general" POI's using their preset categories, which are:
(All) Restaurants
Hotels & Motels
Shopping Centers and Malls
Gas Stations
Coffee Shops
Post Offices
Parking Garages
Grocery Stores
K-12 Schools
Movie Theaters
Ice Cream Parlors
Bars
Pharmacies
Airports
Lube & Oil
Traffic
(clear map)
(MapQuest info)
Another plus is that you can navigate to contacts.  From what I've read about other GPS apps, not all of them allow you to navigate to a contact, so this is nice.  Just simply tap the address book icon and pick your contact, then their address: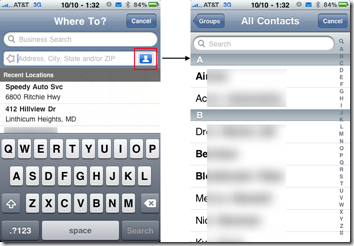 Other items to note
You cannot play music in the background.  This could very well be a deal breaker for me if I were seriously considering buying it.  When in my car, I use my iPhone to stream music to my car (via Bluetooth A2DP).  If you are playing music and use MapQuest Navigator, the music will stop playing.
Limited options.  This is a very basic, no frills GPS navigation app.  All you can do is search for destinations/POIs, navigate to them, browse the map or route, enable traffic display, or toggle night mode.  That's about it.  There's no "find alternative route", "travel via or avoid a specific road", etc:
 
Conclusion
MapQuest Navigator for the iPhone is unfortunately lost in the crowd due to both the free GoogleMaps app and the stand alone CoPilot app.  Though GoogleMaps isn't really the same sort of app (no turn-by-turn directions), it's POI and general speedy responsiveness is better than MapQuest Navigator – and CoPilot is only $5 more and yet also has text-to-speech, allows you to download the entire US map locally (no constant data connection required), and basically does everything that MapQuest does.
Good
Text to speech
Traffic data no additional charge
Navigable to contacts and online searchable POIs
Meh
Limited options
Requires data connection (won't work if you are in a no coverage area)
Bad
Cannot play music in the background
Limited route recalculation capabilities (takes a few attempts to "really" recalculate a new route)
Cheapest subscription fee is $30/year, but CoPilot is $35 with no subscriptions.