Do you live in an apartment and have speakers hanging on the wall with wires dangling down from them?  Try this trick – use plain, off white masking tape to hide them (or at least mask them).
Of the four different apartments I've lived in, every one of them has had off white walls.  A while back, I was able to get in on what now seems to be a "semi-annual" ShopOnkyo.com refurb home theater deal (like the HT-SR600S for $99), and after mounting the speakers on the wall, I was quite disappointed at what I saw:
If I had a house, I would take the time (and money for proper tools) to route the wires through the wall or behind crown molding.  However, I'm in an apartment and I'm not about to do such work in a place I won't stay in for a while, not to mention I'd probably loose my deposit!
Here's where good old masking take steps in.  It just so happens that your average roll of masking tape is probably close to the same color as your apartment walls:
What you want to do first is wrap up the beginning part of the speaker wire coming from the speaker (you'd probably want to do more layers than I did):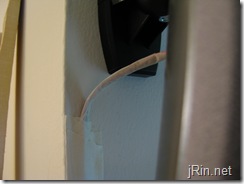 Then, for the first layer of tape, tear off about a foot at a time and try to tape down the speaker wire as straight and vertical as you can while trying to keep the wire flat or from twisting – otherwise it will look a bit wavy like this: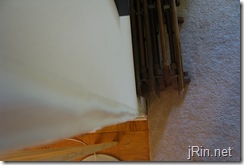 (one thing you can do to try to minimize the waviness is to hang the speaker wire from a door frame using a tack/nail/etc and then put weight attached to the other end over night )
Once you have the first layer down, feel free to do another similar layer of tape on top of it – since the tape is a bit transparent, if you have dark colored speaker wire, it'll still show through.   Once it's almost "whited out", proceed to cover it with one more layer of one long piece of tape.  This will help hide any of the ripped, jagged edges of the 1-foot pieces of tape. 
When all is said and done, this is what a roll of $3 masking tape can do to make your apartment home theater setup look a little bit better – does it look great? No.  Does it look better than just having the wire loom down and only cost around $3? You be the judge!
(oh, and I say this is a guide for an apartment, as opposed to a house/etc, only cause I would rather at least use flat speaker wire and paint it if it was a place I was actually putting money into.  This is just a cheap, easy, and fast way to make your "apartment style" life a little better looking, ha)