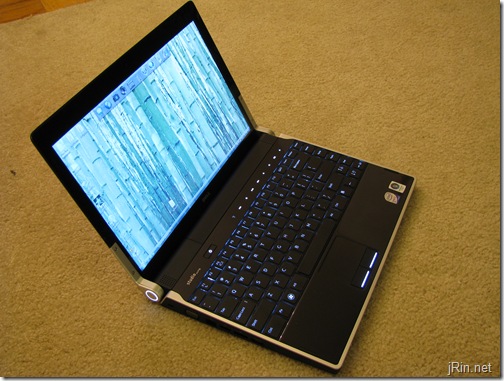 The Dell Studio XPS 13 is quite the mash up of power, portability, aesthetics, and features.  This 13" laptop is packed with a current generation Intel P8600 processor, NVIDIA hybrid SLI graphics, "edge-to-edge" slim LED screen, and finally a Dell keyboard finally worthy of being typed on.  Summary in a sentence?  All around power in a medium to small package that's almost (literally) too hot to handle.
Specs:
The specifications of the model reviewed are as follows:
Intel Core 2 Duo P8600 (3MB cache/2.4GHz/1066Mhz FSB)
nVidia GeForce MCP79MX chipset (9400M G graphics)
4 GB DDR3 SDRAM 1066MHz (2 DIMMs)
Windows Vista Home Premium 64-bit
6 Cell Primary Battery
Dell Wireless 1515 802.11a/g/n WLAN half Mini Card
13.3 inch HD WXGA Edge-to-Edge Laptop screen with 2.0 Megapixel Camera
320 GB Free Fall Sensor Hard Drive (7200 RPM)
Obsidian Black with Leather Accent
8X DVD +/- RW w/dbl layer write capability
Video review:
Quick gallery:
Top and bottom:
Screen and general build quality:
All in all, I am impressed with the screen.  The horizontal viewing angles are very good – no matter where the laptop sits in my lap, I can still see things just fine – and while vertical angles aren't quite as good, I don't loose a lot of color/etc if I tilt my head forward to back (as with the Latitude E4200).
I like the "edge-to-edge" screen that Dell implemented in this laptop. This basically means that the screen doesn't have a 'recessed' feature; the screen and bezel are are all one, smooth piece (besides the hinge).  The hinge itself does appear to be all metal and is "tight" enough to keep the lid completely closed even with the lack of a latch.
The lid opens a fair amount, though not a full 180 degrees, I would give it about 155 (this is of course a total guess).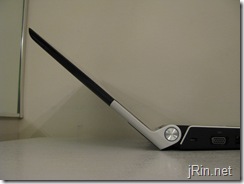 Being that it is a LED backlit screen, the lid is very thin and the levels of brightness vary greatly.  There are 16 levels of brightness in total and I found that even at half brightness, the display looked great (which also means saving on battery life without having to sacrifice back light). 
Build quality, too, was rather impressive.  One major pet peeve of mine with laptops is how most of the time, the battery is always a little bit loose, even when it's "locked" in.  The battery on the Studio XPS 13, however, is a very tight fit and has an extremely secure locking mechanism, much to my delight.   The screen lid is very sturdy – I had to give it a good amount of twisting force before I was able to see any flexing or "liquid ripple" effects on the LCD.  And of course, the item I hate most about most laptops is keyboard flex, however…:
Keyboard:
This is by far one of the best (if not the best) Dell laptop keyboards I have ever used.  There is virtually no flex, and I say 'virtually' because the keyboard does 'sink in' a tad bit only if you press really hard (which you would never normally do when typing – even when angry).  This was a big surprise to me given that so many Dell laptops I have had in the past have suffered from horrible flex (Studio 15, XPS M1330, and XPS M1210).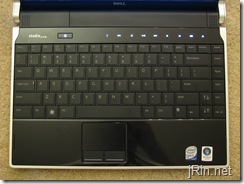 The keys are very quiet and require a little more force than most laptop keyboards.  This isn't to say that you necessarily have to actually press harder to type, it's just that it seems there is more of a "pop back up" when you let go of the key.  The keys are also "square cut" as opposed to angling outwards like a trapezoidal fashion (it's hard to explain..just see the picture) – it's very similar to Sony laptop keyboards:
A very nice bonus feature is that this keyboard comes equipped with LED back lighting with two different brightness levels, and it actually looks quite nice (which also proves to be very useful when working in the dark):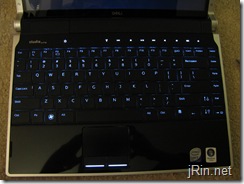 Performance & Gameplay:
I'll start off by listing some benchmark results:
Read: 73.8 MB/s (avg during 1 minute test)

Vista score (5.3):

Super PI:

1M:  22.251 seconds
2M:  55.423 seconds
As you can see, it scored rather well on the Vista charts ( I was surprised to see such a high ranking for a hard disk), as well as having fast read speeds. I tired to run PCMark05, but it kept getting hard drive access errors, so I was unable to get that to work.   I used the laptop for a few hours, playing games (FEAR, Call of Duty 4) web browsing, light photo editing, and 1080p and 720p Windows Media/DivX encoded videos, and it all functioned just fine.
While playing Call of Duty 4 (shown in the video review above), the optimal settings were set at max everything except for the resolution, which as 1024×768.  Playing with these settings, I averaged about 15fps, and when I upped the resolution to it's max of 1280×800, I averaged about 10fps.   Playing back HD content (WM or DivX) was smooth – no hiccups or lagging what so ever, and of course doing simple tasks like light photo editing in paint.net, web browsing with FireFox, or writing this review, I had no issues.
Weight, heat, noise, and battery:
One of my major disappointments with this laptop is it's weight which clocks in at just under 5 pounds, 2 ounces. For being a 13.3" laptop, this machine is a bit hefty; the Dell XPS M1330 weighs 4 lbs 3.5oz, also with a 6 cell battery — almost a full pound lighter than this.
While the weight, though heavier than other 13" notebooks, is disappointing, the heat this sucker produces can be almost unbearable.  Without having a proper thermometer to accurately record the temperature, when I was testing COD4 and had the laptop on my lap, I felt as though it could have actually burned me if I kept it there long enough.  Perhaps it is because the main exhaust vent is located right in front of the screen when it is opened, and therefore restricts air flow.   The main source of heat is on the bottom, where the heat sink goes in between the fan and the memory – be careful, it can get EXTREMELY hot!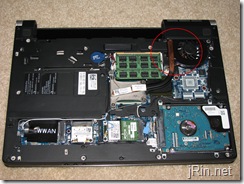 Perhaps another reason for such heat build up is that maybe the fan doesn't spin very fast.  Through out the entire game testing, not once did I hear the fan get noticeably loud.  Yes, I could hear it, but not even as loud as my Lenovo X61s.  Either A) the fan doesn't spin up very fast, B) it's some crazy new fan technology that suppresses sound, of C) ???.
Battery life on this laptop was surprisingly good.  Given the fact that it has such powerful components, I was expecting just under 3 hours max.  However, combined with the hybrid graphics, and good power management, you can range anywhere from 1.5 hours to almost 5.  Using battery eater pro, I managed to squeeze out 1hr 30min on the classic benchmark mode.  Doing just simple web browsing, and writing a bit of this review, I managed to get about 4 hrs 40 minutes.  This was all done on the 6 cell battery, so pair this machine up with the 9 cell battery, and you could potentially get upward towards 7 hours (with light usage and conservative power schemes).   As with all Dell laptop batteries, it comes with charge indicator lights which allows you to press a button on the battery to see approximately how much charge you have left:
Conclusion:
Having owned and/or reviewed numerous 13" laptops, I would have to say that this is one of the better ones.  However, I really wish this would have been a bit lighter and ran ALOT cooler, and only then I would have possibly said this was a near perfect laptop.  To verify that I am not exaggerating the heat issue, the folks at TestFreaks.com (which gives this laptop a 9.0 of 10) also many reports of the heat issues that I also experienced. 
Coming in at a relatively small 13.3" foot print, this laptop does have a lot of power under the hood.  I was able to play COD4 at a reasonable, though not great, 15fps on almost max settings, while still being able to squeeze out a very respectable battery life of about 4.75 hours.   
Another great selling (ha) point of this laptop, is if you wait for the right delloutlet.com deal, paired with a nice 15-20% outlet coupon, you may be able to snag one of these refurbished for around $670 like I did.
Pros:
Great battery life to performance ratio
Hybrid graphics (scales for battery life or performance when needed)
Fast and large hard drive paired with DDR3 memory
BEST dell keyboard yet (no flex, good feedback)
Cons:
Gets VERY hot, and quickly too
Weighing in at 5lbs 2oz, it's heavy for a 13.3"