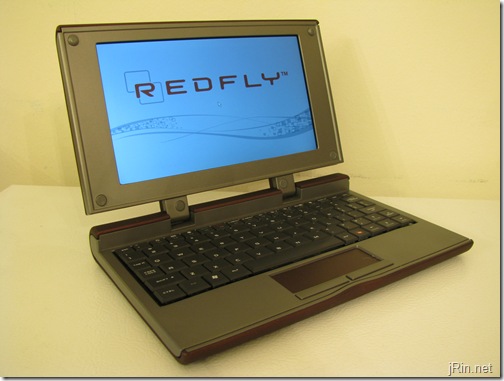 With all the netbook hype these days, and the fact that I've always wanted to try one, I decided to check out the Redfly C8 "mobile companion".  The Redfly C8 is a niche product designed primarily for the business traveler looking for crazy battery life and basic word processing, email, and web access to compliment their smartphone.  This was made to compliment "business uses" (email, word processing, etc), but that's not all it can be used for.  Slightly smaller and lighter than the average netbook, this device is basically an extension to your smartphone – it gives your phone an 8" 800×480 screen, qwerty keyboard, and all with an amazing 8 hour battery life.  That being said, unless you are looking for extreme battery life and basic functionality, you will probably be better off buying a netbook (such as the Dell Mini 9 from the dell outlet, for around $200).  However, for the right person, this device really is neat (for lack of a better word) — keep reading to find out why:
Specs at a glance:
8 inch screen, 800×480
QWERTY keyboard
Charges smartphone via usb
1" x 6" x 9"
2 pounds
8 hour battery
2 x USB 2.0 ports (for keyboard, mouse, phone charging/connection, or flash drive)
VGA port (for 800×600 output)
Instant on
USB or Bluetooth connection to your phone
Look and feel:
The C8 is a rather small device, as it's only 2 pounds and is a tad bit smaller than your average 8.9" netbook.  It does have a rubbery texture all around (where ever it is red), it's weight is evenly distributed, and has rounded edges all around. 
The keyboard, while small, is nice to type on (one you get used to the smaller keys).  There is no flex whatsoever, and are relatively quite when typed on.  The touch pad is honestly like any other touch pad except that it is short and wide, so you won't be able to move the cursor as far vertically on the screen with one 'swipe' as you would be used to on a normal laptop. 
Screen:
The 8" 800×480 screen isn't any thing special – it's a 'plain' LCD screen, 8 levels of brightness (from rather dull, to overly bright), and has really good viewing angles (any angle I look at it, it looks fine). 

The screen opens to about 145 degrees, and there is absolutely no flex in the screen – I can't even bend the lid unless is really put some force into it.
Features, functionality, and usage:
The Redfly is basically as feature packed as your smartphone is.  Other than video playback (which it can't currently do, such as youtube or wmv/avi/etc playback), most software you can run on your phone, you can run on the redfly, just basically with a larger resolution.
Once the initial setup is done (basically installing the driver, then plugging it into the Redfly with a USB cable), connecting via bluetooth is a snap.  As long as bluetooth is enabled on your phone, you just need to pull out the Redfly, push the bluetooth button, and click connect:
TomTom:  I'm not sure when or why you would want to use tomtom on your Redfly, seeing as how if you have it on your phone, you'll probably have a dashboard mount for it, unlike for the Redfly.  Also, your phone is probably touch screen and the Redfly is not.  However, it still works pretty well:
Opera:  Web browsing is one of the aspects that makes the Redfly shine. Combining opera mobile with redfly allows you to have a much better web browsing experience, even though (for example) if you are using a VGA device such as the AT&T Tilt.  Having the larger screen realestate (8" @ 800×480) and a closer to full size keyboard, it really helps the web experience:
LogMeIn: One of the best ways to utilize the redfly, at least in my opinion, is through the use of LogMeIn (for those who don't know, LogMeIn is basically a free version of GoToMyPC – a simple to use and setup remote desktop type software).  Using the Redfly allows better resolution reproduction of my laptop at home, which makes it a lot easier to use than on my small screen and keyboard on my AT&T Fuze:
Using a flash drive:  This is one thing the Redfly enables you to do that you can't otherwise do with your smartphone:  actually utilize a usb flash drive!  This has helped me out a few times when I needed to quickly email a file from my flash drive while I was on a trip – just connected the redfly to my phone, plugged in the drive, and emailed the document:
External Monitor:  Surprisingly, the output to my 22" lcd looked pretty good.  When using my Tilt's video output (RCA) on my 42" lcd, it looked pretty bad, so I sort of expected it to be the same result.  However, this is using a VGA connection (which I assume greatly helps) and it actually works out just fine.  That being said, I think that showing the display at the larger resolution of 800×600 is about maxing out the processing capabilities of the device, so any non-static screens (GPS, any kind of animation, etc) will not look too great on the external screen.  However, if you were to do a power point presentation, or just simply wanted an even larger screen for web browsing, it would be just fine:
Another feature is that you can connect your phone to the redfly via USB as well (which is how you have to initially set it up to work via bluetooth). With it's great battery life, you can also charge you phone while being plugged into it, so this can also double as a battery charger for your phone.
Limitations:
Besides the fact that it doesn't work without a smartphone [though, not really a limitation as it is just a smartphone terminal) — One of the major drawbacks to the C8 is that it cannot play back videos/movies, or many other 'moving-graphics' software (such as the HTC TouchFlo home screen).  The C8N sort of gets around this issue by having a video input (rca), which you could then utilize your phone's video output to display youtube/videos/etc (such as the AT&T Fuze or iPhone). It is simply a known limitation and was never really intended to be used in this way, though it is something that Redfly may be trying to work into future firmware/software revisions:
Conclusion:
So who is this device made for?  A very niche market – if you are looking for crazy battery life, and just want to be able to have basic access to word processing, email, and web (and of course, have a smartphone), then this is for you.  If you want anything more, and can deal with the shorter battery life, I would highly recommend getting a netbook as they are quite easily found in the $200-$250 range these days.  In short – it comes down to the battery life – in my opinion – and whether or not you already have a smartphone! 

Pros:
~8 Hour battery life (and can charge the phone)
Extends your smartphone screen to 8", 800×480
Small (1x6x9) and Lightweight (2lbs)
Cons:
Cannot playback video (yet?), thought the newer C8N has video input
Short touch pad
Price is close/same as a similar sized netbook (Dell Vostro A90 for example)