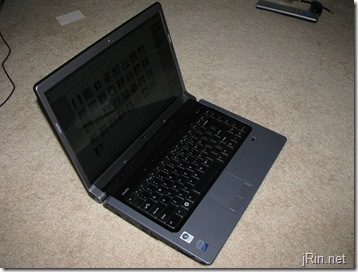 Just like the keyboard bulge on the Dell XPS M1330, I recently bought a (refurbished) Dell Studio 15 to find that it suffers from the same bulge/flex issue.  Just like the M1330, it has to do with the WiFi cable not sitting in it's 'designated groove' in the chassis.  What you need to do to fix it is just simply push the cables back into the 'grooved' chassis, and that should fix most of your bulging/flexing issues! 
To do this, you can either follow the Dell Service manual of removing the keyboard and then putting the cable where it needs to go, or follow along below:
First, you'll need to flip over the laptop, remove the battery, and remove the Center Control Cover by first removing these two screws: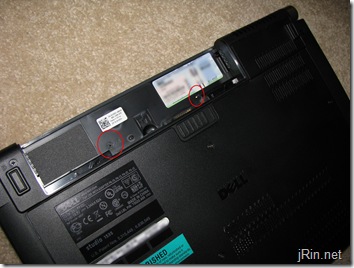 Then, flip it back over and open the screen as far back as it will go.  Starting from the back of the laptop (closest to the screen), carefully pry up the center control panel (imagine the dotted red line is a hinge) while being aware there is a small cable attached to it, so once it's loose, so don't go pulling the panel too far away from the laptop!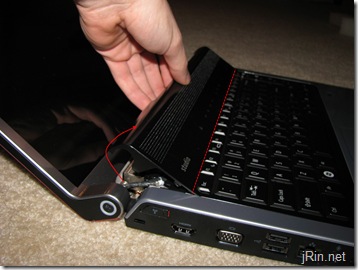 Once the control panel is loose, you can just 'fold it back' and lay it flat on the keyboard (the next picture shows that I mean by 'laying it flat').  The Dell manual says to disconnect the cable attached to it, but I was afraid of damaging the connector, so I never did that (there's enough slack to do what needs to be done for this task). 
Now, you'll want to remove the 2 screws holding the keyboard down: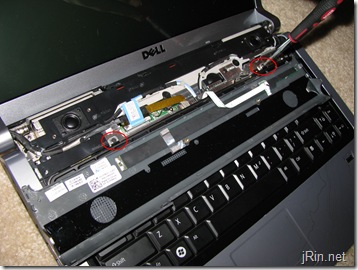 And then pry away the black plastic trim around the keyboard (it should be relatively easy to take off – no screws, just pull it off, starting at one corner and work your way around).   Then, just simply pull the keyboard off (you may need to slide it towards the screen a centimeter or two, and it may feel like it's stuck – that's just because there's sticky pads underneath the keyboard):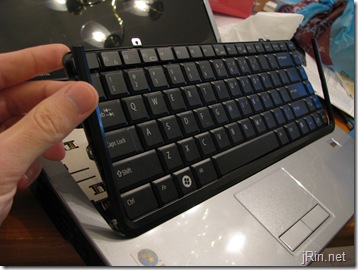 Now if your Studio 15 was like mine, you can instantly see at least one (major) cause for the bulge – the thick (and taped) wifi cable is not sitting in it's groove (which is shown by the dotted line):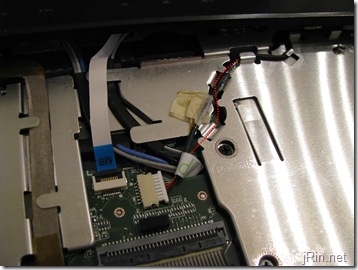 If you have the masking tape on yours, remove it, and then guide the cable into it's groove.  I went ahead and took the eraser side of a pencil and used that to press further down the metal tabs (marked by the red arrows below):
Finally, put everything back on in reverse order, and you should now have a less bulging keyboard on your Dell Studio 15!