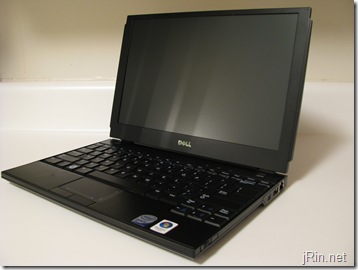 As one of Dell's newer additions to the Latitude family, the E4200 is a welcome edition to the realm of ultra portable notebooks.  Until recently, if you needed the small form factor of an ultra portable, you had to sacrifice performance, but no longer with the E4200.  While this not to say that E4200 offers the best of all worlds, it's certainly a good sized step in the right direction.  I was able to have two different configurations on hand to review – one with a 128gb ssd, 3gb, 6 cell vs a 64gb, 2gb, 4 cell:
Feature

"e4200-128"

"e4200-64"

Processor:
Intel Core 2 Duo SU9400 1.4GHz ULV
Memory:
3GB DDR3-800
2GB DDR2-800
Hard Drive:
128GB SSD
64GB SSD
Battery:
6 cell
4 cell prismatic
Bluetooth:
Dell 365
na
OS:
Vista Business 32-bit
Windows XP Pro
Graphics:
Intel 4500MHD
Screen:
UltraSharp 12.1" 1280×800 LED Backlit
Chipset:
Mobile Intel GS45 Express
Wireless:
Intel WiFi Link 5100 a/b/g/n
Dell Wireless 1510 a/g/n
Weight:
2lbs 9.5oz (1.18kg)
2lbs 2oz (0.96kg)
Ports / Slots:
IEEE – 1394, docking connector, VGA, RJ-45, USB 2.0 (x1) with USB PowerShare, eSATA/USB Combo (x1), headphone/speaker out, mic, Smartcard, ExpressCard 34, SD/MMC
Glamour Shots:
First, here are just some different angles/views of the E4200:
Build Quality:
All things considered, I expected this laptop to be a bit sturdier than I found it to be.  This is not to say that it necessarily felt cheap, or seemed like it used low quality materials – rather – based on how sleek it looks, I expected it to be more than it was.  Given it has a "Magnesium Alloy LCD back and base", I I was surprised to see how much flex there was in the screen pressing my finger into the center from the back (it feels slightly 'stronger' than the Lenovo S10).
Since owning a Lenovo X61s now for a few months, I have been spoiled by the great keyboard it has so I was also a bit disappointed at the overly "plastic" feel and non-rigid keys (non-rigid in the sense that if you place your finger on a key, you can slightly move the key around in a circular motion – more so than on my desktop keyboards or x61s). 
All that being said, everything else was well built.  One annoyance I have is when the battery is a bit loose and can wiggle around a bit, but I was quite pleased to find that the batteries in both e4200s were a tight, well secured fit.  The rest of the chassis was as good as any other laptop:  sturdy, and no way to really "squeeze" and flex anywhere (other than the screen and a bit on the keyboard).
Ports, Connectivity, & Optical Drive
One of the major differences this laptop had over most previous laptops I've seen in the past is the addition of an eSata port.  However, this eSata port also doubles as a USB 2.0 port, so luckily it does indeed have 2 USB (and not just 1 like I originally thought).  Another nice addition to this laptop that I have yet to see with other ultra portables is that Dell includes an eSata optical drive (CD-RW/DVD-ROM by default).  It's your standard size self-powered optical drive, but it is nice that it is included (and interesting that it's eSata as opposed to USB) and it even comes with a carrying case (the charger in the picture below is for the laptop, not the optical drive). 
Performance
For being a an ultraportable and ultra low voltage processor, this laptop is a great performer.   Both hard drives are MLC SSD's: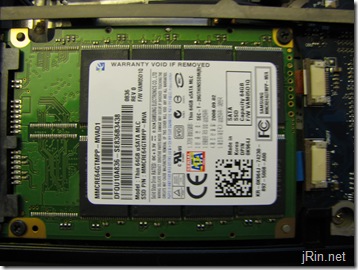 See below for PI times, HDTune, etc for the 128gb SSD version — unfortunately, I lost the data I recorded for the 64gb :(
 

HDTune:

Min Read:  50.7MB/sec
Max Read:  72.8MB/sec
Average:  61/7MB/sec
Access Time:  0.5ms
Burst Rate:  124.8 MB/sec
CPU usage:  15.0%

Vista Score (3.2):

Processor:  4.6
Memory:  4.9
Graphics:  3.2
Gaming Graphics:  3.3
Primary Hard Disk:  5.9

PCMark05:  3618
PI 1M:  33s
PI 2M:  1m 16s
PI 4M:  2m 52s
 
Battery:
Battery life was a tad lower than I was expecting, being it is a low voltage processor, smaller screen, and SSD, but considering it's small size yet respectable performance, I could live with it (but of course one could lower the brightness, turn of bluetooth and/or wifi, etc) – below are battery eater pro readings:
6 Cell:
4:45 — "reader mode", 6/8 brightness, wifi + bluetooth on
2:30 — "performance mode", 6/8 brightness, wifi + bluetooth on
4 Cell:
3:19 — "reader mode", 6/8 brightness, wifi + bluetooth on
And yes, the 6 cell does stick out about an inch, whereas the 4 cell is like a couple millimeters (4 cell stacked on top of the 6 cell):
And of course, as I am always curious, how much added weight must you deal with in order to get the ~1.5 hours?  A little more than half a pound:
Screen:
The screen/lid itself is rather thin and the hinges are sturdy, all metal, but with the lid closed it does have a little play in that if I were to hold the laptop upside down, the lid will open about 1/4 of an inch.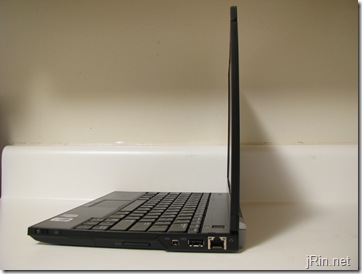 The viewing angles also weren't quite what I would consider great.  I found myself having to keep looking at the screen dead in the center otherwise I'd notice some washing out at at the edges of the screen.  However, the wide range of brightness levels was large, and in reality you could probably set it at 4/8 and it would be just fine (as opposed to 6/8 that I used for my battery tests)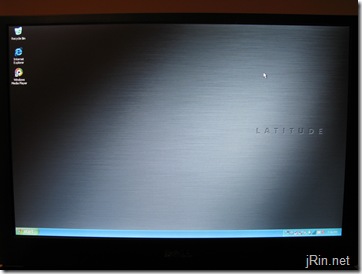 However, I did enjoy the fact that this does not have a glossy screen, rather it is matte! (though, this is of course just my personal preference!)
Final Thoughts:
All in all, with all things considered, when compared to other netbooks laptops of it's class (such as the Samsung X360) I would say that this ultra portable laptop ranks near the top of the lists (I say near because I have not been able to personally review other similar laptops – only basing that from what I've read about others).  I think what would really let this laptop outshine others in it's class would be the price (if you go refurbished at least).  Both of these e4200's were under $750 from the Dell Outlet, which easily undercuts the Samsung X360 (which beats even the 120gb non-ssd version) – not to mention, the e4200 comes with a portable optical drive!
For those curious how the e4200 "stacks up" next to the Samsung X360, here you go! (no, I didn't get to review the x360… :) )
Would I recommend buying it?  If you are absolutely trying to get best performance + smallest size + smallest budget, sure – I don't see the samsung x360 or the sony tz coming close to the e4200's price point anytime soon for the same similar size/performance.  However, while I am currently playing around with the Dell Latitude E4300 (13.3"), I would say for spending the same amount that an E4200 would cost and only adding about a pound in weight (if you are okay with that), I'd get the E4300 (stay tuned for a review!).
Pros:
Cheap (less than $750 in the dell outlet during a sale)
Good performance vs size/weight
eSata + USB
Included eSata optical drive
Respectable battery life (4:45 6 cell)
Cons:
Only 2 USB ports (and no hdmi)
Keyboard feels a bit cheap / too plastic-like
Screen lid isn't as sturdy as "Magnesium alloy" sounds like it should be