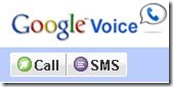 So as a long time GrandCentral user, I was quite excited to try out the new Google Voice.  Yesterday I read about how it would be available "soon" and figured that meant weeks from now.  But to my surprise, I logged into grand central today and saw the update notice once I logged in!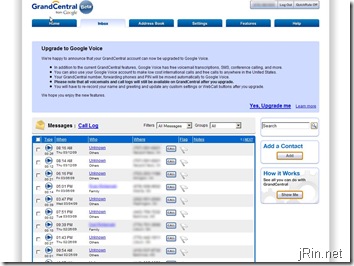 Once I did the upgrade, I quickly went to try it out.  I dialed my Grand Central Google Voice number from my desk phone and quickly noticed that the update reset all my settings and set itself to ring every phone in my account, rather than the ones I had it set to before the upgrade (not a big deal, but it would have been nice to know because I had someone in my office randomly pick up my office phone (one of the numbers in my settings) and I was confused when someone picked up!).    I proceeded to change back my settings to just ring my Gizmo number and left myself a voice mail.  I tried to speak a bit 'slurry' as to see how well it would pick up what I said, and about 3 minutes after I hung up. Not only did I get the normal email and text message that I had voicemail/missed call, but also a text message with my transcribed voicemail (and of course the text at google voice website):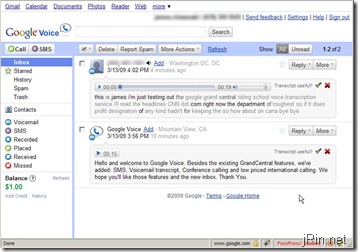 However, what was transcribed was not exactly what I said, but I think it did pretty good considering at times when I listened to my own message, I couldn't even have even been able to know what I said (had I not known what I already said).  Here is a recording of what I said, then the text of what GV transcribed, and then what I really said:
Audio File:
Google Voice's Transcription:  "this is james i'm just testing out the google grand central riding school voice transcription service i'll read the headlines CNN dot com right now the department of toughest so if it does profit designation of any kind hadn't for keeping the so how about on cana bye bye "
What I really said:  "This is James, just testing out the Google Grand Central, or I guess Google voice transcription service – I'll read the headline of CNN.com right now, uh, The Department of Justice says it has dropped the designation of "enemy combatant" for detainees held at Guantanamo Bay."
Wanting to try more 'real life' situations, I left my self a few more voicemails. 
One while walking the (less busier streets) streets of DC near GWU:
Audio File:
Google's Transcription:  "this is another test of the transcription your walking down the street washington D C was cards driving by in plane flying over at this is support desk thanks "
What I really said: "this is another test of the transcription here, walking down the streets of washington dc with cars driving by, and planes flying flying overhead.  Just doing some more testing."
While walking through Union Station and down a train platform (google could not transcribe it!):
Audio File:
Google's Transcription: Transcript not available
What I really said: "This is one more test, uh, walking through grand central, eh, union station – walking out on the train platform…to see how easy it is for the google transcription to work with train noise in the background… and people walking around shouting.  I'm now walking down platform-12, getting on the train to get to bwi the marc penn.  <I don't know…> … or not, walking by one of the train engines.  I'm going to assume it's not going to be able to…transcribe what I'm saying right now, but I'll try it and see how it goes.
And then while driving home with music playing in the background:
Audio File:
Google's Transcription:  "hey and here is one set with the radio playing in the car all first five this is back around now just asking about six ninety five people more often the road just kind of thing and stuff like that the fax christian here and now i'm gonna put the alright the speaker and see if there's any way or not i can transcribe the phone i'm ohh hey nine nine five and that's the best"
What I really said: "and here is one test with the radio playing in the car.  I'll first try it with it just in the background  … uh…. just passing now 6-96 Baltimore off camp mead road .. just kind of saying stuff so I can test the transcription here.  And now I'm going to put the cell right next to the speaker and see if there's anyway that it can transcribe the song [song plays – and not even I can hardly understand what song it is!] … Hot 9-9-5.  And that's the test"
Update (3/15/09): In doing my initial review, I failed to notice the 'embed' feature that can be used to simply paste code that directly plays your message (including the option to add a 'caption'). Below is a sample recording I received from a SPAM / Telemarketer [a pre-recorded automated message], and google voice did a pretty good job transcribing this one:

Google transcription: warranty on your vehicle may have expired and should be reactivated to protect you against the cost of repairs if you have not responded to this notification it's not too late please don't make a mistake of driving without a warranty you are still eligible to reactivate warranty coverage this is the final call before we close the file press one to speak with a representative now about your vehicle press two to be removed from the follow up west
Browsing around on the site a bit more, I noticed the option where you now can directly enter in a number you want to call – as opposed to before, in order to make a call FROM grand central you had to click 'call' from a log in your call history, or someone from your contact list.  You weren't able to just call any number.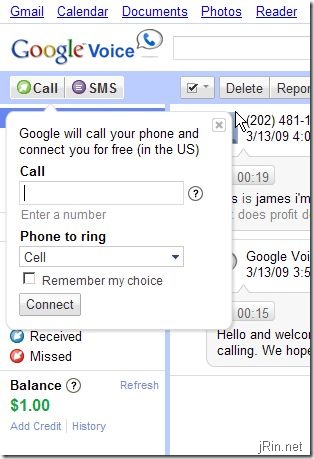 As you can see, it has the look and feel that all of Google's products have (looks just like Gmail).  Unfortunately, at least for now, I don't see an option to 'integrate' it into the Gmail screen  like Google Docs is. 
What else is nice is the new SMS feature where you can send text messages: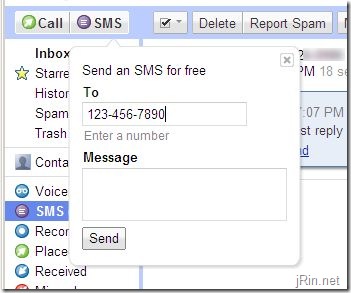 At first, I just figured that you could only send messages.  But then I thought I'd go ahead and try replying and see what would happen, and to my surprise, the message showed up at Google Voice and it appeared in a threaded-sms style: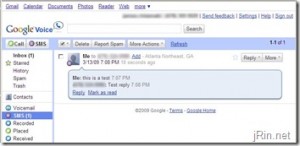 Another positive change is that you can now create/manage user groups (before, you were only allowed to use the 5 pre-defined groups, Family, Friends, Work, WebButton, and Other):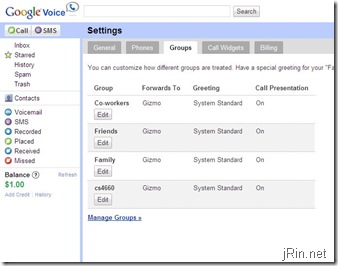 You also have the option on the left panel to check out your SMS messages, recorded conversations, and call logs.  Below that, you have your remaining balance for making international calls – are they good prices?  I'm not sure…I never call international so I wouldn't know :)
However, you can see for yourself here [google.com/support…] as well as below where I've listed a few countries:
Argentina – $0.02 land / $0.16 mobile
Bahamas – $0.04
Brazil – $0.04 land / $0.19 mobile
Canada – $0.01
China – $0.02
Costa Rica – $0.07
France – $0.02 land / $0.15 mobile
Germany – $0.02 / $0.18 mobile
India – $0.07
Japan – $0.02 land / $0.15 mobile
Mexico – $0.05
Mexico City – $0.02 / $0.19 mobile
Puerto Rico – $0.02
Spain – $0.02 land / $0.19 mobile
Taiwan – $0.02 land / $0.09 mobile
United States – $0.00 (free!)
UK – $0.02 land / $0.19 mobile
Conclusion:
I think this is a great addition to Google Grand central's offerings.  Did it take a while for them to make updates since they first rolled out with GC? yep, but it's alright, it's free!  My 'real world tests' of leaving voicemails were a bit extreme, even when I was speaking clearly [at least as far as I think], it did manage to miss the correct words, so maybe it will get better [or maybe I just can't speak clearly? haha]. One, of many, uses for Google Voice would be for those with poor cell phone reception by combining it with Gizmo — [for those who don't know, you can have Google Voice also ring a Gizmo number that you can use on your computer]. &#160 where they could have their cell phone forward to their Google Voice number if they're out of range [and then they could pick up their gizmo phone]; Hopefully Google won't sometime decide to charge for Voice!  +1 Google!