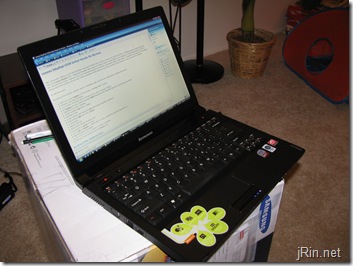 After a long wait, ordering on 8/27/08 and finally receiving it 9/25/08 (wow, almost as bad as the Dell XPS M1330!), I finally have the wonderful machine that is the Lenovo IdeaPad U330.  Preliminary thoughts after using it for about 2 hours?  Neat features, very responsive, I hate the placement of the Fn key, and awesome screen. 1 day? Great screen, very cool facial recognition webcam, awesome screen, bad battery life, nice keyboard, quite responsive, quiet, and I don't like vista.  Seeing as how I just received this laptop, this will be a somewhat simple, initial review.  It will take a few days to do full battery testing, performance metrics, etc etc, but I will post updates to this page as I go along, and post a final review in a new post once it's complete!
On with the review!
The specs of the machine I ordered, which if I remember right, was the only configuration available at the time:
Intel Core 2 Duo (Centrino 2) P7350 (2GHz, 1GHz fsb, 3mb L2 cache)
Windows Vista Home Premium
13.3" WXGA (1280×800) LED TFT Screen (16:10, 300:1 contrast, 300nits)
ATI Radeon HD 3450 256mb Dedicated AND Integrated Intel 4500MHD (dynamic switching between them! 
3GB DDR3 PC3-8500 1066MHz
320GB 5400RPM Sata drive (1.5gb/s
DVD-RW/CD-RW
1.3mp webcam with dual array mics (with facial recognition software)
Intel Wireless WiFi Link 5100 (a/b/g/n)
6 cell battery
Memory card slot
Dolby Home Theater premium audio
(no express or pcmcia card slot) ExpressCard/34 Slot (thanks Andrew!)
2x 2.0 usb, 1x firewire, 1x HDMI (HDCP), 1xVGA, 1xEthernet (10×100), Bluetooth 2.0
4lbs 4oz (with 6 cell battery)  – this is the actual weight measured with my digital scale
12.5" x 9.3" x 0.9-1.1" (318mm x 237mm x 23-28mm)
Review Updates:
Sections of the review (so far):
Here you can see all that comes in the box:  manuals, paperwork, charger, battery, and the laptop itself.  There are no cd's included in the box (no windows re-install, nothing).  What may look like a case is actually just the fabric they put in between the screen and the keyboard for shipment.  And that ugly sticker… why'd they have to put that on the palm rest!?  (don't worry, it's not "sticky" — it comes right off — whew! ).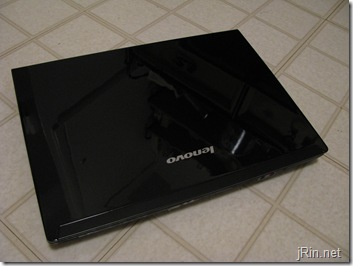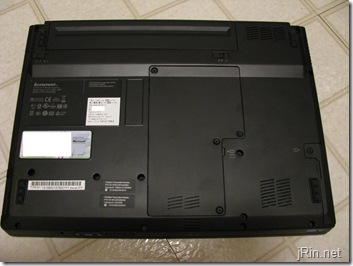 Here's a look from the top, and the bottom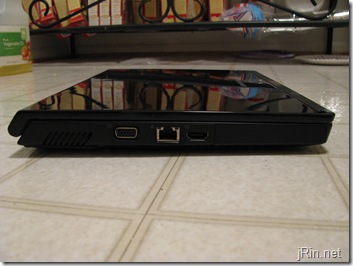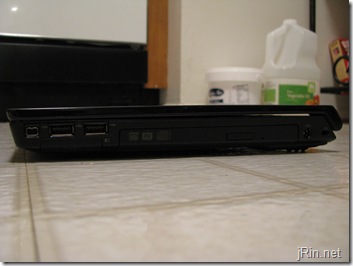 Left (fan exhaust, VGA, ethernet, HDMI), and Right (Firewire, 2x USB, DVD-RW, Power, lock)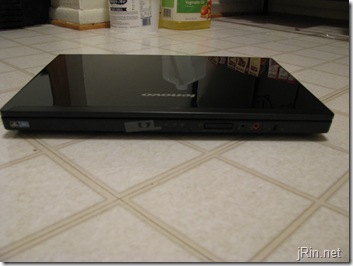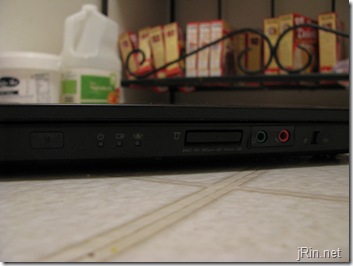 In the front we have what looks to be an IR receiver for a remote (no remote included, I'll report back on what this is later), activity lights, memory card slot, headphone/mic jack, wireless switch).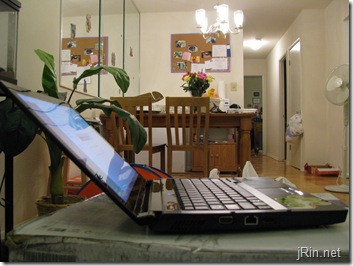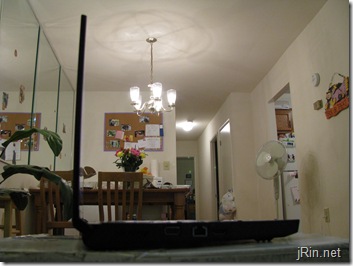 The first picture shows how far the lcd can be opened, and the second picture shows how thin it is (pretty thin!)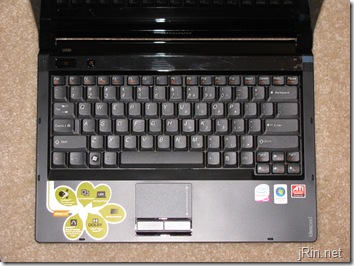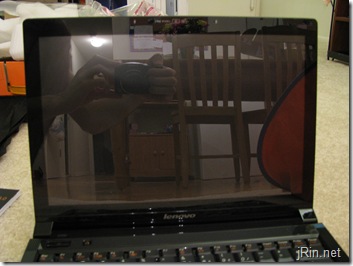 And last but not least, the keyboard (WHY oh WHY did they switch the position of the Fn and Ctrl key!?!?!?), and the glossy-ness of the screen.
Update 5: 9/27/08, 9:25p — As you saw in the picture above, there is a huge sticker on the left side of the palm rest – at first, I was pissed because in my experience, these stickers can be a pain to get off without leaving nasty, sticky residue.  However, fear not – the sticker isn't really sticky, and comes right off without a problem:
I haven't had a chance to do much hard core testing, but I'll start out with the HDTune Results and Super Pi.  HDTune showed results of:  7.5mb/s minimum, 64.8mb/s maximum, and 49.2mb/s average transfer rates, 17.3ms avg seek time, 50.0mb/sec burst, and 22.9% CPU usage.  It also does have NCQ enabled:
Super Pi results:  1M = 25 seconds, 2M = 59 seconds.
Vista Experience Scores (Intel graphics):  3.7
Processor:  4.9
Memory:  5.7
Graphics: 4.0
Gaming graphics:  3.7
Primary hard disk:  5.3
Vista Experience Scores (ATI graphics): 4.4
Processor:  4.9
Memory:  5.7
Graphics:  4.5
Gaming Graphics:  4.4
Primary Hard disk:  5.3
Below, is my initial boot sequence video (very simple, and just from power on to the login screen) — not much editing has been done in any of these videos, so if it sounds like I'm "uhhh, and, uhhhh", just deal with it :).  Upon boot, it plays a short little audio jingle, which is cute, but I'll turn it off as soon as I look into doing it.
Update 8: 9/27/08, 10:58p — Okay, so I've been trying to run 3dMark vantage now about 4 times, and each time I do it, it's getting about 1-2fps, and then it says that there must be some error and give me a 3dmark score in the low 200's.  I'm going to keep investigating.  Hopefully I figure this out…
The keyboard is very nice — sturdy, fairly quiet (though the Dell Mini 9 is quieter), and larger than normal labels (which is good).  Unfortunately, the home and end keys require the use of the Fn key to be held down, but that's fairly common (though I don't like it).
Again, as I stated in my Dell Mini 9 review, I HATE when keyboards are not laid out in their standard way.  And I know IBM/Lenovo has had this with their other laptops, but WHY oh WHY did that have to swap the left Ctrl key with the Fn key!?  I suppose if you are already a IBM/Lenovo user, you may be used to it, and my whines will be falling on deaf ears, but for everyone else… I hate it, haha.  However…  The more I use it (writing this review and such), the more I am becoming more conscious about moving my pinky to the right a little when I'm looking to the left Ctrl key, so perhaps… after a while… it won't be as big of a deal as I'm making it out to be.  but you have been warned.
Other than that, the keyboard is alright.  There is a little bit of flex in the middle, just a little, and I keep thinking it's a bit (a very little bit) raised/bulged in the middle too — but then I look at it level with the palm rest, and I don't see it being higher… (reminds me of the m1330 keyboard bulge..).   I asked someone else if they thought it looked bulged, and they couldn't see it (maybe my eyes have bad barrel distortion???).  Another thing I've noticed, as I've been writing this paragraph (haha), is that I have to press directly in the center of the '?' key in order for it to register – as if there's a loose contact or something.  (I'm going to assume that's just a fluke with my particular keyboard… let me know if any of ya'll have this too!)
I do, however, love the touch sensitive media pad!  There is a "switching" button that toggles the buttons from "media" to "equalizer":
For now, I'm just going to talk about the face recognition for logging in — and I must say, this is pretty sweet!  Basically, it's very fast at recognizing your face, fast setting up, and doesn't confuse my cat's face for my own.  I also tried using a couple pictures I had of my self on my other laptop, put it's screen in front of the webcam, and it couldn't recognize it — but I didn't try very hard.  I'll later try a printed picture, or on a better quality screen, so see if it can be beat!
So far, after just writing this review (about 2 hours), doing some light video editing in Windows Movie Maker, it has been rather warm at times (and it's been on my lap the whole time).  Hot enough for me to have said "wow, this is getting kind of warm on my leg (the left side, where the hard drive is).  The fan turns on, on and off, but never gets very loud;  I can hear it, but it's fairly faint.
After I do more of the review (performance testing, normal usage, etc), I'll be able to better report on how hot it gets, and how warm it is most of the time.  But so far, most of the time the fan is on but hardly audible, and it's pretty much always 'luke warm', and when doing the video rendering and such, it can get slightly hot (it makes me start to get hot, and a bit sweaty on my legs when it's on my lap).  The palm rest never gets HOT, but it does stay a little warm most of the time (but again, all laptops I use do too).
Update 9/27/08, 7:26p — During the running of full battery eater pro tests, I was curious to see how hot and loud the laptop was.  The fan seems to be pushing out a lot of air, and it still isn't very loud at all — it's surprising how not loud it is.  Now, I'm not saying it's silent, but compared to the noise my acer aspire one and dell latitude d630 can make, this thing is surprisingly quiet.   Also, it does get quite warm (borderline hot), but it's mostly just where the hard drive is located — yes, the palm rest and rest of the keyboard gets warm as well, but it's not bad.
Update 6: 9/27/08, 9:50p — Here's a video of the loudness of the touchpad buttons, keyboard, and fan.  (for some reason, all the fans sound louder on camera than they do in real life — it really isn't as loud as the camera makes it out to be. ):
This laptop has it's pros and cons when it comes to build quality.  The keyboard and bottom chassis (everything but the screen) is very sturdy, and there's no flexing (except the bit mentioned earlier, in the middle of the keyboard).   A commenter in my 'coming soon' post asked if the screen seemed to have a solid frame, and unfortunately, it's quite easy to flex and bend — a bit of a disappointment for me.  If I hold the top of the screen in one hand (at the webcam), and push in the middle of the back of the screen, it will bow in a bit.    If I grab each side of the screen, and use my fingers to push in the middle (from the back), it too is pretty easy to flex.
With the lid closed, there's no latch to keep it closed, and it's not a "tight" fit — what I mean by that, is if I were to turn it up side down in my hand and hold it by the sides, the lid opens about a millimeter or so.   The hinges, though, are tight enough to not allow the screen to wobble when you typing, or your using it on your lap.
Update 4: 9/27/08, 8:40p — Wasn't sure what 'section' to put this in, so I put it here, haha — The actual weight of the laptop with the 6 cell battery is 4lbs 4oz, and the charger itself is about 1lb 2oz:
So far, battery times are not looking good (at least with the ATI card enabled).  I've run the BatteryEaterPro twice (for some reason, it didn't create the graphs), with settings at 1280×800 32 and full screen, with brightness maxed, wifi and bluetooth on,  and I keep getting right at 1 hours 30 minutes.  1:30!!!!  Okay, so maybe it will be better with the integrated video…. I'll keep ya'll posted!!
Update:  I've switched back to intel graphics, and "power saver" mode, and vista is reporting that I should be able to get 3:30 (we'll see about that, haha)
Update: 9/28/08, 10:26a — Okay, so I just tested the battery time with the integrated Intel graphics, 3/10 brightness, wifi/bluetooth on, and "power saver mode" on.  This also allowed the screen to turn off during in activity, which happened a few times.  With 7% battery life left, I had just reached the 3 hour mark — I was watching the debate skit on SNL on Hulu, and then the screen turned off, audio eventually stopped, and about 2 minutes later it turned off (why did it take so long to hibernate?).  3 hours on lowest settings… not anywhere near the claimed 5 hours by ibm… (perhaps it will fair better with xp!?)
Vista

ATI Graphics, max performance, 10/10 brightness, wifi/bluetooth on, BatteryEaterPro (1280×800 full screen)

1 hour, 30 minutes (ran the test twice)

Intel Integrated Graphics, 3/10 brightness, wifi/blueooth, with 'moderate' usage (web browsing with IE, watching Hulu clips, uninstalling programs, editing this review)

3 hours, 1 minute (just ran this once)

XP
Okay, so I've yet to jump on the Vista band wagon, as I am still in love with XP.  After trying to do this review for a while, and trying to figure out where everything is in Vista, I've decided I'm going to (eventually) do this review in XP as well.  For those of you who have this laptop already, and went to lenovo's site and can't find the drivers for XP, here is the link:
Once I get more stuff on this review finished (or not, ie: 3dmark isn't working…), I'll back everything up and then install XP and let ya'll know how things fair there!
Tying to figure out how to stop the 'cute' boot up jingle, I started looking around in the bios. Basically, there's nothing there except boot sequence, passwords, and changing the time. Very disappointing seeing as how I see no other way to stop the jingle from happening other than in the bios! Here's a breakdown of the bios options (values are editable unless specified):
Information, just simply lists the following (nothing to change):

CPU Type: core2duo p7350 @ 2.00ghz
System Memory: 3072mb
HDD Info: 320gb sata
System BIOS version:  OFCN46WW
KBC Version: 03.37
Product Name:  Lenovo IdeaPad U330
Unit Serial Number:  [I'm not going to list this, haha]
Lenovo SN:  Invalid (what???)
UUID Number:  [like a 30 digit alphanumeric string]

Main

System Time
System Date
Network Boot  (enabled/disabled)

Advanced

Legacy USB Support:  (enabled/disabled)
Wireless:  (enabled/disabled)
Sata Controller Mode:  (Non-AHCI, AHCI)
Graphics Device: Switchable graphics, discrete graphics)

in the "item specific help" on the right it says "Switchable graphics mode allow switch between discrete and integrated graphics.  NOTE:  This mode should only be selected if you are using WIindows Vista and the corresponding driver installed.  Discrete graphics mode will achieve higher graphics performance"

Security:

Set Supervisor Password
Set User Password
Password on boot
Primary Hard Disk Password

Set Hard Disk Master Password
Set Hard Disk User Password

Boot:  just simply allows you to change the boot order — the ordered list contains:

USB FDD:
ATA CD/DVD: HL-DT-ST DVDRAM GSA-U20N
ATA HDD: WDC WD3200BEVT-22ZCTO
USB HDD:
USB CD/DVD:
PCI LAN : Network Boot
No boot drive
No boot drive

Exit

Exit saving changes
exit discarding changes
load setup defaults
discard changes
save changes
And that's it's folks.  Not that I was expecting a whole lot, but at least an option to turn off the audio jingle!!  Not cool…! (unless, has someone figured out a way to kill the jingle??)
I'm also looking to install XP (and maybe a fresh install of Vista…we'll see), so those who want the drivers, you can find them here: EDIT:  looks like they've now combined the pages for XP and Vista drivers, and it looks like they removed some of the XP drivers….???? What's going on here?
That's all there is for now.   Check back tomorrow for more updates!!! Keep checking back for updates. (I am in the process of downloading game demos, so I'll be able to get on those tomorrow as well soon — including battery times, etc).   Be sure to list, in the comments below, anything you want to see!