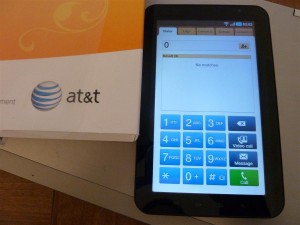 Want to enable voice calling on your AT&T Samsung Galaxy Tab?  All you need to do is download a few files and run through a few hoops and you'll be good to go.  All credit to figuring this out goes completely to clubtech over at XDA – I simply just took a few screenshots to make a slightly easier step-by-step guide:
Download the necessary files and extract them:
Turn off the tab, plug it in via USB, and press and hold the Volume Down button then press and hold the Power Button until you are in download mode (once in download mode, release the buttons):

Run Odin and make sure you see the port number listed in yellow on the top (in my case, "0:[COM8]"):

Check "Re-Partition", "Auto Reboot", and "F. Reset Time".  Then, load in the various extracted JJ4 (the Russian ROM) files for PIT, PDA, PHONE, and CSC:


PIT:  P1_add_hidden.pit
PDA:  P1000XWJJ4-REV03-ALL-CL639474.tar.md5
PHONE:  MODEM_P1000XXJID.tar.md5
CSC:  GT-P1000-CSC-SERJJ2.tar.md5
 

Now click start.  It will take a few minutes to flash the files, during which, you'll see a progress bar on the tab itself:


as well as some text output within Odin:


Once it's done flashing, you'll hopefully have a green success notification in Odin:


and your tab will have restarted and now be in Russian:


Turn off the tab again (press the power button, select the last option, then the left option):

and restart in download mode again (hold the Volume Button and Power Button):

Now, either open Odin again (if you closed it), or click Reset.  If you do not have a Yellow Port number displayed like in 4 above – close Odin, unplug and re-plugin the tab, and open Odin again.  Uncheck "re-partition" and check "Auto Reboot" and "F. Reset Time".  Click on PDA and load the JK5 file (P1000OXAJK5.tar) and click Start:

As before with the JJ4, you'll hopefully have a green PASS notification in Odin:

and your Tab should restart (in English) and be able to make voice calls!:

 
At this point, however, it's possible that HSDPA is no longer enabled.  If you know you are in a HSDPA area and you can't seem to get HSDPA speeds or the HSDPA icon, you'll want to flash the canada bell radio bin by following the same procedure above for JK5 (reboot into download mode, uncheck re-partition), only this time loading in the modem_bell_i9000 file for PHONE (modem.bin):

If all went well, you should now be able to make calls and use data on your AT&T Samsung Galaxy Tab!  Again, total credit goes to clubtech over at XDA for figuring this out, thanks clubtech!