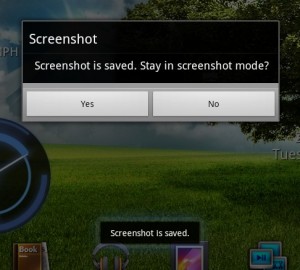 Taking a screenshot on the Eee Pad Transformer is simple and requires no additional software.  To take one, follow the below steps:
Tap on the Apps button on the top right corner of the homescreen:

Open up Settings:

Click on Screen and then check the box next to "Screenshot:  Capture screenshots by holding the Recent Apps Key":

Now, whenever you want to take a screen shot, simply hold the "recent apps key" for a second or two (it's the double rectangle button on the bottom left of the screen):

Once a screenshot is taken, you'll get a message asking to stay in screenshot mode (as well as a message letting you know the Screenshot is saved).  Select Yes to continue being able to take screenshots (if you select no, you'll have to run through the above steps to re-enable screenshots):

All screenshots will be saved in the /mnt/sdcard/Screenshots directory:

The easiest way to retrieve the screenshots is probably by emailing them to yourself directly from the tablet, or by plugging the Transformer into your computer and copy them off directly:
That's it!