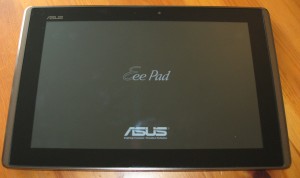 The Asus Eee Pad Transformer tries to bridge the gap between tablet, netbook, and laptop.  It's one of the first tablets to feature the 1.2ghz Tegra 2 processor, 1gb ram, with an optional keyboard dock (which doubles as an extra battery as well), while remaining affordable!  What is it like?  Continue reading below:
Specifications:
10.1" LED Backlight WXGA (1280×800) Screen –IPS Panel 178* viewing angles
NVIDIA Tegra 2 1.2GHz dual core processor
1GB DDR2 Memory
16GB Storage (+ MicroSD expansion slot)
802.11b/g/n 2.4ghz wifi
Bluetooth 2.1+EDR
1.2mp front camera, 5.0mp rear camera
1x mini HDMI 1.3a, 1 x 2-in-1 audio jack (mic and headset), 1 x MicroSD slot
Battery:  rated at 9.5hrs (16hrs with keyboard dock)
Dimensions: 271mm x 171mm x 12.98mm (10.67" x 6.73" x 0.51")
Weight (without keyboard):  680g (1.5lbs)
Unboxing:
What is a review if it doesn't include an unboxing video?
Eee Pad Transformer Unboxing
And of course, here are a few shots of the Transformer all around:



Build quality and aesthetics:
It looks fantastic (in my opinion at least). The back of the tablet is textured, non-glossy, and made of hard plastic — but not a plastic that feels cheap.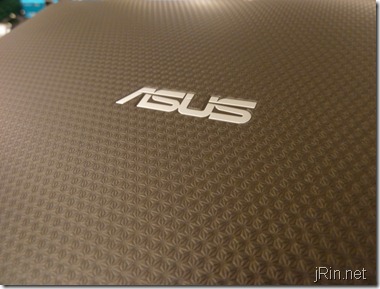 The power and volume buttons are both in a natural natural location and they have the right amount of "click" when pressed.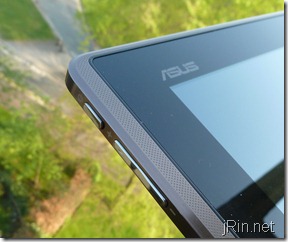 The weight is evenly distributed, and it's comfortable to hold no matter how I end up holding it (from a corner, resting in the palm of my hand, etc).   Overall, it's about what you should expect; it's sturdy, well proportioned, and is just as "good feeling" as any other tablet I've used (iPad and Galaxy Tab). 
I do have one minor gripe, however.  After inserting a microSD card a few times, it would have been nice if they could have created a slight dimple around the slot.  It's kind of hard to press the card in enough to where it clicks/locks into place; I have to use my fingernail to push it in all the way and it sometimes takes me a couple tries to get it to stay in.  (granted, there may not be a way to make this easier, with the inherent design of the tablet being so thin and such, but it's still a small annoyance):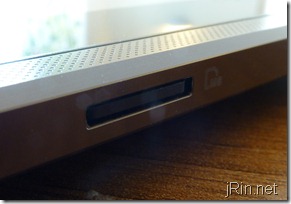 Media playback:
The tablet has very good speakers.  At first when I saw that they were on the sides, I wasn't sure how well it would sound.  But surprisingly, it sounds as though the sound was coming straight out of the screen, and is surprisingly full sounding (it's not tin-canny or anything like that).  I'm very impressed!
As with other android devices I've owned, however, the headset volume is a lacking.  Having used a Dell Streak, Galaxy Tab, and a Desire HD which all suffer from low volume in the headset, I was sad to find that even with the volume on max, it was still not quite loud enough for me.   I regularly take the train, and I could barely understand the voices and such in a few of the movies I've tried watching on the Transformer.
When playing movies from my Class 10 PNY 16gb MicroSD card, playback will stutter every 16 seconds or so (DVD rip at 1300 Kbps). 
Cameras:
The rear camera is 5.0mp and is capable of taking 720p video and the front is 1.3mp.  Neither is good enough quality to call home about, but they will (barely) get the job done if you have nothing else to take a picture with.  I wasn't expecting fantastic pictures, but for a device of this caliber, I expected a bit more.  Pictures are washed out and a bit fuzzy, even in good lighting (clicking on the pictures will bring you to the uncompressed, full size versions taken from the rear camera):
Another annoying thing is that there doesn't appear to be a way to turn off the shutter noise when taking a picture (without muting all audio).  Asus…please fix this!  
When taking a video, the preview window is very choppy, but I was hoping that the resulting video would be smooth – however, the resulting video is just as choppy.  The audio even sounds a bit like you're taking a video underwater…don't quite understand why it's this bad.  Quite disappointing: 
 
Rear camera ("High" quality)
Rear camera ("YouTube 15m" quality)
A few times when trying to use the camera, I received a green screen, which I had to switch between the front and rear camera for it to go away (sometimes I had to close out of the app and re-open it):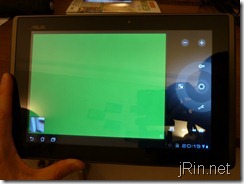 With all these issues, I hope it's just an issue with the camera app itself and not the actual hardware – that would be very disappointing. 
The front camera, however, is actually seems just fine!  It's only 1.3mp, but video recording/playback looks great – it isn't choppy nor nearly as washed out as the rear camera, so at least there's a good cam for video chat:
Sample video taken from the front camera of the Eee Pad Transformer
Screen:
It's quite nice.  Being that it's an IPS display, the viewing angles are great – there's no angle where the color fades or where it's hard to read the screen:
Viewing angles, brightness levels, and the overall quality of the screen
Viewing outdoors, however, isn't as nice (though, with any tablet/gadget like  this, they all have the same problem).  Viewing it straight on with the sky/sun will cause you not to be able to see anything, but all you need to do is look at it from a different angle and it's a bit better:
Viewing the Eee Pad Transformer outdoors
Battery life:
I ran a couple battery tests, and here were my results:
Constant playback of DVD rip of LOTR in RockPlayer (720×368, 1,671Kbps, V_MPEG4 x264) at 50% screen brightness, WiFi on, and speakers at max volume with 7% battery remaining:  6hrs 54min. 
From 3% battery life, plugging it into the AC adapter and having the device on, WiFi on, screen off, it takes 2hrs 10min to fully charge.
With 7+ hours (if I had let it run till it completely died) is totally acceptable when watching movies non stop with WiFi on.   You could even squeeze a bit more time out of it if you were just doing simple browsing/email/etc. 
Input:
The ASUS keyboard is a Swype-like keyboard where you can place one finger on the first key, and then swipe your finger across the keyboard while quickly stopping on each letter in the word you are spelling.  It's not quite as good as Swype (it isn't quite as good at correctly guessing what I meant to write all the time), but better (in my opinion) than just a "plain" keyboard: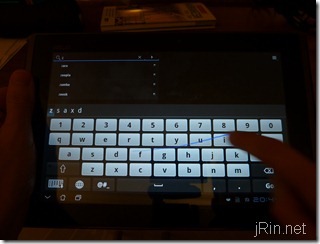 Another thing I like Swype better is that on the ASUS keyboard, if you touch type in words that it doesn't recognize in it's autocomplete dictionary, it will not automatically add the new words in it's database (ie, whenever I would type "Eee" it would replace it with "See", even after I choose "Eee" as the word I actually meant to type):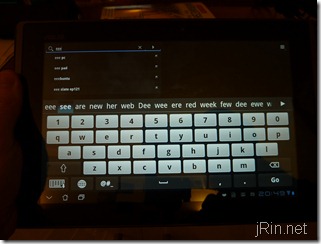 A Nintendo Wiimote.  It works great when using it with Wiimote Controller (no rooting needed) and playing SNesoid (emulator for SNES):
Eee Pad Transformer + Wiimote + SNesoid

Performance:
I don't think there are (m?)any apps that are designed to take advantage of dual core setups, but I never ran into any real lag while running any apps I normally use (NOVA HD, angry birds, web browsing, email, music, video, etc).  The Transformer scores as 2054 Quadrant score, and not that I necessarily had an expectation as to what it would score, I thought it would've been a bit higher: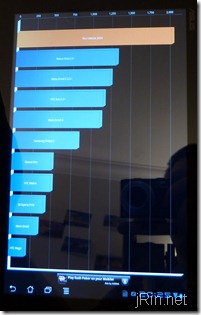 Overall usage of the device I felt comfortable.  There does seem to be a bit of a lag at times from when you tap on the screen and the tablet actually "realizes" you've touched it (input lag).  After using it for a while, I got used to it and was able to act accordingly, but first time users may get confused as to why it's not responding right away. 
Conclusion:
The Eee Pad Transformer is a very good price for what it offers, especially when compared to the Motorola Xoom and iPad 2 ((1280×800 IPS display, optional keyboard dock, low price, etc).   At the moment, the keyboard dock is not readily available, but with it, the Transformer would be quite the Android tablet package.   The camera leaves much to be desired (though, I'm still hoping it's a software issue), but other than that,  I'm hard pressed to find any serious complaints about the tablet. 
Pros:
Well priced at £379 (without keyboard dock)
Great battery life (which is enhanced further with the keyboard dock)
Excellent screen (viewing angles, resolution, quality)
Impressive specs
Cons:
The rear camera is quite simply bad.
Proprietary USB cable
Slight touch input lag