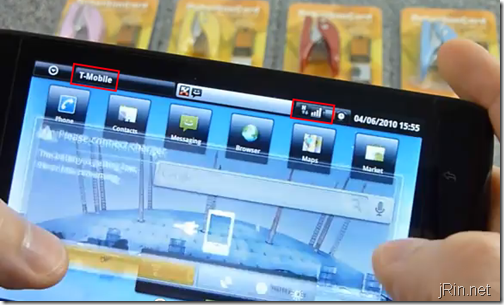 I recently wrote a post about how to unlock the Dell Streak using a Rebel Simcard II – however – there ended up being a few issues where it would regularly loose connection, not be able to work on 3G, and a few other problems.   However, there have been some recent updates and new solutions that RebelSim have come out with that now allow you to either have a full unlock solution using the latest firmware of their Rebel Simcard II – or – you can pay for their factory unlocking service by sending them your phone and having them extract the factory unlock code and permanently unlock it.
Version 1.2 firmware of the Rebel Simcard II
As mentioned above, after I posted about using the Rebel Simcard II to unlock the Streak, a bunch of people commented about issues they were having with it.  I apparently didn't test it very much and was soon able to reproduce the issues such as 3G not working, having it eventually be unable to connect to any network, and also needing to have data roaming enabled at all times.  
However, the Rebel Simcard team followed up by releasing an updated firmware (direct link for v1.2) for the Rebel Simcard II which corrected all the above issues.  (this latest firmware is also supposed to work to unlock any HTC, Windows Mobile, or Palm WebOS phone)
Being not too far away from the Rebel Simcard office, I ended up actually meeting with them in person and brought a couple of my simcards and tested them to see if the new firmware actually worked!  Results? It actually works!
Another neat side feature of the Rebel Simcard is that it also allows auto-population of the APN settings (data).  As shown in the video, I had the data settings setup for a T-Mobile UK sim and once I inserted the Orange UK sim (with the Rebel Simcard II of course) and turned it on, the phone was able to pull in the Orange APN settings and I was able to use data straight away. Note, however, that the auto APN settings may not always work – for example, when I put in my Tesco or GiffGaff sim, it pulls in the APN settings for O2, presumably because both of those carriers are simply MVNOs (reseller) of O2 so I guess they have the same network identification when pulling the APN settings. 
If you already have a Rebel Simcard II with the older firmware (v1.1 or older), you can order one of their sim card programmers and update the firmware yourself, or if you don't want to wait for it to be sent to you, you should be able to use any generic sim card reader such as the Sweex Multi Sim and Card reader at Maplin.  (I actually bought this myself when I accidently crushed my programmer from Rebel Sim. I didn't want to wait for a new rebel programmer, so I bought this one and it seems to work just fine).  With your sim card + rebel sim card plugged into the reader, simply fire up their programming software and load in the latest firmware.
They have a video on how to update the firmware here in case you get lost:

Factory unlock via post (mail in to them):
The RebelSim team have also been able to create a factory unlocking service where they are able to extract the factory unlock code from your phone and be able to permanently unlock it (in other words, make it a SIM free phone.  No more need for a Rebel Simcard II if you don't want to rely on it).   For now at least, you need to actually send your phone to them in the UK to extract the unlock code, so you would be without your phone for a few days.  However, if you don't mind shelling out the cash, it seems to be the best, and currently only, way to get your Dell Streak factory unlocked (without actually buying it SIM free to begin with or having the US ATT locked version and are lucky enough to have them provide you with the unlock code):
For anyone who is apprehensive about sending them your phone, I can personally vouch for them and can say that you should be able to rest assured that you will indeed get your phone back, unlocked, and in one piece.  I have actually been to their offices and they are definitely passionate about what they do here with the RebelSim (and their other products) and they are committed to offering a top notch product/service. 
And no, I am not getting any sort of kick back from them with this particular post (except for maybe some search result traffic, haha).  I simply want to get the word out that they are legit and genuinely enjoy what they do and want to provide a good product!  I originally found out about them when I first bought my Streak a few months back and started searching for unlock solutions, which is how I found out about the Rebel Simcard.  After I tried the Rebel Simcard and created a review about unlocking the Dell Streak, I ended up getting in contact with them and started playing around with a few of their other products and services.  After talking with them back and fourth and mentioning issues I and others were having with the Dell Streak and their Rebel Simcard II, I ended up meeting them at their office to test their latest version of the firmware (as mentioned above).  They explained that they were working on an updated solution as soon as they found out about the issues and released the update as soon as they could.  I was able to meet with them and brought my own simcards to test out their latest version and everything worked as expected.  I would have no problem sending them my phone to be unlocked (if I had the money and still had a Dell Streak haha). 
So until they, or someone else, comes out with a remote unlocking service, go get your Dell Streak unlocking with Rebel Sim!
——————
Do you have a Dell Streak and have done their postal factory unlock or updated your Rebel Simcard II to the latest firmware?  Let us know in the comments how it worked out!