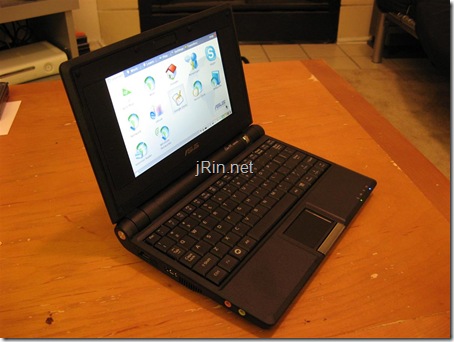 Ever since I read the first posting about the Eee PC, I've been wanting to get one and try it out, and today, mine finally came in the mail.  I read a few reviews about how small it was, but I can never appreciate the size of a device through most people's pictures, so I figured I'd write a little about it here with some of my initial thoughts while including some size comparisons and unboxing pictures! 
My initial thoughts after using it for a few minutes?  — It would be GREAT for traveling with, even though it doesn't have a very long battery life, at 2.5 (or upto 3.5 w/the more expensive model), it would be good enough for basic travel usage.  It's small and light enough to not really notice it in a backpack or simply just carrying it around in any kind of bag. And with enough software and power to do your basic web browsing, music listening, word processing, etc you're set for basically anything you'd probably do while not at home (in other words, not playing games, video editing, or doing hard core document handling/manipulating).  Yes, the screen size is small, but it's still large enough to do such basic tasks – however, with the most common screen resolution recently being bumped up to 1024×768 (up from 800×600), many websites will have horizontal scroll bars on this size screen (see pictures below).  If that doesn't bother you too much, then you are golden (and if it does, perhaps you could try seeing if those sites have a mobile version made for pda's).  
The included software is pretty much what I would want in a mobile device:  open office for productivity, two paint programs, games, and a suite of internet apps (firefox, skype, instant messaging, etc).  And with it's memory card slot, if you wanted to save a bunch of music or documents, instead of filling up the precious space that you have, just save them on a SD card (which are VERY cheap these days).   Okay, enough talk for now, lets check out some pictures!
The particular Eee PC that I bought was the one with the smaller battery life and no webcam (to save on money).  The complete specs are as follows:
Model:  ASUS Eee PC EEEPC4G Surf-BK
CPU:  Intel Celeron M
CPU Speed:  900MHz
Chipset:  910GML
Graphics:  Integrated Intel GMA900
Screen Size:  7"
Resolution:  800×480
Memory:  512mb
Integrated VGA:  YES
Webcam:  No
LAN Port:  RJ-45 10/100
WLAN:  802.11b/g
Audio Ports:  Audio and MIC
HDD:  4gb Flash
Card Reader:  YES
Bluetooth:  No
Fingerprint reader:  No
Battery Run Time:  Upto 2.5 hours (4 cell)
Weight:  2.0lbs (with battery)
Dimension:  8.9"(W) x 6.5"(H) x 0.82"-1.37"(D)
Pictures:

So starting out, we have some unboxing pictures:
Then here we have different views of the laptop (…or is it more of a PDA?… I,myself, haven't quite decided..,haha)
Pretty sleek looking, huh! And here we have the weight (hmm.. 1lb 15oz.. I wonder if my scale is a little off) of the laptop and a picture showing how thin the screen is and how far back it can open up:
Whenever I saw pictures of it online, it always looked to be really small, but I never really got a feel for how small, and light weight, it really was:  Once I took it out of the box and held it, I was surprised at how small it really was!  Here is its size compared to other objects ya'll may be familiar with (an envelope, xbox360 controller, a CD, and a Cingular 8525 cell phone):
And of course, like my other laptop reviews, I have to compare it to the size of the Dell XPS M1210 (a 12.1" laptop) as well — It is just about as thick as the m1210 towards the back, but substantially smaller all around:
Next, we have some pictures of the different home screens (software titles and such):
Okay, that's all the pictures I have for now — On we go with a brief, little review:
Review:

Boot up time is about 27 seconds, which I thought was great!  Yes, it doesn't have much it needs to try to load, but nonetheless, that's not a bad time no matter how you look at it.  Navigating throughout the different screens and programs is pretty quick — I didn't notice it taking any longer than if I was on my laptop or desktop doing similar tasks.  The included games play fine, youtube video playback was smooth, listening to internet radio while opening (and slightly using) open office worked great, and browsing around in firefox also proved to be smooth as on a 'normal' computer.  I also liked that the system could be restored to factory defaults by either the built in utility on the laptop, or by using the DVD that came with it. 
I do have some gripes about it though — they keyboard, yes, is smaller than the standard size keyboard.  I have used keyboards like this in the past in past reviews (like the fujitsu p7120) and it will take some getting used to, to become comfortable with it (if you have large hands, it may be difficult).  The touch bad is very nice however, and you can select the sensitvity of it for both moving the mouse around and tapping — out of the box, the tapping was not sensitive enough for me (you had to tap pretty hard for it to recognize a 'tap-click', but I upped the sensitivity, and it now works great for me).  The one physical mouse button actually works as a left and right click — to left click, press down the left side of the button, and vice-versa for a right click (I would have preferred it to be two separate buttons, but it's something I could get used to). 
Being it is such a small device, and still considered a laptop, I was a bit concerned that it was going to get hot after a while because I assumed for it to be so small, they would have skipped out on a fan.  I was wrong — there is a very small fan, with a small vent, on the left side of the laptop!  If you listen VERY closely, you can hear it when it's on, but I had to second guess my self when I thought I heard it the first time.  The unit does get slightly warm once it's been running for a while (in my case, watching a bunch of youtube videos), but it's nothing that got uncomfortable or would be any concern to myself. 
The one thing I could not get to work right was the wifi — I have WPA-AES encryption on my router, and no matter how many times I tried, I just couldn't get it to connect.  However, I had no problem connecting to my WEP-128 router, so perhaps while the wifi adapter on this does support WPA, perhaps it doesn't do AES? (maybe it can only do the other one…what is it… tkip or something?). 
Final Thoughts:
 
The Eee PC is it's own class of mini laptop (… or big pda?).  In fact, I see it as being more of a middle ground of a pda and a laptop — it has a full qwerty, 'two-hand typeable' keyboard, and a linux operating system (though capable of running windows xp), but keeps with the size aspect of a PDA with a smaller resolution and miniscule weight.  For those people looking for a computer that is easy to travel with but do not need anything with great power, this is definitely the device for you:  for $350 ($400 for the model with a webcam and 3.5hr battery), you are not going to find anything else in it's class.  Yes, you can get a PDA for around the same price, but then you loose the larger screen size, full keyboard, and windows xp capability, and if you buy a full size laptop, you loose the portability and near weightlessness.  If I ever found my self traveling A LOT, I would definitely have to keep one of these, but since I already have a laptop and a smarthphone, I personally can't justify having ANOTHER device, haha.  
Pros:
a very light 2.0 pounds
full qwerty keyboard
full office and internet suite of applications
SSD hard drive and SD memory card expansion
USB and Ethernet input and VGA output
Ability to install Windows XP (and with a celeron M 900mhz, it should be more than capable)
Cons:
800×480 resolution
2.5hrs battery life (but has 3.5 battery option)
The keyboard keys are smaller than standard laptop
Upon initial boot, it only has 1.3gb free space