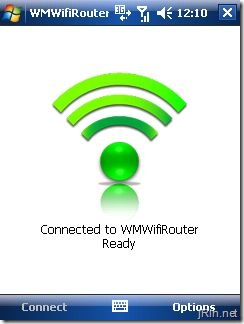 Just saw this posted on lifehacker, tried it out, and had to spread the word! This freeware smartphone app will turn your wifi enabled smartphone into a wifi router (ad-hoc, aka: computer-to-computer) — in other words, you can take your windows mobile phone, and if you have a data plan and wifi, you can have any other wifi device connect to it as if it were a router! I could definitely see this as being useful when my Comcast connection goes down and my roommates and I all need to have simple access to email and such until it goes back up! Not just that, but also if you have a laptop (or any device) that doesn't have bluetooth to utilize the bluetooth internet sharing in wm6, you can just use this as devices are more likely to have Wifi than bluetooth.
It's easy to install too — just head over to http://www.jongma.org/WMWifiRouter/, and you can either install a self install exe (which installs through active sync), or you can download the cab (copy it over to your phone or simply download from your phone directly). It sets up the ad-hoc network for you automatically, so all you have to do is install, tap "connect", and then have your laptop (or other wifi device) connect to the "WMWifiRouter" network! That's it!
Keep in mind though, as lifehacker and the creators of WMWifiRouter state, it's still under heavy development — but as it is right now, it works great on my cingular 8525 with two different computers connected to it at the same time. I was curious if there would be any speed loss on my laptop vs using direct cable or bluetooth, and I still got just over 120k/sec:
One thing though, as stated in their FAQ [link, 2nd post], you may have to manually set your wifi adapter on your phone to only connect to 'computer-to-computer' for WMWifiRouter to work correctly (and therefore, create the WMWifiRouter network) — I had to do this to get it to work because I had a bunch of wifi networks preconfigured to automatically connect on my phone.
verdict? Head over to jongma.org right now and install it on your windows mobile device!