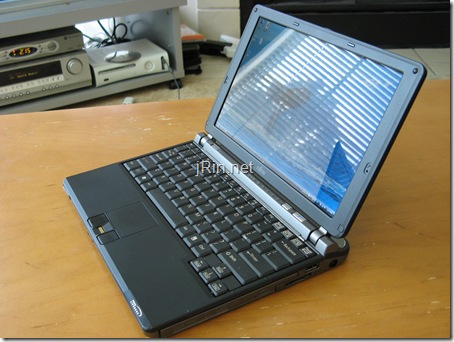 The Fujitsu p7120 is a tiny laptop that sticks with a removable optical drive and great battery life.   Weighing in at only 3.2 pounds (with the extended battery) and a 10.6″ screen, this is a very comfortable laptop to carry around throughout the day, while providing enough battery life to leave the charger at home.   I realize this laptop has been out for quite some time (I've actually owned this laptop once before), but I figured now that vista has come out, it may be useful to know if it's still usable (in other words, make sure it's not painfully slow). 
Quick links to sections of this review:
Specifications of reviewed unit
External review links
Overall views (pictures)
Usage in Vista
Usage in general
Comparison pictures of dell xps m1210 vs fujitsu p7120
Conclusion (with pros/cons)
The particular specifications of the model used in this review are as follows:
Specifications:
Intel ® Pentium ® M Processor 753 (1.20GHz, 2MB L2 cache, 400MHz FSB)
Intel ® PRO/Wireless 2915ABG Network Connection
Intel ® 915GMS Express Chipset
Intel Graphics Media Accelerator 900 (128mb shared video memory)
Genuine Windows Vista Home Basic
10.6-inch SuperFine Wide XGA TFT, 1280 x 768 pixels (glossy)
Dual Layer DVD Super Multi Writer (lightweight)
1GB DDR2 400MHz RAM
Max. Memory Supported: 2GB DDR2 400MHz
60GB Hard Drive (4200rpm, 1.8")
PC Card Type II
SD/MS/xD, Smart Card support
Battery life up to 8 hours (6-cell Li-Ion 7800mAh)
1.3kg weight (~3.0lbs w/std battery, 3.2lbs with extended)
High Definition audio with RealTek ALC260 HD audio codec with built-in dual Stereo Speakers; Internal dual microphones built into the screen
HD Audio-in: Mic-in
HD Audio-out: Headphone-out, Line-out
Communications:
Keyboard: 82-key, 18mm key pitch, 2mm key stroke Intelligent Touch Pad with configurable vertical and horizontal scroll functions
Fingerprint Sensor with vertical scroll functions – ENGLISH BIOS Lock, Hard Disk Lock, Anti-theft Lock Slot, Fingerprint Sensor , Trusted Platform Module
Ports:

(3) USB 2.0
(1) IEEE Firewire (mini 4-pin)
(1) VGA (upto 1600×1200)
(1) Docking station port / port replicator
(1)  SD/xD/MS card slot
(1)  PCMCIA

Dimensions: 

271mm (W) x 209.55mm (D) x 24.3mm (H)
10.66in (W) x 8.25in (D) x 0.96in (H)
External Reviews:
Cnet.com — They have good battery life measures and compare them to other ultra portable laptops (they've also got a short video review as well)
Notebookreview.com — This is the review that lead me to my first purchase about a year ago.  They've got great benchmarks, detailed descriptions, and more!
Overall Views:

I'll start out with showing some different views of the laptop by itself to get a general feel for how it looks:
 
front view (click to enlarge)
At first glance, you can definitely see how this laptop is set apart from others by it's small size (10.6" screen). 
 
screen fully opened (click to enlarge)
Here you can see how far the screen can open.  I, personally, am not a fan when laptops cannot open a full, or at least close to, 180 degrees (I sometimes sit on the bed and rest my laptop vertically on my bent legs), but I have had laptops that have had a smaller 'degree of openness' than this one, which can get quite annoying.  However, in spite of it's lack of 180-degreeness, I did not have any qualms using it in class, on desks, on the floor, etc. 
 
screen width (click to enlarge)
This shot shows the thickness of the screen.   I don't have the dimensions, but as the picture shows, it's thin!

front view (click to enlarge)
The front of the laptop offers a microphone and earphone jack.  Fujitsu did not put a latch to keep the laptop closed, but the hinges do just as good of a job.

right side view (click to enlarge)
The right side shows the optical drive, (1) usb 2.0 port, the memory card reader, and the power port.  The optical drive is very thin, and the laptop comes with a plastic weight saver that you can put in place of the drive (it's basically a plastic cover the same color as the drive), but I could never really tell the weight difference when carrying it in my bag, so I just always kept the drive in there. 

left side view (click to enlarge)
The left side shows the ethernet port, VGA, s-video, laptop lock, modem, PCMCIA, (2) USB 2.0, and the mini-firewire port.  The VGA output supports screen resolutions up to 1600×1200, ethernet (not gig-e), and has a pcmcia (not express card). 

back view (click to enlarge)
Here is the rear of the laptop which houses the speakers and the battery. 

overhead view (click to enlarge)
This shot is basically to show the placement of the speakers.  Now, I'm sure (at least I hope) that the speakers were placed behind the screen because there was no other place to put them (being this thing is so small).  I really wish they were in front of the screen because the speakers are not very loud (compared to may dell m1210, or hp dv2000) to begin with, and having them behind the probably makes it worse — but then I think about the fact that one would most likely not be using this ultra portable laptop as a gaming machine, or music/video device without the use of headphones. So for your standard need of sound, like from instant messaging, emails, casual youtube videos and etc, it does the job (or if you are in a silent room, sound for anything would be fine).

keyboard (click to enlarge)
Here we've got the keyboard, which is a bit smaller than your standard keyboard.  This is like the dell 700m/710m (which also had a smaller keyboard, 93% of normal size if I remember right), and took me a little bit of getting used to.  What I found most noticeably different is that it requires more force to depress the keys.  Now, I'm not saying you have to punch the keys, but it's enough for it to feel a little strange for the first day or two.  Using typingtest.com, I actually kept the same gross speed, but had a little bit better accuracy on the Fujitsu;  I think it has to do with the fact that I have to concentrate a bit on pressing the keys harder, so I am less likely to press more than one key?  But after a week of typing in classes, I got used to the keyboard completely, and it there were no issues (keep in mind that that means I was typing for 3-4 hours a day at the minimum). 
One thing I really don't like, and I had this problem when I owned this a year ago, is that the letters on the keyboard start to fade.   It's evident on the heavily used keys (shift, A, S, L, etc), and if it is still under warranty, Fujitsu will replace the keyboard.  (Of course, functionality wise it does not effect anything).   The mouse pad is also smaller than I'm used to, and after using it again for about a week, I'm just about "comfortable" with it, but not quite.   I would have liked it better if it, and the buttons, were a bit wider. 
 
indicator lights (click to enlarge)
Here we've got the different indicator lights — the first two showing the charging status of battery 1 (main), then presence of battery 1 (main), then the same for battery 2 (secondary — which can be placed where the optical drive goes), then your standard hdd activity, num luck, caps lock, and scroll lock.   Then you have the "eco" button, which basically switches the power mode — what this does is lower the screen brightness and optionally disables different hardware such as the optical drive, ethernet, pcmcia, modem, firewire, and memory card slot (all for maximum battery life). 

Wireless switch (click to enlarge)
And in the left corner, you have the wireless switch that will turn on or off the bluetooth and wifi instantly (another quick and easy way to squeeze out more battery life). 

screen (click to enlarge)
Usage (with Vista Home Basic):

The first thing I wanted to see was the vista score – When I had it last time (back about a year ago), I had XP and only 512mb and it worked okay for my everyday note taking, web browsing, and dvd watching, so I was real curious to see what vista 'rated' it to be. 

vista performance rating (click to enlarge)
As you can see, vista really doesn't like the Intel 900 integrated graphics :), or should it be a :(, ?  — But then again, you shouldn't be buying this laptop for it's video performance!  I installed the original demo version of the game F.E.A.R. and it was hardly playable, even on the lowest of settings.  The default (recommended) settings were 640×480, and every possible option set to minimum or off (except for sound, which was medium).   Yes, I know this is not a gaming laptop, haha, but I had to try it! — check out the video below of FEAR gameplay (with FRAPS frame rate display):
Throughout the game, the frame rate is pretty low, and at about 0:51 it may seem like the audio is lagging, and in fact it is.  Especially at the end of the video, where everything completely hangs for about 5 seconds, you can really tell this machine is not made for gaming (again, keep in mind this game is set to the bare minimum graphics settings, and at 640×480 resolution even)
Now, DVD playback was much better!  For the most part, playback was smooth, audio kept up with the video just fine, and everything was good.  However, after a while of playing, it would seem to stutter about every 7 seconds or so… watch the clip below and see if you can tell (at 0:07, 0:18, etc). 
It's BARELY noticeable, and I'm not sure what the cause of that is (the dvd is pretty clean and free from a lot of scratches), so perhaps vista is too much for this machine to also play dvd's perfectly smoothly?  I would say, it is definitely watchable though.  I would have no qualms with watching movies on a plane or in a car with this laptop!
Now aside from gaming and video playback, I also used this as my regular computer for about a week.  I used it to take detailed notes during class, browse the web, word/excel/powerpoint (office 2003), youtube, music listening, and the like.  I did notice it taking longer than normal (normal being a non 1.2gz vista computer) to open programs, but it was quite bearable.   Switching between open programs was fine and I never really had a hard time, or annoying wait, to do anything.  
I did not like, however, the fact that one has to download a different (older) version of Windows Movie Maker in order for it to run.  Apparently, the vista version requires a more powerful video card than the integrated Intel 900 can handle.  (Would it not be possible for it to revert to an older version automatically?). 
Vista usage conclusion:  other than normal vista gripes you hear about from many vista users, it was a pleasant experience.  I was half expecting the machine to crawl over the lightest of tasks, but it surprisingly wasn't bad.   I kept the vista style appearance on the whole time (as opposed to the win 98/nt style, which would increase performance),  and used the laptop as I do with my core2duo Dell m1210.  Yes, it was slow at times, but not to the point where it made me frustrated;  I expected some lag (being a 1.2Ghz processor with 4200rpm drive), and therefore accepted it when it was present.  This is not to say it would dissuade me from keeping it should I not need the processing speed of my m1210 for video and photo editing. 
For reference, you can check out notebookreview's review (as stated at the top of this review) for detailed benchmarks of hard drive read/write speed, processor comparisons, etc. 
Usage in general:
First off, I think a 10.6" screen is a great size to go with for ultra portable:  any bigger, and the laptop is most often than not going to be thicker and heavier, and smaller and you'll sacrifice screen resolution.  The processing power on this though only at 1.2Ghz, is still faster than you may think.  I have used this daily during class, light photo editing (getting pictures off my camera and doing simple cropping), heavy firefox browsing (memory hog), and word processing, and it handled it pretty well (even with vista).  It's light weight, easy to carry around, and I really like how it still keeps an s-video slot, THREE usb ports, and the (removable) optical drive (dvd-rw at that!).   The screen resolution is a comfortable 1280×768, which is just shy of the 1280×800 resolution that the majority of widescreen laptops have.   Battery life is also great (using the extended) where I normally get around 5 hours (in eco mode) while typing, surfing, listening to music, and at about 4/8 to 5/8 screen brightness.  You also have the option to remove the optical drive and put another battery in its place (I have never had the extra battery, but I would imaging it being able to last 8 hours with the two!). 
It would have been nice if a built in webcam was included, and perhaps a second earphone port (for easily allowing more than one person to watch a dvd w/out having to buy an adapter), and I do have one major complaint: HEAT!  Now being this is such a tiny laptop, they opted to do away with any internal fan, and put a suede/fuzzy material on the bottom to keep from getting hot to the touch:

bottom (click to enlarge)

close up of suede / 'heat blocking material' (click to enlarge)
While this does prevent on the unit getting very hot on the bottom, it still gets EXTREMELY hot along the sides and the front.  When plugged in and actively using the laptop, it gets extremely hot on the sides/front to the point where if you were to keep your skin touching it too long, I think it could actually burn you.  (Not that you would normally be holding/touching those areas during normal use, I have purposely put my hand on one of these areas and had to pull away because it started to hurt).  Also, using this on your lap (whether plugged in or not) will start to get uncomfortable because it'll make you feel rather warm.  Now when the laptop is unplugged and running off the battery, even when at full processor speed it's not nearly as hot (though still gets a bit warm).  The palm wrests on the keyboard also get warm to the point that eventually my hands will start to sweat a little bit during long typing durations.  Is this enough to make someone not buy it?  Perhaps.  Like I said, it can get very hot when plugged in.  But if you have it on a table, and can deal with it getting warm on the palm rests, then it will be okay.  Personally, this would make me weary — I would have to think long and hard about keeping this as my everyday laptop; when running on battery, it's not too bad — but when charging and using it at home, it could get annoying to want to always use it on a table, or a book or laptop cooler, to keep from getting bothered by the heat. 
The screen was better than I expected.  I have used other ultra portable laptops which did not have near the sharpness this screen has.  Shown below is a video showing the different levels of screen brightness that can be achieved.
The screen can get quite bright, and VERY dim if you want to get every minute possible while running on battery power.  However, it does seem to have a much smaller viewing angle than most laptops.  If I am not looking at it straight on, the top/bottom (which ever I'm not angled at), tend to get a little darker/harder to see.  Now, most of the time you should be sitting right in front of it, look straight at it, so probably won't notice it as much, but it is still noticeable, and it still bothers me a little bit.
Image comparisons to the Dell m1210:

I figured since I keep talking about the dell m1210 which I like so much, I'd show some comparison shots of the two (all the shots of them together have them lined up along the same axis, though some of the pictures make it seem as though they're not):

m1210 vs p7120 angled shot (click to enlarge)

m1210 vs p7120 thickness (click to enlarge)

m1210 vs p7120 screen size (click to enlarge)

m1210 vs p7120 stacked (click to enlarge)
Overall conclusion: 

The Fujitsu p7120 is an ultraportable laptop worthy of the reviews it has received from other sites.  Originally released with xp, installing vista on it will not sacrifice too much performance as long as you upgrade to at least 1gb of memory.  While it has a major issue with heat, it's small size and great battery life makes it great to travel with at school or anywhere else.  It has since been replaced by a newer model, the Fujitsu P7230 which has a slightly better processor, an optional built in webcam, and is a bit lighter (review from trustedreviews.com).   The p7120 can be purchased from ebay from private sellers (how I got both of mine), or by fujitsu themselves via ebay id:  fujitsu_computer_store (p7120 listings) – they list them from time to time (they used to have 5-6 at any given time, but recently, they have only a few a month) at around $800-$1100 on average (depending on what specifications they have) and are usually refurbished with a 90 day warranty. 
Pros:
Very small size and weight (~3.2lbs)
Removable optical drive which can be replaced with a 2nd battery
Many ports: (3) USB2, firewire, s-video, vga, docking port, fingerprint reader, memory card slot, pcmcia.
1280×768 resolution
1.2Ghz with 1gb can still run vista well
Cons:
Gets very hot when plugged in
Screen has small viewing angles
Keyboard letters get rubbed off after time (but is replaceable under warranty)
Mouse pad and buttons a little small