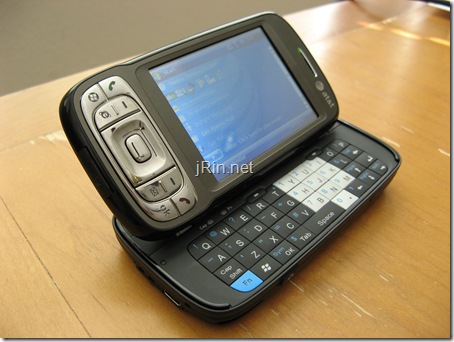 This is my review of the new att Tilt Phone (also known as the HTC 8925 / Kaiser / Tytn II, etc).   I impatiently waited a long time for this phone to come out with it's bulit in gps, tilting screen, 3.0mp camera, and all the other features it shares with it's older HTC Hermes / Cingular 8525, and last week I finally went out and bought it and found that it's a great device, but not without flaws!    In this review, I'll show a bunch of pictures (from unboxing to actually using) and describe usage of the keyboard, screen, tilting feature, GPS (with data maps), and more!  Lets start out with some basic information about the phone first:
Specifications:
Weight 6.0 ounces
Dimensions: 4.4 x 2.3 x 0.73 inches
Talk Time: Up to 4 hours
Standby Time: Up to 8 days
Wi-Fi (802.11b/g) support
Stereo Bluetooth® 2.0 / Infrared (IrDA)
Supports up to 6 simultaneous Bluetooth® pairings
3 MP camera with 10x zoom and autofocus
Large 2.8" 240 x 320 64K tilting color touchscreen
Powered by Qualcomm MSM7200 400 MHz processor
Quad-band GSM/GPRS/EDGE 850/900/1800/1900 MHz
3.6 Mbps Tri-band UMTS/HSDPA 850/1900/2100 (3G)
256 MB Flash ROM and 128 MB SRAM
microSD expansion slot supports up to 32 GB* expandable memory
Built-in GPS for use with Telenav GPS Navigator(TM) (or any other GPS application such as TomTom)
General Pictures:
Here we have a bunch of pictures of unboxing and different angles/views:

boxed (click to enlarge)
It's your standard AT&T phone box…not much else to say about it!

unboxed (click to enlarge)

inserts (click to enlarge)
Here we have the phone, battery, charger, extra stylus, headset, and usb cable (first pic), and then all the inserts/manuals/cd AND a screen protector! (it's about time these come with touch screen devices!!).  Notice this comes with a 30 day free trial of Napster (which seems nice…but I think you can get that without buying a phone, am I right?)

labeled (click to enlarge)
Here shows the different labels that come attached to it — instructions on how to flip the screen and the degree (40*) to which it can open

angled (click to enlarge)
This is the unit with no stickers on it.
 
left side (click to enlarge)
Here we have the Push To Talk (PTT), slide/click wheel, and OK buttons

bottom (click to enlarge)
Then you have the wrist strap holes (does not come with a wrist strap), HTC (mini usb) connection, and the microphone.  Oh how I wish these phones would have a standard 3.5mm earphone jack… oh how nice that would be! (instead you have to either use the supplied headset, or a specialized adapter like this one to get 3.5mm support).  Here you also find the microsd slot, which has a plastic cover.

right side (click to enlarge)
On the right, you have the stylus (which is not a retractable one like the 8525, it's a 'full size' one!), camera, and power buttons.  To my dismay, they no longer have the "comm" button which brings up the comm manager.  (The comm manager is where you turn on or off: flight mode / phone radio, wifi, bluetooth, etc).  Instead, you now just have the option to go through the windows mobile menu to access it (instead of the dedicated button).   One thing I don't like is the fact that the power button is flush with the casing, and on top of that, you have to press it pretty far in for it to work.  This is a little annoying for me because it make it kind of hard to touch-feel for the button when grabbing the phone and wanting to wake it up.  Instead, I found my self having to press and move my finger 2 or 3 times to find the button.

slide open angle (click to enlarge)
Here is the phone slid open.  I'm not sure why it opens the opposite direction than the 8525  (perhaps constraints for the flip up ability and gps?), but it took me a while to get used to sliding it this way — I kept finding my self wondering why it wasn't moving when trying to slide it the "old" (8525) way, haha!

side open flat (click to enlarge)
Here we have the device slid open, but not tilted yet!  (see below!!)

side open tilted (click to enlarge)

front open tilted (click to enlarge)
And here it is tilted in all it's glory.

bottom (click to enlarge)

bottom opened (click to enlarge)
The "rubber" GPS piece covers up the ports for an external GPS and cell antenna (two ports, one for each — see below pic for more), then you have the 3.0mp camera and speaker.
Usage:
Screen lag
The first thing I remember reading about more than once was that the phone was great other than the slowness of the screen switching from portrait to landscape — this was the first thing I tested, and found that while it was bearable, it was on the verge of annoying.  I see this as being a flaw in my opinion.  Decide for yourself:
Keyboard
Not to intentionally continue with another flaw, but the keyboard was the most disappointing part of the whole phone – the reason is due to the fact that the keys are rubber.  The problem with that is when I am trying to type fast I have to pretty much hit the exact center of the button, otherwise, if I hit the corner/side/edge of it, it doesn't depress or get registered.  However, on the 8525, the keys were plastic, so when you pressed any part of the key, the rest of the key went with it, and it counted as a key stroke.  I have become quite good at typing fast, and accurate, with the 8525 – but as soon as I used the tilt's keyboard, I instantly thought it was the keyboard from a dummy phone.  Maybe I just need to use the phone more and get used to it, but I've been using it now for 4 days and I still don't like it.  However, if I slow down my typing, I can type well and accurate… but to me, that defeats the purpose of having a dedicated slide out keyboard!.   Perhaps prolonged usage of the keyboard will thwart this issue — only time will tell!
In spite of this flaw, there is something I really like about the keyboard, and it is that you can slide it open, and dial a number using the keypad with out having to use the Fn key to basically do a "num lock" — in other words, you can YUI from the homescreen and it will open the phone app and dial 123!  But be careful, don't slide open the keyboard and instantly start dialing.  Doing so will make it lag big time and end up only remembering the last digit you dialed … strange…!
GPS
Ah,  here we go, something good you can read about, haha.  I was kind of concerned, at first, about how well the GPS would work.  I thought that being in an integrated device, working with a cell radio and bluetooth and everything else, that it just wouldn't work as well as my iBlue-737 bluetooth receiver (did I have an educated reason why I thought this? nope – I just did, haha).  Much to my surprise, it actually worked just as well!  w00t!
At first, it took me a while to realize that there was no "turning on" the gps (like you have to do for bluetooth and wifi).  You just simply have what ever software that uses gps to use the port that is designated through the "external gps" (under start->settings), and it turns on automagically when needed!  I used TomTom v6 for smartphones, and never had a problem driving to and from school, down the street, to the mall area, etc.  To further make sure that it was as good as my iBlue, and not just tomtom doing some sort of corrections, I used a GPS data logger software and plotted the results of both on google maps.
I must now praise the wonderful site GPSVisualizer.com for having links to the GPS logging software I used, GpsGate ($40.00, free 14 day trial) to log GPS data, and for having a page to plot GPS data on many different maps!  See below for the interactive google map plot (click on the google map) and static image:

click here, or the map, for the zoomable, interactive map

static map image (click to enlarge)
Camera
Simply put, I was a little disappointed to find that the 2.0mp camera on the 8525 was better than the 3.0mp on the Tilt.  Outdoors, they were similar (the 8525 was a bit better though), and indoors, the Tilt was quite worse.   The Tilt seemed to be fuzzy and shaded things with a blue tint.   (Yes, I made sure that both phones lens' were clean).  Not sure what happened here with the Tilt (that, and they dropped the very useful flashlight LED flash which I became accustomed to using on the 8525 when ever it was dark and I didn't have a light handy :) ).  See below for picture comparisons and a video showing camera usage:

8525 indoor sample picture (click to enlarge)

Tilt indoor sample picture (click to enlarge)

8525 outdoor picture sample (click to enlarge)

Tilt outdoor picture sample (click to enlarge)
Speakerphone
I read some reviews with people saying that the speaker phone was really bad, but it found it to be no better or worse than the 8525.  It doesn't get VERY loud, and when you do set it on it's loudest setting, it gets crackly / noisy:
General Usage and Multitasking
I was generally impressed on how well the Tilt handled multitasking.  When I say multitasking, I mean using media player, mobile office, and internet explorer all at the same time.   Check below for a video of playing music and using internet explorer:
Comparison shots to the 8525:
Here are some shots comparing the 8525 to the Tilt:
 
8525 vs Tilt thickness (click to enlarge)

8525 vs Tilt heights (click to enlarge)
 
Tilt vs 8525 side by side (click to enlarge)

Tilt vs 8525 angled (click to enlarge)
Conclusion:
The AT&T Tilt is a welcome successor to the Cingular 8525.   With it's built in GPS, tilting screen, and sleeker looking design, I would most likely keep it if it wasn't so expensive (and the keyboard issue I had doesn't work in it's favor, haha)!   For most general usage scenarios, it is the same as the 8525 as far as speed, usability, and size.  The internal gps works just as well as my iblue bluetooth receiver and runs TomTom 6 and Google Maps with no problems (definite selling point!).   Would I recommend this phone over the 8525?  Right now, no, but that is only because of the price difference.  Other than the built in GPS and different appearance, it is essentially the same phone as the 8525 even though there is the tilt feature – but to me it really isn't anything more than a (very cool) wow factor.   As of 10/15/07, through Cingular, the 2-year contract upgrade/new line price is $300 after rebate and $550 for buying it outright from the store.  Other places like Amazon have it for $150 after rebate and contact, and Newegg (out of stock as of today) for $150 as well with contract, but NO rebate.
Pros:
Built in GPS!! (and it works great!)
The screen tilts and has a built in qwerty keyboard
Comes bundled with backup software
MicroSD slot
Cons:
Keyboard keys are rubber, so it's hard to type fast
Lag time when screen rotates
Pricey
[tags] 8525, 8925, att, cingular, pda, phone, review, reviews, tilt, at&t tilt [/tags]