Update 9 Sept 2010: This post has since become outdated! Please check out the updated post about using Gizmo5 and Google Voice for free calls
With Google Voice (what is Google Voice?) fulfilling more and more invitations, some more great news has recently been discovered (thanks cnr1109):  you can now setup Gizmo (a VOIP application very similar to Skype) to make free incoming and outgoing calls using your Google Voice account – no longer do you have to "start" the call from the google.com/voice webpage (or similar).   Not only this, but if you get a SIP/ATA device (devices used for Vonage/SunRocket/etc), you can plug it into your existing home phone line and have free calls from home without having to use your computer!  And what else?  it's easy to setup:
1. Add your Google Voice number to your Gizmo5 account
Login to your gizmo5.com account and enter in your google voice account information (if you are weary about giving them your gmail account information, which you shouldn't be – but if you are, you can request your google voice account be associated with a different gmail address)  Google Voice number:
update 7/27/09 7:30pm est:  There is now a notice on the page that this is an experimental service and calls will be limited to 20 minutes.  They also provided a link to more information at www.gizmovoice.com:

update 7/30/09:  Now it is limited to 3 minutes of outgoing calls, unlimited incoming, and more – find out full details over at http://www.gizmovoice.com/ or http://gizmocall.com/:

 
update 8/8/09:  (how many more changes will there be!?)  Now you no longer have to enter in your Google account credentials:

2.  Add your Gizmo5 number to your Google Voice account (and verify it)
Login to Google Voice (http://www.google.com/voice) and add your Gizmo5 number (if you haven't already):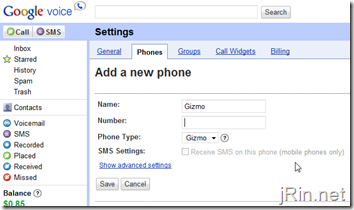 Once you click save, you'll see a window pop up with a verification code.  Make sure you have Gizmo installed and running on your computer, and then click 'connect' (tip:  if having problems getting Gizmo5 to work in Windows 7, install AND run it [once installed] in Windows XP Compatibility mode):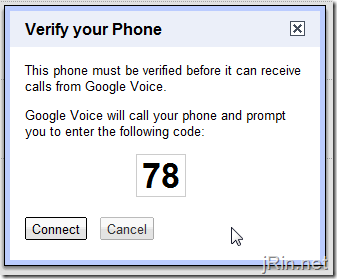 Answer the call within Gizmo (you do NOT need to be paying for Gizmo incoming call feature for this call), and then enter in the 2 digit code:
Now, at this point, you can now make free outgoing, and receive free incoming, calls from the Gizmo application (using your Google Voice number)!

3.  Setup an ATA device for free calls using a land line phone
To be able to make/receive these free calls from an actual land line phone (using the "normal" phone lines in your house/etc), you will have to obtain a ATA \ PAP2 \ VOIP device.  This is basically a box that you plug in to your router/modem and then you can plugin a normal phone line into this device.  You then configure the device to work with your Gizmo account, plugin a land line phone (or, plug it into your home's phone jack in the wall, and then any phone plugged into a different phone jack will work) and viola!  Free incoming/outgoing calls using your land line phones. 
Where can you find such a device?  These are the devices that were/are used for such services like Vonage, the now defunct SunRocket, and the like.  Here are a few examples of ATA devices (get already unlocked ones and save your self hassle):
Once you have a ATA device, here is the information you want to use to set it up to use your Gizmo account (how to access the admin panel of your device depends on the device):
Username:  your ten digit Gizmo number and country code [1 ### ### ####] with no spaces  (you can find your gizmo number by logging into your http://www.gizmo5.com account, and it will be listed there as your "SIP Number")

Password:  your Gizmo password
Server:  proxy01.sipphone.com (or, if you are having problems with hearing audio when receiving calls, try stun01.sipphone.com:3478 – thanks ccengineer)
update 7/30:  As mentioned earlier in step 2, Gizmo has now limited (free) outgoing calls to 3 minutes but still allowing unlimited incoming minutes.  Here is the email I received this evening about it:
Gizmo Voice Moves from Experimental to Beta

---

Thanks for trying our experimental Gizmo Voice service. The viral spread of this service surprised us and we've received valuable feedback from many users on their experience of linking their Google Voice number to a Gizmo5 account so they can make and receive calls from wifi phones, ATAs, PC software and even a browser window using GizmoCall.com. Many of you have told us about the wide range of SIP devices you can now use to connect to Google Voice and we're keeping a list of user suggestions of compatible wifi phones and software you might want to try out.
We're now moving the service from Experimental to Beta and there are some important facts you should know:

Gizmo Voice will remain a free service for Google Voice users to link their telephone number to a SIP account via Gizmo5.
Unlimited incoming calls will be permitted to any SIP software or hardware.
Free 3 minute calls to US numbers.
All outbound calls will display your Google Voice CallerID.
Longer calls will require a purchase of Gizmo5's Call-Out which offers low per minute fees to all destinations.
Unanswered inbound calls will use Google's voicemail with unlimited online storage and free voicemail transcripts.

We hope you are enjoying the high quality VOIP service Gizmo5 has to offer, which includes unlimited calls to 800 numbers, other SIP networks, GoogleTalk users and even the ability to call a Skype user from any SIP device. (To test the SIP to Skype gateway call Try dialing 1-333-666-1111 which is the Skype echo line.) Gizmo5 is committed to user empowerment that comes from the use of open standards and interconnected services.
Any questions!?  Have better ATA devices to use? Feel free to ask in the comments!