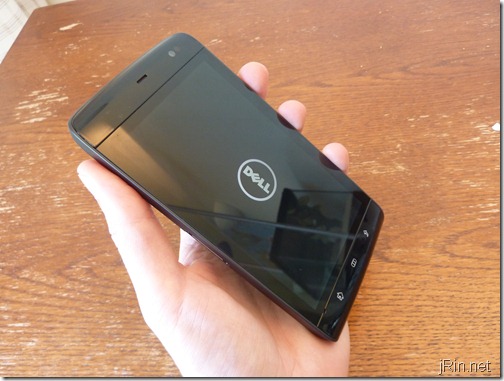 The Streak is the new big smartphone from Dell.  With a huge 5" screen and powered by Android, the Streak (currently only available on O2 UK) is a bit of an anomaly in the smartphone arena.  Why?  Because of it's size – at roughly 6" x 3.1" x 0.4",  it's quite a bit larger than your average smartphone.  Is it too large?  Do any benefits come from having a larger screen?  Is there an increase in specs and features to fill up the larger size?  Read on to find out (note:  I have been a iPhone 3GS user since June of 2009, so much of this review will end up being a comparison to the 3GS)
Specifications:
Before we begin, let's go ahead and lay out all the specs of this phone:
5" Multi-touch, capacitive multitouch screen
800×480 resolution
5.0MP rear camera with duel LED flash, 0.3mp front camera
Android 1.6
1GHz Qualcomm Snapdragon QSD8250
512MB ROM, 512MB RAM, 1 MicroSD Slot (ships with 16gb card), 2GB internal memory (not user accessible)
Network Bands:  UMTS 900/1200MHz
850/900/1800/1900MHz GSM/EDGE
3G/HSDPA for HSDPA 7.2Mbps/HSUPA 5.76Mbps
Wi-Fi 802.11b/g
Bluetooth 2.0 EDR
Up to 9.8hrs talk, 400hr standby with 1530 mAh battery
Sensors:   ambient light, proximity, accelerometer, capacitive sensor keys (the three buttons on the screen side)
Location:  e-compass, GPS
In the box: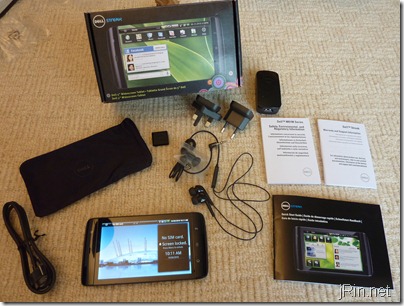 Dell Streak
Soft fabric pouch with draw string
Headset with 3 sizes of ear buds
USB charger with UK and EU plug adapters
USB sync cable with plastic clip to neatly wrap the cable
Multilingual startup guide and other paperwork
1530 mAh battery
Battery cover
16GB MicroSD card (preinstalled)
The box
Look and feel:
Here we have different views of the Streak:
And of course, an unboxing video:
First thoughts?  It's big.  At first, it seems a little awkward to hold and use as a phone, but after a couple days of using it you get used to it and it doesn't feel as foreign.  The one thing that is the most different compared to other phones is the fact that it's more of a "two-handed" device than any other phone/smartphone I have used.  With the iPhone, there is still a lot I can do with one hand.  With with the Streak, however, I find my self having to hold it with both hands to do many tasks (though, dialing – if you are able to swipe to the phone app one-handed – can still be done).
Size compared to the iPhone 3GS:
The Streak is quite larger than the iPhone (well, larger than most phone for that matter); however, it is slightly thinner:   
The main chassis of the phone is a matte (non-glossy) finish so it is not prone to attracting fingerprints and I feel slightly more at ease that it won't easily slip our of my hand. 
Along the right side, you can see all 4 "physical" buttons:  camera, power, and volume up and down.  You'll also notice that the headphone jack is on the side which can pose to be a problem if the headphones you are using have a plug that doesn't bend 90 degrees – and even if it does, there's still the "added width" of the plug that you then have to deal with in your pocket.  I would have much rather had the jack on the top or bottom :-\

Camera(s) and Media Playback:
The pictures and videos it takes are pretty good – not spectacular, but pretty good.  When compared with the iPhone's pictures, they're a bit sharper (less blurry looking) and larger resolution – Streak on the left, iPhone on the right:
Video quality seems to be a bit better on the iPhone.  On the streak, the video playback is a bit choppy as though it doesn't have as high of a frame rate and it is slightly more pixilated. 
Here are some sample videos taken with the 3GS and Streak.  One taken from outside my window and another taken at the Knaresborough Bed Race:
(download the original videos:  iPhone:  video 1, video 2, Dell Streak:  video 1, video 2)
Web browsing:
With it's large screen and resolution, web browsing on the Streak is quite nice; you are able to zoom out all the way (so you don't have to scroll horizontally) and still able to read most, if not all, of the text on the page: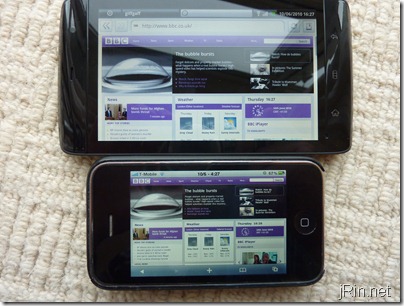 however, it does not resize the text to fit the current zoom level like the iPhone (notice how there's less words per line on the iPhone – not that one way is better than the other, it's just different.  The Streak's resolution is high enough that it isn't particularly necessary to re-size the text):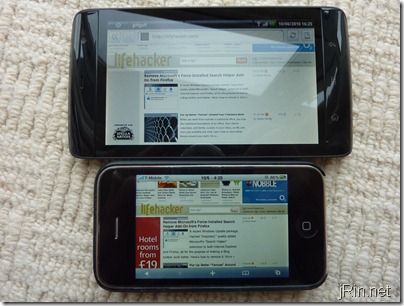 After using the iPhone for almost a year, I was a bit dismayed to find out that you can double tap to zoom in to a particular area of a web page – perhaps with Android 2.2?
Other than the mentioned items above, browsing is a pleasant experience – zooming in and out is smooth, jumping between tabs is easy and fast, and I have yet to find a (non-Flash) page render incorrectly. 
Battery Life:
For being such a large device, the battery does last a good while – from 7am to 10pm, I have on average 8% battery life , and that is with heavy 3G/WiFi usage through out the day (email, web browsing, downloading from the market place, etc).  I also average about 15 minutes of calling via VoIP and 5-10 via "regular voice minutes".   However, it doesn't take long to charge back up to 100% – from around 5%, it's charged back to 100% in about 1hr 10min. 
Keyboard:
Now this just may be an issue with Android in general (sorry, I am not up to speed with Android), but I very much dislike the out-of-the-box keyboard when compared to the iPhone.  Even after a week or so of usage, I still make way more typos than I feel I should be making.  That being said, I won't dwell too much on this downside since there are many readily available alternative keyboards that you can get in the marketplace (such as the Swype keyboard, which I can't recommend enough for using the Streak in portrait mode). 
(in the pictures above the default android keyboard is on the left, Swype on the right)
Calling:
One thing that stood out the most was the quality (loudness) of the speaker phone.  I've always been plagued with not-quite-loud-enough speakerphones on every phone I've owned, including the iPhone, but not with the Streak – it's speakerphone is loud and clear!  However, less impressive is the dialing skin – not that it affects the phone quality in anyway, it's just not that aesthetically pleasing
…an interesting observation…
One thing I wanted to point out that I found a bit funny (and slightly misleading), is the picture of the Streak on the box.  When it shows it's thickness, it's spot on – exactly the thickness in real life:
However, the front of the box shows the actual screen being edge-to-edge with the bezel, but in reality it's not:
just thought it was interesting that they chose to do that…
Final Thoughts:
Deciding to get the Streak will highly depend on what sort of device you are looking for.  Without taking price into consideration, if you want something like the quality of games and apps in Apple's App Store, then you'll want to stick with the iPhone.  If you want a device for media playback with more of a tablet-esque experience (you are looking for a larger screen to watch movies and browse the web), I would go with the Streak.  
Pros:
Crisp screen and high 800×480 resolution
Dual cameras with good photo quality
Speakerphone works very well
Good battery life for size and feature set
Cons:
Expensive, £400 (~$600) with no contract
Camera not as good as expected (slightly better photos & slightly worse videos when compared to 3GS)
Out of the box keyboard isn't so great (but other keyboards are easily installed)