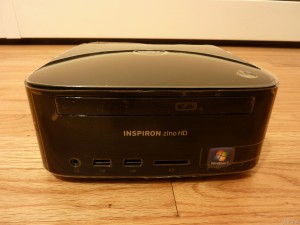 Dell recently released the Dell Zino HD

, their own "nettop" (mini desktop), and being an owner of the Zotac IONITX-A-U Dual Core Atom N330/ION motherboard, I had to give this a spin and see if it was any better.   I was excited to learn that it had a graphic cards I have used in the past (the HD3200) which I had good experience with, a 3.5" desktop hard drive (allowing large space and fast speed) as well as Bluray drive option.   How does it stack against the Zotac?  Not as good as I had expected, but that doesn't mean it's a bad machine – read on to learn more:
Unboxing:
For being such a small computer, it came in a surprisingly big box (but then I remembered it comes with a keyboard/etc too haha):
It comes with the computer itself, small external power supply (hmm no Dell logo), laser mouse, usb keyboard, Win 7 installation CD, and manuals/pamphlets:
Features:
The Dell Zino HD comes with a variety of configuration options – below are the options of the reviewed system (in bold) as well as the other options (The Zino here is the Zino HD 400):
Processor:
AMD Athlon Neo X2 6850e 1.8GHz, 1MB L2
AMD Athlon X2 3250e 1.6Ghz, 1MB L2
AMD Athlon 2850e 1.8Ghz, 25w, 512mb L2 cache
AMD Athlon 2650e 1.6, 15w, 512mb L2 cache
OS:
Windows 7 Home or Professional
Windows Vista Home or Premium
Memory:
Up to 8GB DDR2-800
Hard Drive:
160GB, 250GB, 320GB, 500GB, 750GB, 1TB 7200RPM
Optical Drive:
8xDVD-RW or DVD-RW/Bluray Rom
Graphics:
ATI Mobility Radeon HD3200
ATI Mobility Radeon HD4330
Sound:
Integrated audio with analog stereo and 5.1 (through HDMI)
WiFi (mini pci-e):

Broadcom BCM57780 10/100/1000
Mini PCIe WLAN card (802.11 b/g or 802.11 a/b/g/n)

Front Ports:

Two USB 2.0 connectors

One headphone connector

One 4-in-1 memory card reader


Rear Ports:

One microphone connector

One line-out connector

One VGA connector

One RJ45 connector (10/100/1000)

two USB 2.0-compliant connectors

two eSATA connectors

one HDMI connector


Dimensions:

Height: 197mm (7.8")
Width: 197mm (7.8")
Depth: 89mm (3.4")
Weight: 1.6kg (3.53lb)
Upgradability:
As with most other desktops, you can easily upgrade the memory, hard drive, optical drive etc (except there are no pci slots, so there are no options to upgrade the video card or add a pci tv tuner). Dell has a very useful step by step illustrated guide for dismantling the computer, or you can follow below to remove/upgrade the optical drive, hard drive, mini pci-e card, or memory:
Power Usage:
Hooking this up to a P3 International P4400 Kill A Watt Electricity Usage Monitor, I measured the following power usage during different usage states:
Sleep: 1 watt
Idle: 24 watts
Boot:  41 watts
Watching HD: 50 watts
Under load (using HyperPi):  53 watts
This system uses the same, or more, power than the IONITX-A-U setup I reviewed the other day.  However, keep in mind that this Zino uses a 3.5" 7200RPM hard drive and, I'm not sure if it matter, but 8gb of memory – as well as the AMD HD3200 is not as "low power" as the nVidia ION. 
Performance:
There are no options to overclock the processor like there are for the Atom N330 in the Zotac IONITX board, so I felt that the Zotac (at 2.0ghz) already had a leg up on the Zino's AMD 6850e.   But what do the benchmarks say?
 

Dell Zino 1.8Ghz

IONITX 1.6Ghz (OC'd to 2.0GHz)

PCMark Vantage
3DMark Vantage
W7 Score
Processor: 4.5
Memory: 6.0
Graphics:  3.4
Gaming: 4.9
Hard Disk: 5.9
Processor: 3.7
Memory: 4.8
Graphics: 4.6
Gaming: 5.4
Hard Disk: 5.2
HyperPi
1M: 50.684s
2M: 116.485s
1M: 97.494s
2M: 222.986s
According to the Windows 7 scores, it appears that the ION graphics are better than the AMD HD3200, but the AMD Neo 6850e processor is better than the Intel Atom N330.  However PCMark and 3DMark seem to say the opposite with the IONITX receiving higher 3DMarks but lower PCMarks.  And then we have the hyperpi results which show about twice the performance for the Dell.  I don't really have an explanation for the conflicting reports, or which one is more reliable (my guess would be pc/3dmark), but I can say that through all my testing of both machines, the IONITX system felt faster. 
Bluray playback:  It plays back just fine on my LG 40LH47 @ 1080p – no stuttering/skipping/etc – as long as you don't move the mouse to make the PowerDVD menu pop up.  As soon as you do anything except watch the movie, it will start to stutter.  That being said, when you are watching a movie, you aren't doing any other foreground task, so you'll be fine. 
Using Media Center to watch/record:  Like watching Bluray, if you are just simply watching HD or SD, you'll be fine.  However, if you are navigating through the Media Center menu or guide with TV playing in the background, it will get a bit laggy / not very smooth.  However, if you are recording and the menu is lagging, the recording will still be fine;  It's just a bit annoying when the menu lags at times.  Watching a recorded show or live TV while recording a different station works fine – the live/recorded playback is smooth and the recording is good too.    For reference, I was using a Hauppauge HVR-950Q USB QAM HDTV tuner (it works great, and all you need to do is plug it in and windows 7 automatically installs it – oh how I love simplicity)
HDMI & Connecting to an HDTV:
Upon connecting it to my TV for the first time, I immediately had two problems.  1) the audio wasn't working and 2) it wasn't showing full screen.
The audio problem is an easy fix, just simply go to the sound settings and select the HDMI audio as the default sound device :)

The second issue however has been a pain in my neck since I received the computer.  No matter what I do (other than turning on "zoom" on my tv), I cannot get the display to fill the screen!
I've tried uninstalling and updating to the latest Catalyst drivers, going through all the setting options in the Catalyst control center – nothing works.  I tried plugging it into my 720p 26" as well, and same issue.   To make sure it wasn't some crazy setting on the TV's, I verified again that my Inspiron 14z, Studio 15, and Zotac all displayed in full screen just fine on both TV's.   (I've waited in dell chat support for a bit but gave up as I didn't have time when I've tried – and I'm already a bit upset about them cancelling/replacing the order for this and therefore invalidating my, and many others', Bing.com cash back).  Hopefully I'll be able to figure out a solution (any suggestions?).
In the meantime, however, I am able to select a zoom type of setting on my LG and everything looks fine (though I can see that there is still a column or two of pixels that aren't being used on the screen) so it's not QUITE there.  I'm going to give Dell the benefit of the doubt that it's something I'm not doing right…
Noise levels:
It's quiet (enough). Yes, if you really try to listen for it, you can hear the fan – but if you stick it in your tv stand / next to the tv / etc and you are sitting on the couch, you won't notice it if you're not looking for it (at least, I didn't). The fan is at least quieter than the fan included with the Zotac. The Zino looks to be using a 60mm x 60mm x 25mm fan, the key here being the 25mm thickness — the fan on the Zotac is 10mm thick (thin), and I assume it has to therefore spin faster to get more airflow (because of smaller fins), which causes more noise.
The optical drive is also quiet – during playback of Transformers Bluray, I never once noticed any noise from the bluray drive.
Size Comparisons:
Just to try to get a better feel for how big the Zino is, here's a few pictures with it next to other devices (iPhone 3Gs, 3.5" desktop hard drive, and a M350 mini-itx case):
Final Thoughts:
I love how the "mini desktop" is starting to take off, and even more glad that Dell as jumped in (because they will soon show up in the outlet, and you can usually get in on great outlet coupon deals!).  The Dell Zino HD 400 is a good fit if you are looking to use it to watch HDTV and Bluray, record HDTV, playback general media files, etc while keeping it in a small, sleek package to compliment the style of your home entertainment center. 
Compared to similar setups you can build yourself however, I don't see enough of a performance boost in these low power AMD chips (which are supposed to compete with the Atoms) to justify the higher cost in the Zino.  The Zotac dual core Atom with ION did not choke in any of my bluray, hdtv watching/recording tests – but the Zino did (keep in mind, however, the Zino did fine when you weren't navigating the media center menu while watching/recording). 
In short, if you can get a good deal on a Zino and you plan to use it basically as a "tivo box", then go for it.  If you happen to have a spare mini-itx case, hard drive, and/or memory laying around, I would suggest looking into the Zotac line of dual core atom with ION setups, as it feels like it performs better (at least in the media tests I threw at them). 
Pros:

Very small and compliments a home theater setup
Bluray capable and optional
Can playback/record HD at the same time, as well as Bluray without issue
~$160 to upgrade to 8GB from dell (if you so choose), whereas ~$270 elsewhere
Great connectivity (hdmi, dvi, esata, 6-usb, fron card reader)

Cons:

A little sluggish doing other tasks (accessing menu) while watching bluray/media center (even with 8gb and fastest processor option)
More power hungry than a Zotac IONITX-A-U setup yet without a noticeable performance increase