Mobile App Review – Samsung's ChatON
Written By: James Rintamaki on June 13, 2012
One Comment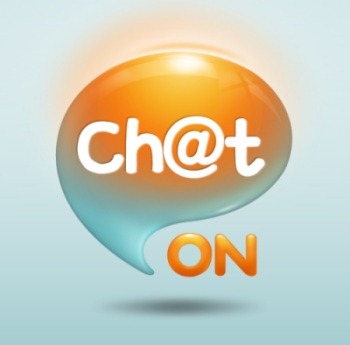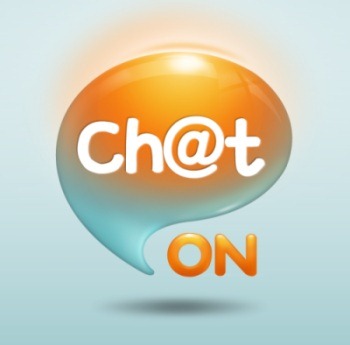 This is the start of a new series of reviews where we'll be focusing on a few Samsung Apps; as a Samsung Mobiler, we're given the opportunity to use and review many, many Samsung phones, so why not take a look at some of their apps, starting with ChatON. 
If you've ever used apps such as WhatsApp Messenger or KakaoTalk, then you're already familiar with the concept behind ChatON.  The basic idea of ChatON is to be a cross platform texting/instant messaging app (meant to be an alternative to traditional SMS/MMS).  By using your data connection (2G/3G/4G/LTE/WIFI/etc), it's basic premise is to allow you to get around the potentially costly and feature limited communication medium of plain old texts.
1) No 160 character limitation
Unlike traditional texts, there is no 160 character limitation with ChatON.  Want to write a 161 character message?  Want to write over 1,000 characters?  Either is fine here (though, I haven't been able to determine the max amount of chars for the apps, but the web based https://web.samsungchaton.com/ limits you to 1,000):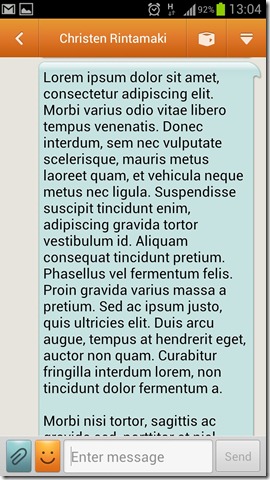 2) Not just text
Again, with traditional texts, you are limited to just text (or images with MMS).  However, with ChatON, you are able to send a lot more than just that such as:
Instead of just sending :-) or :-p, you can send emoticons that are images and also animated ones ("anicons").  Not a huge selling point in my opinion, unless, of course, you tend to use a lot of emoticons in which case it may be just the feature for you: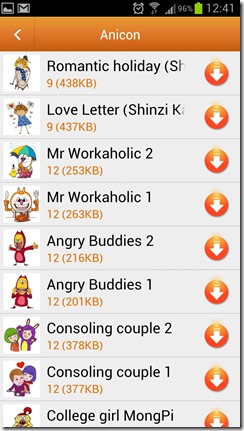 Pictures, videos, calendar items, or documents:
Along with your text and emoticons, you can also attach other multimedia elements such as pictures, videos, voice recordings, contacts, animations, documents, or even your GPS location: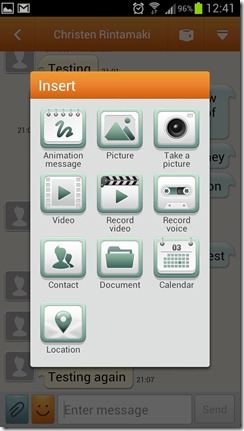 In the case of Animation Messages, if you've ever played Draw Something, you'll already know exactly what this is like.   You're basically given a blank page to draw on, and once it's sent, your drawing is played back to the recipient as if they were watching you draw it live as opposed to just seeing the end result.  (note, animation here is not animation in the sense where you are effectively making a movie with different images in each frame):
3) Chat/share with more than one person
ChatON also allows you to chat with more than one person at a time – basically like a chat room or multiple people in a Facebook message.   From the main buddy list screen, you simply choose to start a new chat, select the folks you want to include, and away you go. 
When one person sends a message (or animation, video, photo, etc), everyone will get a notification (if enabled) and you can see the conversation as you would expect: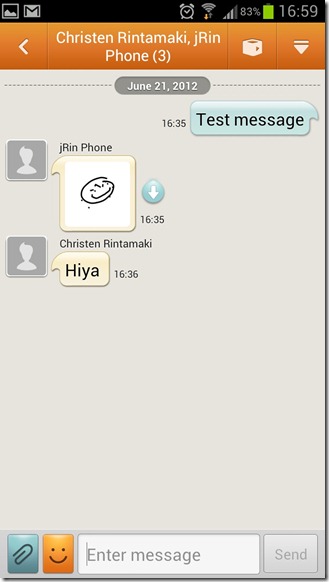 Final thoughts
As mentioned earlier, ChatON is a cross platform app designed to overcome the limitations of texting.  By using your data connection, it enables you to bypass your carrier's SMS/MMS prices and 160 character text (and image) limitation.   In order for this to work, anyone you want to chat with must also have ChatON installed on their phone; at the time of this post, it is freely available for Android, iOS, bada, "Samsung feature phones" (non-smartphone with smartphone-ish features), and Blackberry – but not Windows Phone (yet).    That being said, as a cross platform messaging app, it does what you'd expect it to do and I haven't experienced any issues with it during the past few weeks I've been using it. 
How does it compare to other popular apps that are similar such as Whatsapp? Feature wise, they both allow text, images, videos, recordings, GPS location, and calendar appointments to be shared over your data connection.  Where they differ, however, is definitely through their general UI as well as that ChatON offers the animated drawing option and Whatsapp lets you know when the other person has received the message and when they're actively typing back.    Personally, I prefer the ChatON interface (as it has the "menu ribbon" at the top, whereas Whatsapp does not) plus Whatsapp does not have a web version of their service, whereas ChatON does. 
Do you use ChatON or any other cross platform messaging apps?  Do you like one over the others and feel everyone else should know about it? Let us know in the comments!
Tags: Android, android app, chaton, ios app, samsung, samsung mobilers