Samsung GALAXY Note European World Tour – Event Review
Written By: James Rintamaki on October 30, 2011
No Comment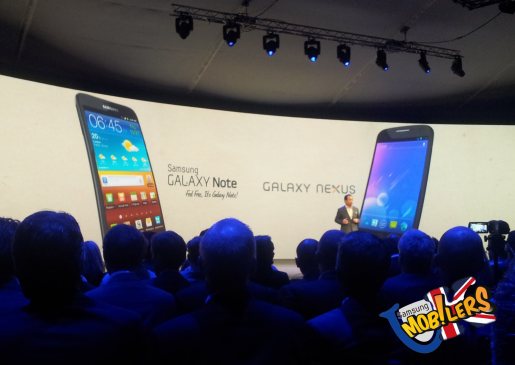 As a Samsung Mobiler, a few of us were invited to attend and promote the Samsung "GALAXY Note WORLD TOUR in Europe" launch event in London to show off the GALAXY Note and GALAXY Nexus – and as any sane person would do, I accepted their offer!  We were all there for about 5 hours and below is a description of what the event was like for us Mobilers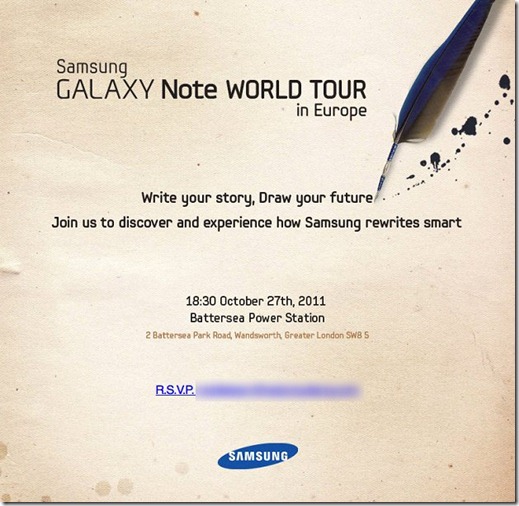 Before the event started:
The event was held this past Thursday evening at the Battersea Power Station in London: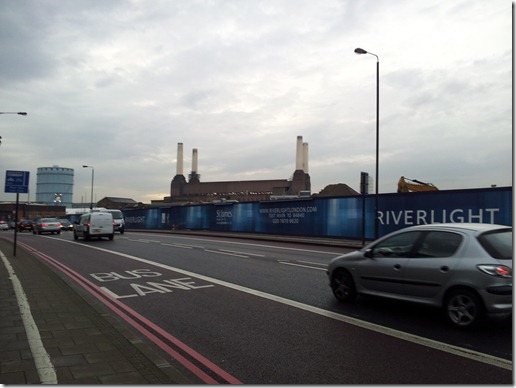 At a bit before 5:00, I finally was getting close to the power station, where I'd soon start getting educated on the devices, and I finally started to see some signs letting me know I was on the right track: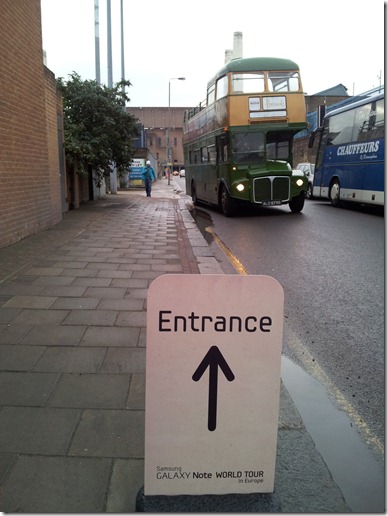 Once I got through two security checkpoints (my name wasn't on the list!), I met with our Samsung Mobiler contact and was shown to a trailer where I met with other UK and German Mobilers to start the pre-event training. 
First, we were each given a Note to play around with while a Samsung rep showed us around all of the features and highlights the Note has to offer: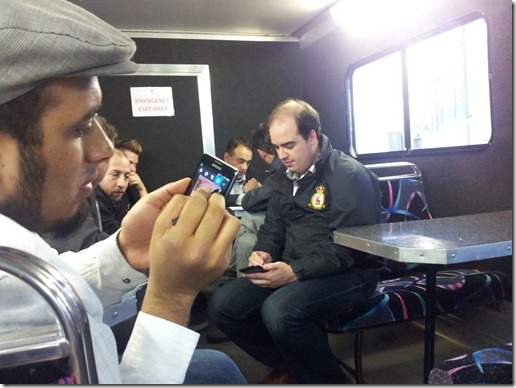 This was my first time actually seeing and handling a Note, and my first reaction was surprise at how light the device was.  I currently own a Galaxy WiFi 5.0 and was expecting it to be the same 'chunkiness' as that, but was pleasantly surprised when I found that it was quite thin and light (yes, I compared specs before arriving, but it doesn't really mean much to me until I actually have it in my hand).  
After we went through a few minutes with the Note, we had some folks start showing us the Nexus and a few of it's neat features as well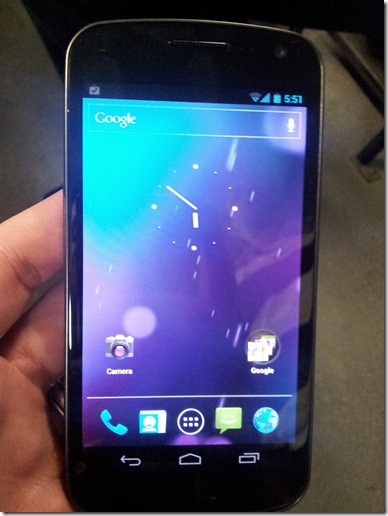 One thing that really stood out was some of the new features with Ice Cream Sandwich (Android 4.0) seemed to be taken from various roms I've used recently, such as being able to re-size widgets and the TV-Off animation when turning off the screen – very interesting.  
The one thing that stood out the most for me was the deeply integrated data management within ICS which allows you to closely monitor your data usage – you can set usage alarms, shut off mobile data once it reaches a certain amount (perfect for those with data caps), and even monitor each individual app's data usage and set caps for each: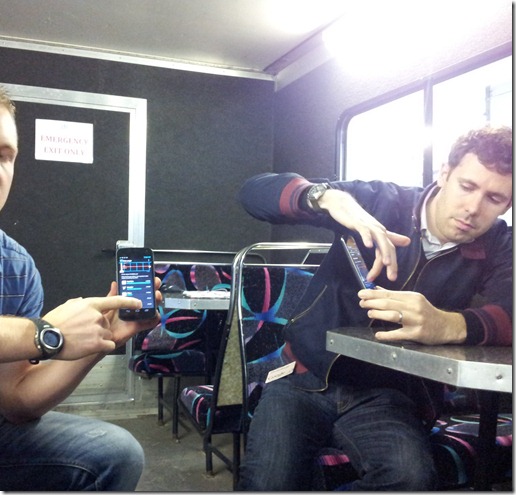 After our short training (to bad we couldn't take one of each device!), we all changed into our Samsung blues (a shirt they gave us), and started to walk toward the main entrance.  It was neat to see that they lit up the power station blue and even slapped a GALAXY Note logo along the entire wall: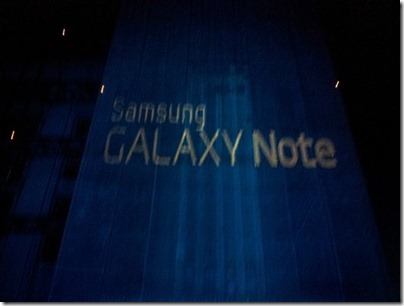 The event:
First thing upon walking in, we checked our bags/coats at the front, and then we were promptly brought over to the product demonstration stations where we would be showing the event goers the Note and Nexus after the show: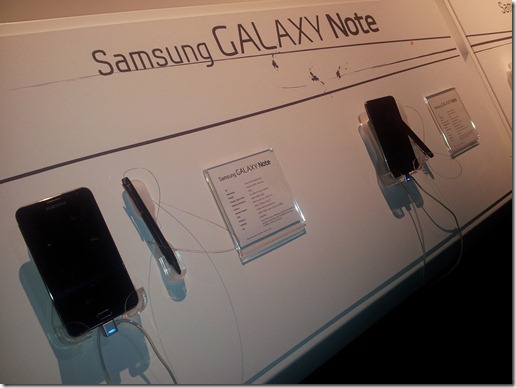 After a bit of talking and grabbing some free food and drinks, we were seated and the show began with an interesting dance routine: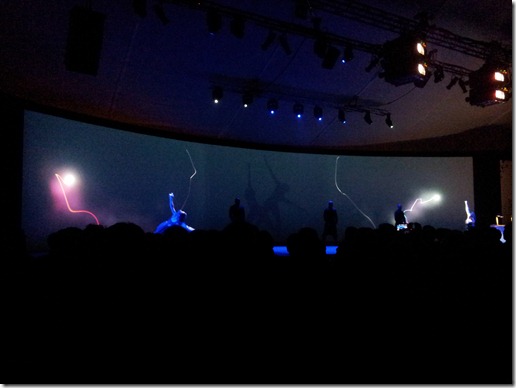 Then, we were all introduced to the GALAXY Note which has been designed to try and bridge the gap between Smartphones and Tablets:
(by the way, wouldn't it be nice to have such a large display like this in your living room?)
We were then shown through a bunch of the features that the Note brings, most notable, of course, is the S-Pen, which they had @Liam Brazier use to draw a live image of the power station during the presentation:
Next up was a bit about the GALAXY Nexus, which is the first device to have Android 4.0 (Ice Cream Sandwich):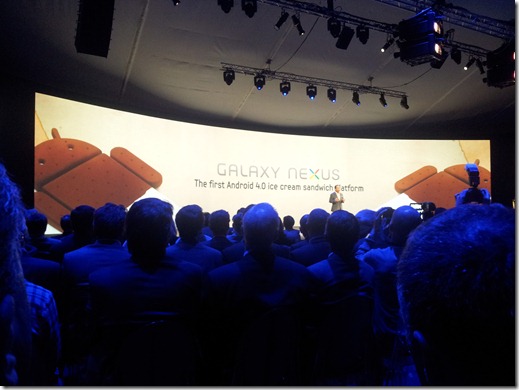 The phone itself really does look great, and all the new features that come along with Ice Cream Sandwich are going to make it difficult for me to eventually decide on whether to get the Nexus or the Note…(if only I'll get one of each from Samsung – here's to wishing!). 
The rest of the presentation went on to talk about the specs of each device, some sample scenarios of people using them in every day life, as well as a list of launch dates such as the following:
After the presentation was over, the curtains went up to the left of the room to show the demonstration booths. This allowed folks to get some hands on experience with both the Nexus and the Note, while us Mobilers helped show them off as well as doing a few interviews:
After a few hours of this, the event started to wrap up, we grabbed our belongings from the coat check, and went on with our lives. 
Final thoughts:
This was the first, big product launch event that I have been to (other than the Galaxy Tab 10.1 at PC World a few months ago) – and it was quite an experience.  It was great being able to get some behind the scenes training as well as be able to show fellow phone enthusiasts these new devices (especially before they were publicly available).  It's definitely going to be a toss up as to which device I may end up switching to once both are available, seeing as how they both now seem to out class my amazing Galaxy S 2 (though, don't get me wrong, it's still a great phone!).   
One of the many aspects of this event that I enjoyed was to be able to meet some people behind a few of the sites that I follow, such as the folks from Android Central (check out their hands-on review of the Note from the event!).
Is anyone else stuck in deciding between which new Samsung device to get, or perhaps it's no contest and you've already settled on one?  Were you at the event as well and have something to share?  Sound off in the comments!
Tags: Android, launch event, review, samsung, samsung galaxy note