Top 5 Favorite Android Games – Samsung Mobilers
Written By: James Rintamaki on August 18, 2011
2 Comments
It's time for another Samsung Mobilers mission – so far this year I've had the opportunity to user and review the Samsung Galaxy S 2, Galaxy Pro, and the Galaxy Tab 10.1 (a day in my life using the new Galaxy Tab 10.1), and now we've been tasked with a few more lighter missions.  This next mission is for us to list our top 5 favorite games and explain how to install them:
This is the game that I play the most, and I'm sure most everyone has at least heard of it and at least seen it played (if not play it themselves).   It's a very addictive puzzle game where you fling birds at buildings and pigs to try and free their eggs (and some birds have special abilities like becoming a bomb or dropping explosive eggs: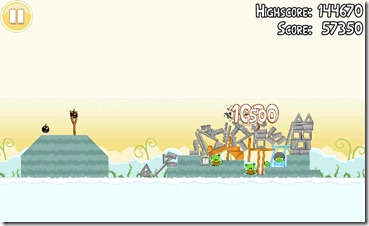 One of the things that makes this game great is that there are currently 3 versions  which can be downloaded from the Android Market (Angry Birds, Angry Birds Seasons, and Angry Birds Rio) and each version has TONS of levels (and more levels are added on a regular basis).   Also, the sound effects are quite enjoyable as well… If you don't already have it, download it now, it's free!
2.  Peggle:

Peggle is another puzzle game only this time it's like an extreme version of Breakout.  There are multiple rounds where there are a number of bricks on the screen that you need to destroy by having a ball (that you launch) touch them on it's way down to the bottom of the screen.  Touch all the red bricks within your 10 available balls and you move on to the next round. 

You can check out some sample game play in AndroidSPIN's youtube review here:
Peggle for Android review by AndroidSPIN
So you've searched for it in the Android Market and can't find it?  That's because it's currently only in the Amazon AppStore.   Simply head over to the Amazon AppStore and enter in your email address (that you can check from your Android phone), or your phone number to get a text, and click on the link in the message.  You basically just need to enable non-Market apps to be installed (such as the Amazon AppStore), and then download and install the AppStore.  There's a very simple video from Amazon that shows you how to install it and start getting apps from it:  http://www.amazon.com/gp/mpd/permalink/m25J6SKSWIK6HC/ref=ent_fb_link
3.  Words with Friends:

Here we have another extremely popular game which is essentially Scrabble that you can play with other mobile phone users.  What makes it especially great is that you can play with users using multiple platforms such as iPhone/iPod/iPad and Android!  You can grab the free version (ad supported) from the Android Market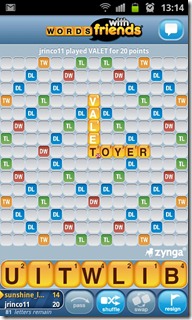 here is a video of Words With Friends posted by AndroidCentral
4.  Robo Defense:

Robo Defense is variant of a tower defense game done well.  You are basically given weapons towers to construct in order to defeat the enemies before they are able to cross the screen.  On the free version, you are given 3 different choices for towers with each having a few different upgrade paths and just one map available – even still, you can find yourself playing again and again while trying to configure different layouts to try to get to the 100th round: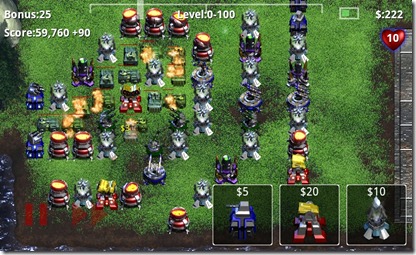 It can be downloaded from the Android Market in a free version (limited to one level) or paid version (multiple levels, upgrades, and maps).
Check out AndroidApps' review of RoboDefense for Android
5.  TapTap Revenge 4: 

For those who like Guitar Hero/Rock Band, TapTap Revenge 4 is essentially a port of those games over to Android – use your thumbs, fingers, and even the built in gyroscope sensor to hit the right notes at the right time with tons of different (and even recent/popular) music.  


I was worried at first that it would be relatively easy, even on expert mode, but the songs can very quite difficult, so it should be able to keep you busy for a while (if you want to try to get a high score).  Like the other games above, it too is free and available from the standard Android Market
Check out AndroidApps' review of TapTap Revengs 4 for Android
Do you have a particularly favorite game that isn't listed here?  Know of any other sources to get games that weren't mentioned?  Let everyone know about them in the comments and stay tuned for more Samsung Mob!ler missions!
Tags: Android, samsung mob!lers, samsung mobilers, top 5 android games