Samsung bada mobile OS review – Mob!lers Mission 1
Written By: James Rintamaki on October 17, 2010
One Comment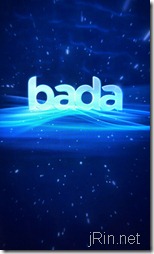 Being lucky enough to be chosen as one of the 20 Samsung Mob!lers, our first mission is to write about the OS of the phone that we received and since I was given a Samsung Wave (S8500), I'll be giving my thoughts on bada, Samsung's own mobile operating system.
First Thoughts:
While bada may not be quite as advanced as iOS (iPhones), Android (way too many to list, but one example, Samsung Galaxy S), or Windows Mobile, it's without a doubt much better than your standard "dumb phone" experience. bada's "purpose" is to basically be a middle ground to advanced feature phone and the traditional "normal" phone.   It comes with it's own version of an app store, it's UI is very similar to (if not, is) TouchWiz that can be found on the Galaxy S, and is very quick and responsive to various commands/etc. 
Apps:
bada comes with a bunch of apps that I expected to find on such an advanced mobile operating system:  Facebook, Twitter, web browser, media player, games, basic note taker, etc.  I was also surprised to find that the phone supports DiVX playback out of the box (though, it may be more to do with the phone's hardware than the bada OS), and as mentioned earlier, bada does come with it's own app store (that actually looks similar to the Android Marketplace):
There is a YouTube app, and at first I was a bit disappointed that it was basically just a link to YouTube's mobile site: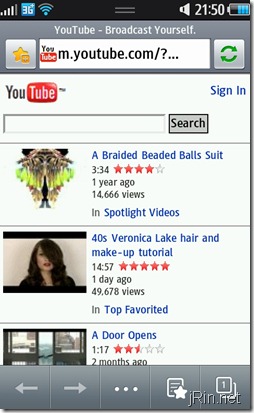 However, once you choose a video to watch, it will open it up in bada's video player app and everything looks great and plays back smoothly:
The Samsung app store has a few apps ("few" compared to the numbers in the iPhone appstore and Android Marketplace), and you can find both free and paid apps such as musical instruments, various games, productivity, navigation, etc. 
UI:
The general usage of bada is very pleasant and relatively easy to navigate.  Changing the various phone settings are organized in well thought out categories, so figuring how to do something in particular (change the volume, ring tone changes, APN settings, etc) should be relatively straight forward:
The main homescreen has 3 different pages that allow you to place widgets on (such as Google search, a calendar, YouTube, Facebook, and a few others) as well as clicking on the Home button will give you a horizontal scrolling list of downloaded apps (similar to iPhone/Android):
Web Browsing:
While being in danger of coming off as lazy (I'm not trying to be, I just feel there's already a good video available!), I'm going to simply link to an existing YouTube video showing some sample web browsing.  In short, it's what you would expect from an advanced touch screen phone:  pinch to zoom, flick scrolling, and no flash support (and unfortunately, no YouTube "click the static YouTube embed icon to open a video embedded on a page in a YouTube mobile app" support):

Final Thoughts
All things considered, I think bada is great for what it is and means to accomplish.  It's ability to closely mimic the OSes of the "smarter" phones (again, such as iOS or Android) while being able to be present on lower cost handsets is a smart (ha) move in my opinion. It will hopefully start to find itself on more and more lower end (cost) phones and do away with the boring and feature-less operating systems found on such phones. 
Pros:
Great "alternative" to current non-smartphone (ie, non iOS/Android/WinMobile) operating systems.
It has an app store with a developer program (and you can download the SDK straight away) with various apps already available
Creates a middle ground between feature-less non-smartphone operating systems and the more advanced/robust iOS/Android/WinMo found on higher end phones
Easy to use and navigate
Cons:
Currently only available on one phone (Samsung Wave)
App store does not (currently) have as wide of a variety or number of apps as other mobile OS app stores do (but again, it's new – hopefully we just need to give it time to grow)
(stay tuned for future posts related to Samsung and their devices/etc as I complete future Samsung Mob!ler Missions!)
Tags: bada, review, samsung, samsung mob!lers, samsung mobilers, samsung wave