Coming soon: Lenovo IdeaPad U330 Review
Written By: James Rintamaki on September 24, 2008
14 Comments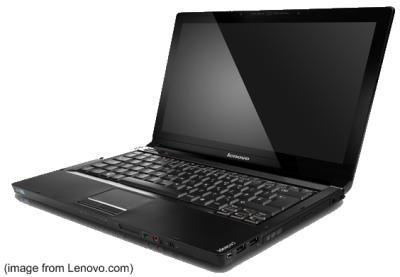 I just got my shipping confirmation for the new Lenovo U330 13.3″ laptop! It's should arrive on Thursday, but depending on if they leave it at my door, I probably won't be able to pick it up till Friday, so stay tuned this weekend! (I will post a link on this post to the review once it's up, or of course simply check back at the home page)
Update 9/25/08 11:22p:
Initial hands on review posted!! http://www.jrin.net/2008_09_26/lenovo-ideapad-u330-initial-hands-on-review
Update 9/26/08 4:30p:
I pick it up on the way home from work today. Keep a lookout tonight for an initial hands on review!
Update 9/25/08 7:20p:
UPS tried to deliver today, but I wasn't home. I called them up, and they told me I could drive to the UPS center and pick it up tonight! I drove there, and was told that the truck from my area won't be there until 8:00p…. They closed at 7:00p…… Ugh. Well, I will be posting my initial review tomorrow night!
The Lenovo U330 I ordered will have the following specifications:
Intel® Core™ 2 Duo Processor P7350 ( 2GHz 1GHz 3MB )
Windows Vista Home Premium
13.3 WXGA LED Backlight TFT 1280×800
ATI Radeon HD 3450 256MB (ATI M82SCE 256MB)
3 GB PC3-8500 DDR3 SDRAM 1066MHz
320GB 9mm 5400RPM
DVD Recordable w/ X6 Ultrabase
HDMI, WiFi (802.11a/g/n), Bluetooth, 10/100 Ethernet (boo, no gigabit)
0.9″ Thick
One thing I'm really looking forward to checking out is that it's supposed to be able to switch from the dedicated video card, to the integrated (x3100?) video, to save battery life. If this ends up being light enough, I may end up getting rid of my Acer Aspire One!
Have anything in particular you want to see reviewed? Game play? Specific performance tests? Let me know in the comments!
Tags: coming soon, ideapad, laptop, lenovo u330, review